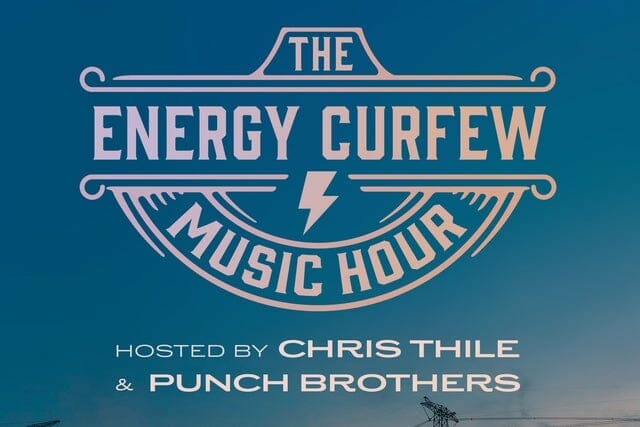 Punch Brothers Outline 'The Energy Curfew Music Hour,' Share Minetta Lane Theatre Dates
Staff Writer on September 20, 2023
Recently, the Audible Theatre announced its program expansion, slated to include The Energy Curfew Music Hour featuring the Grammy-winning band Punch Brothers and hosted by bandleader Chris Thile. In conjunction with the news, the group shared a series of forthcoming live dates scheduled to occur at the Minetta Lane Theatre in November and December. 
The Non-Essential Electronics Buyback Program and the U.S. Department of Arts and Waste Management will present the impending events. During the gatherings, which will occur on November 11 and 15 and December 2, 6, and 10, the Punch Brothers and Thile will welcome an eclectic array of special guests for an energy-efficient evening of collaborative festivities. 
The show will be broadcast via Connectwork precisely 60 minutes before the Energy Curfew, providing the perfect way to celebrate before a weekly 24-hour break from the grid. The Energy Curfew Music Hour arrives after Thile's Live From Here program, a variety show that features musical guests, tongue-in-cheek radio spectacle, and the host's relaxed approach to humor. 
The Energy Curfew Music Hour presents an imagined near-future where electricity is rationed worldwide. In this realm, America has instituted a weekly "Energy Curfew," when the grid goes down entirely for 24 hours to promote the unplugged life. The Energy Curfew Music Hour is an hour of music-driven revelry broadcast across the nation an hour before the so-called lights go out. 
Created by Chris Thile and Claire Coffee, each episode of this entirely acoustic musical variety show is performed and recorded live with Punch Brothers, who will welcome special guests in a night of music and one-night-only collaboration. Scroll down to view a list of dates and to claim a ticket to the in-person recording.  
Nov. 11  – Minetta Lane Theatre – GET TICKETS
Nov. 15 – Minetta Lane Theatre – GET TICKETS
Dec. 2 – Minetta Lane Theatre – GET TICKETS
Dec. 6 –  Minetta Lane Theatre – GET TICKETS
Dec. 10 –  Minetta Lane Theatre – GET TICKETS