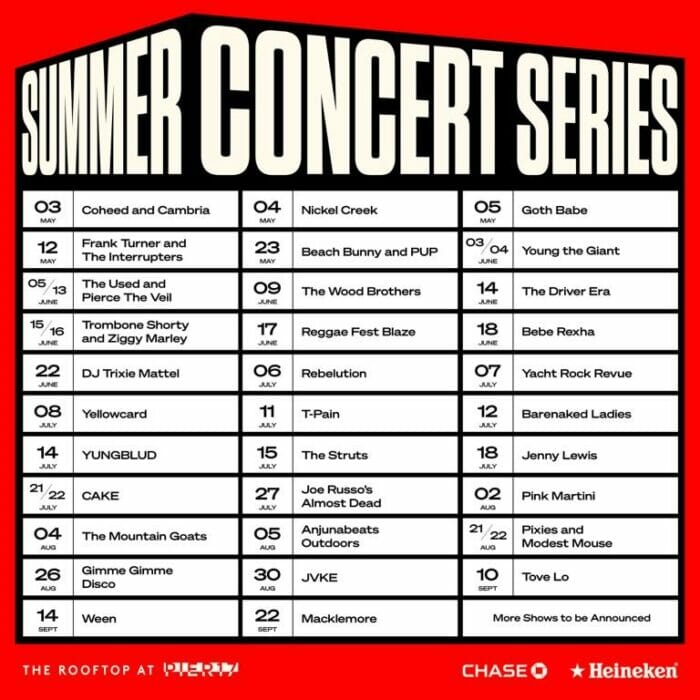 New York City's beloved outdoor rooftop venue Pier 17, opened in 2018 and is celebrating its fifth year of top-tier entertainment this summer. In celebration of their milestone, the venue, launched by The Howard Hughes Corporation, has detailed the list of musicians who will be performing with the Big Apple's skyline behind them as part of its summer concert series.
The concert series at the seaport will include over 60 shows starting on May 3, with a performance by Coheed and Cambria and has guests scheduled through Sept. 22. The 3,500-capacity venue will welcome performances from artists across genres, including Nickel Creek and The Wood Brothers with special guest Shovels & Rope representing Americana, Trombone Shorty & Orleans Avenue and Ziggy Marley bringing New Orleans' funk up north, Pixies and Modest Mouse's indie-vibrations, Joe Russo's Almost Dead and Ween's respective beloved jamband sounds among other artists and styles.
"New Yorkers, tri-state area residents, and visitors from all over the globe look forward to The Rooftop at Pier 17 concert lineup each summer," said Andrew Schwartz, Co-President of the New York Region, The Howard Hughes Corporation, in a press release. "This season we are excited to celebrate five years of bringing today's most popular artists to the Seaport to perform at this unforgettable venue with its iconic New York City views—there's really no place like it."
In the five years since its inception, the venue has welcomed an eclectic group of superstar groups and once-in-a-lifetime moments, including the reunion of The Fugees and performances by Billie Eilish, Lil Nas X, Ringo Starr, Kings of Leon, Diana Ross, deadmau5, Blondie, Elvis Costello, Billy Strings and more. Returning performers include The Driver Era (June 14), Rebelution (July 6), and Pink Martini featuring China Forbes (Aug. 2).
More artists are expected to be announced. Find the latest full lineup and ticket information here.
May 3 – Coheed and Cambria "NEVERENDER NWFTWM"
May 4 – Nickel Creek
May 5 – Goth Babe: The Lola Tour
May 12 – Frank Turner & The Sleeping Souls and The Interrupters
May 23 – Beach Bunny and PUP
June 3 – Young the Giant with Milky Chance
June 4 – Young the Giant with Milky Chance
June 5 – The Used & Pierce The Veil: Creative Control Tour
June 9 – The Wood Brothers with special guest Shovels & Rope
June 13 – The Used & Pierce The Veil: Creative Control Tour
June 14 – The Driver Era
June 15 – Trombone Shorty & Orleans Avenue and Ziggy Marley
June 16 – Trombone Shorty & Orleans Avenue and Ziggy Marley
June 17 – Reggae Fest Blaze
June 18 – Bebe Rexha: Best F'n Night Of My Life
June 22 – DJ Trixie Mattel: Solid Pink Disco
July 6 – Rebelution: Good Vibes Summer Tour 2023
July 7 – SiriusXM Presents Yacht Rock Revue: Reverse Sunset Tour
July 8 – Yellowcard: Celebrating 20 Years of Ocean Avenue
July 11 – T-Pain: Escape from Wiscansin – The Invasion
July 12 – Barenaked Ladies: Last Summer On Earth 2023
July 14 – YUNGBLUD: The World Tour
July 15 – The Struts: Remember The Name
July 18 – Jenny Lewis: JOY'ALL TOUR
July 21 – An Evening with CAKE
July 22 – An Evening with CAKE
July 27 – Joe Russo's Almost Dead
August 2 – Pink Martini featuring China Forbes
August 4 – The Mountain Goats
August 5 – Anjunabeats Outdoors
August 21 – Pixies and Modest Mouse
August 22 – Pixies and Modest Mouse
August 26 – Gimme Gimme Disco
August 30 – JVKE: what tour feels like
September 10 – Tove Lo: Dirt Femme Tour
September 14 – An Evening with Ween
September 22 – Macklemore: The BEN Tour
**Plus, more shows to be announced**