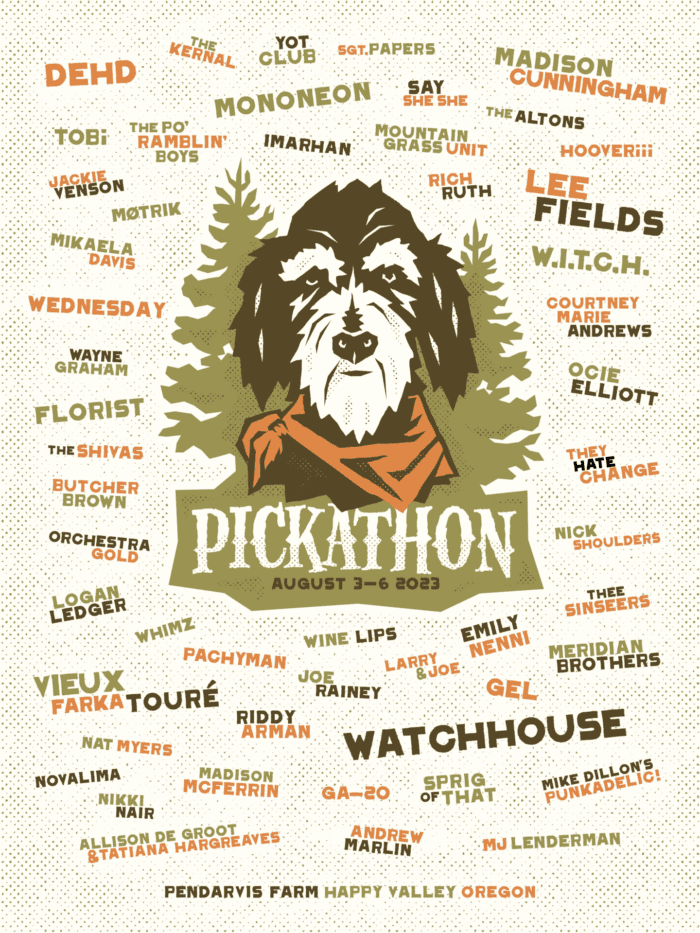 On August 3 through 6, Pickathon will return to Pendarvis Farm in Happy Valley, Ore. The folks behind the immersive event have delivered its 2023 artist lineup, topped by Lee Fields Watchhouse and Dehd. In addition, this impending event will boast live performances from a range of seasoned vets to rapidly rising stars.  
Representing the West Coast's stacked music scene are Thee Sinseers and The Altons, known for their meld of new wave and soul music. Imarhan and Vieux Farka Touré are also on the summer bill, in addition to the bluegrass banjo and Venezuelan harp combo Larry & Joe and Orchestra Gold.
MonoNeon, Joe Rainey, Yot Club, Meridian Brothers, Novalima, Sgt. Papers and cutting-edge rapper TOBi, are among the artists that are expected to take the stage when the festival returns in August. Besides music, Pickaton also hosts a zero-waste, sustainability-conscious approach by continually setting new standards and practices that evoke change and wellness in a festival setting.  
"Reinventing Pickathon last year around the concept of integrating music, arts, and culture into the natural settings of Pendarvis Farm was an incredible endeavor," says Pickathon founder Zale Schoenbor–who launched the first edition of the treasured Pacific Northwest gathering in 1999. 
He continued, "2023 not only presents our best lineup ever, but now we understand the new Pickathon Neighborhoods even better, and we're excited to refine all the details to make this year our most immersive experience to date. I can't wait for everyone to join us at Pendarvis Farm!"
Early Bird Tickets for Pickathon 2023 are on sale now, as well as passes for camping, parking and shuttle services. For more information, visit pickathon.com. 
Scroll down to view the complete artist lineup for the 2023 event. 
2023 Pickathon Artist Lineup:
Watchhouse
Lee Fields
Dehd
Madison Cunningham
Vieux Farka Touré
Florist
W.I.T.C.H.
Wednesday
MonoNeon
Ocie Elliott
Butcher Brown
Yot Club
Courtney Marie Andrews
Imarhan
Say She She
MJ Lenderman
Madison McFerrin
The Po' Ramblin' Boys
They Hate Change
Pachyman
Wine Lips
Nikki Nair
GA-20
Nick Shoulders
Wayne Graham
Mike Dillon & Punkadelic!
Rich Ruth
The Altons
Thee Sinseers
Novalima
Logan Ledger
Meridian Brothers
TOBi
Emily Nenni
Mikaela Davis
Joe Rainey
Riddy Arman
The Mountain Grass Unit
The Kernal
Larry & Joe
Hooveriii
Gel
Jackie Venson
Nat Myers
Allison de Groot & Tatiana Hargreaves
Sgt. Papers
Orchestra Gold
WHIMZ
Sprig of That
The Shivas
MØTRIK