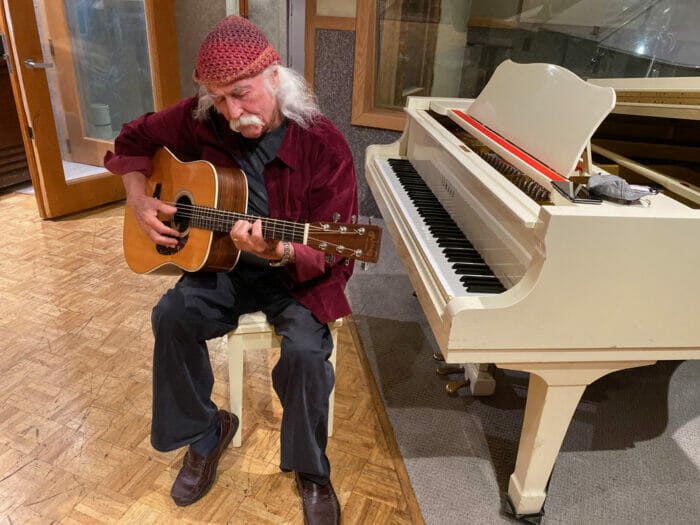 photo: Jay Blakesberg
______________________
Sunset smells of dinner
Women are calling at me to end my tales
But perhaps I'll see you the next quiet place
I furl my sails
"The Lee Shore," David Crosby, 1969
***
One night in 2016, I stepped out of David Crosby's tour bus on a back alley in the Pacific Northwest and saw a group of boys waiting outside in the rain, holding albums and CDs that they were hoping David would sign. "Are you David's manager?" one of them asked me eagerly.
"No," I replied, laughing. "I used to be you."
Thankfully, I was never David's manager, but for almost 30 years, the co-founder of The Byrds and Crosby, Stills, Nash & Young was my closest older friend. In an unlikely twist of fate, I went from being an obsessive teenage fan—rushing out to buy every new record, collecting every unreleased rarity I could find, staying up all night in a phone booth in a blizzard after a concert because I missed the last bus home—to being the guy David would send a just-written song to after leaving a voicemail, "Silberman, wake up! It's Croz. Pick up your email. I'm gonna blow your mind."
One of the most surprising twists in this story is that, despite the fact that David was practically more famous for pissing off his former bandmates than he was for being one of the most creative and influential musicians in rock history— the guy who helped inspire Dylan to go electric and turned The Beatles on to Indian music—he was never anything less than tender and respectful toward me. I waited for the other shoe to drop for three decades, but it never did. And now, one of the most profound and enjoyable friendships of my life is over.
The story began in 1969 when I walked into a sandal shop in Provincetown—then a rustic fishing village and art colony at the tip of Cape Cod—and heard the strangest and most beautiful music I'd ever heard in my life.
As the son of antiwar activists, I'd grown up on folk songs performed by socially conscious groups like The Weavers and Pete Seeger's Almanac Singers. But this music was different. Instead of the usual verses and choruses, an acoustic guitar spiraled inward upon itself endlessly, like a waterwheel glittering in the air. And the lyrics—about an elusive woman painting pentagrams on the wall of a garden—seemed timeless, as if they were taken from an ancient fable. I asked the guy behind the counter what he was playing and was confused as he recited a series of names that sounded like a law firm: "Crosby, Stills & Nash." I was 12 years old.
A year later, I bought another record by the same law firm, now with an additional partner named Neil Young. With its Civil War-style portrait and embossed gatefold cover, Déjà Vu also seemed like an precious artifact from the past. But there was nothing dated about the music, with those flamethrowing guitars and impossibly glorious harmonies soaring like Icarus toward the sun.
Then David's first solo album, If I Could Only Remember My Name, hooked me for good. With an all-star roster of brilliant improvisers that included members of the Grateful Dead, Jefferson Airplane, Quicksilver Messenger Service and Santana, the album explored an astonishingly broad range of music, from spontaneous jams like "What Are Their Names" and "Music Is Love," to the badass Phil Lesh-bass-driven "Cowboy Movie," to a song called "Traction in the Rain" that seemed sculpted out of sunlight. I wasn't yet familiar with jazz, but tracks like "Song with No Words" and "Tamalpais High (At About 3)" prepared my ears to appreciate the modal meditations of Miles Davis and Bill Evans on Kind of Blue. At the end of "Laughing," David and Graham Nash's intertwining voices soared to the heavens, with Joni Mitchell's skimming harmony over the top, punctuated by Jerry Garcia's distinctive "cry" on pedal-steel guitar. The album opened up new spaces in my soul, as if the music was reflecting a secret self that I was only starting to discover inside me.
As teenagers do, I developed a set of personal rituals to honor the sacredness of the music I loved. On the beach in Provincetown, where my family stayed every summer, I filled a bottle with sand, shells and seawater, brought it back to New York City, and put it on a kind of altar in my room as a reminder of my favorite place on Earth as I listened to If I Could Only Remember My Name over and over. Once I became a tape trader, I'd bring cassettes loaded up with rare tracks on family vacations because live versions of songs like "Wooden Ships" and "The Lee Shore" (many of them written on David's schooner, Mayan) sounded perfectly at home among the gulls and the wash of the tide under our deck.
Eventually, David and I would stand together on that deck. But first, he'd have to go through hell.
***
When I moved to San Francisco after college, I walked the docks in Sausalito looking for the Mayan, having no idea what I would say to David if I found it. What I didn't know was that at that moment, he was likely holed up in his house on Mt. Tamalpais, freebasing cocaine.
As the '70s turned into the '80s, it became clear that my pathfinders through life were losing their way. I was shocked to see the headline "The Death of David Crosby" in Spin magazine in 1985, with Graham predicting that his friend wouldn't live out the year. I was heartbroken to read that David's record label, Columbia, had rejected his follow-up to If I Could Only Remember My Name, which included an outtake from the original 1970 sessions with Jerry Garcia. I went to see David perform at the Great American Music Hall, and when someone in the audience shouted out "Music Is Love"—a relic of the holy times!—David snarled, "Yeah, I remember the Haight-Ashbury." Then he ranted on about how if John Lennon had been carrying a pistol on the night that he was shot, then "he would have blown that fucker away." He was a long way from swapping open tunings with Joni on his boat, speeding toward oblivion.
Finally, David pissed off the wrong judge, who sentenced him to dry out in a Texas prison, where the guards in the mattress factory took particular relish in taunting him, "Hey, rock star! What was it like gettin' all that money and pussy and stuff?" I wrote him a fan letter in jail that I doubt ever reached him. But at a Grateful Dead show at the Greek Theatre in Berkeley, I saw an exceptionally sketchy-looking dude—likely one of David's old dealers—in a "Free David Crosby" T-shirt. I mentioned the album that Columbia refused to release. "You want it?" he asked me.
"Yes!" I replied.
"Give me 10 bucks and your address," he growled.
Miraculously, a cassette arrived in my mailbox two weeks later. Several tunes on the tape would end up reworked on later albums like Oh Yes I Can and CSN's Daylight Again. One track, labeled "Wordless Song," was clearly the tune recorded in 1970 with Jerry Garcia and was fully the equal of "Song with No Words" or "Tamalpais High (At About 3)." For years, I would invite friends over and blow their minds with a great lost masterpiece that had fallen through the cracks. With Jerry's inimitably probing guitar and David's cascading choruses, it was heart-healing music, like a mantra with no dogma attached to it.
I hoped that David wouldn't fall through the cracks, and with the steadfast love of his wife Jan, he didn't. After serving his time, he started playing shows again, given a boost by opening for the Grateful Dead at their New Year's Eve show at Kaiser Auditorium in Oakland in 1986. David would later tell me that when he walked offstage, Jerry wrapped him in a huge bearhug, which meant the world to him.
His second life was about to begin.
***
In 1991, I got a call from a writer and curator named Raymond Foye, who I met when the poet Allen Ginsberg tried to set us up on a date. Walking into Raymond's room in New York's storied Chelsea Hotel, I heard the familiar strains of If I Could Only Remember My Name. At the time, the album was considered an epic flop—the nadir of hippie self-indulgence—by snarkmeisters like rock critic Robert Christgau, who panned it as "a disgraceful performance." I asked Raymond if he knew what we were listening to.
"The best album ever made," he replied. Right answer.
Raymond had gotten to know Graham through the art world and was calling from a hotel in Los Gatos, where Crosby, Stills, & Nash were mapping out what became a 4-CD box set. The band wanted to include a bunch of previously unreleased tracks, and Raymond kept mentioning my name as a collector of CSNY obscurities. "Who is this guy?" somebody said. "Just get him down here."
I hopped on a bus and spent the weekend smoking joints with my teenage heroes while combing through rare tracks and vetting photos for the booklet. ("You could get laid behind this one, Stephen!" I remember Graham saying brightly, admiring a particularly fetching photo of the young guitarist). David seemed a bit guarded, as if he was still bruised by his public fall from grace. But Graham was charming and affable, so I asked him, "Do you know of an unreleased track from If I Could Only Remember My Name with Jerry Garcia?"
"Oh, yes," he replied. "'Kids and Dogs.' I have it in my car." It had a name!
I settled in to finally hear the song the way it was meant to be heard. But just as the first chords rang through the speakers, Graham emphatically switched it off. "I just can't listen to it," he said. "The period in David's life when he was trying to put together that second album was so painful."
"Kids and Dogs" did not appear on the box set. But then something amazing happened. I was talking to Raymond again when I heard another line ring in the background. I asked him if he needed to answer it and he said with a sigh, "No, it's just Crosby with another fax. That guy is a fax addict."
"Fax addict? Crosby should have email," I replied.
I got in touch with a pioneering online community called The Well that was thrilled to set David up with an account. I advised him to choose a discreet username so he wouldn't be overwhelmed by fans, but he was having none of it.
"I want everyone to know who I am!" he roared. "Make it ."
David proved to be a natural for the online world. He thrived on pontificating in public while hearing others' unfiltered opinions. An omnivorous reader, he was insatiably curious about a broad range of subjects, from science to science fiction, nature, politics, history, aviation and space exploration. He also had profound respect for highly skilled craftsmanship in any field, from boatbuilding, woodworking, glass-blowing and guitar making to the tempering of Japanese swords. Though he'd never gone to college, he was a self-taught intellectual with a boyish enthusiasm for sharing what he learned.
Having grown up behind a velvet rope of fame, and then further isolated by his addictions and prison, David was eager to be in the mix when serious ideas were being discussed. He quietly cultivated an inner circle of gifted, witty, subversive and hilarious friends like actor Robin Williams and his second wife Marsha Garces, astrophysicist Neil deGrasse Tyson, gay Lebanese novelist Rabih Alameddine, painter Francesco Clemente, politically aware comedian and Sirius XM host John Fugelsang and award-winning science-fiction author Spider Robinson. For a man typically portrayed in the media as unable to maintain friendships, he was loved passionately by some of the best minds of several generations.
Shortly after David first got online, he was on tour with Crosby, Stills & Nash in London, and we used a primitive chat program to have a real-time conversation in text. We were both in the naïve flush of amazement at the internet's ability to open channels of communication between strangers, and he was surprisingly candid about his history, answering all of my nerdy fanboy questions. If I had any fear that my being gay would put David off, it was unnecessary. He had a very campy sense of humor, loved making crass jokes about sex and had several close gay friends. He was also up front about his own polyamorous history, which by then was firmly in the past, as he was fully devoted to his wife, Jan. It meant a lot to me that when David eventually met my husband, a softspoken science teacher named Keith, he instantly treated him like a member of the family.
We chatted all night long.
***
Three decades of adventures together followed.
When Crosby & Nash played the Cape Cod Melody Tent, David and Jan drove up to Provincetown and met my family at the beachfront house where I'd been communing with David's music for decades. He stepped to the end of our deck, looked out across the water to Long Point and exclaimed, "Oh man, what a beautiful harbor!" We took the Crosbys to one of our favorite restaurants, an old artists' hangout called Ciro and Sal's. When the waitress came to take our order, she looked at David and blurted out, "I lost my virginity to 'Guinevere'!" As we walked down Commercial Street, it seemed like every other person stopped David to tell him how his music had changed their lives.
By this point, however, it was obvious that David was feeling creatively stultified by his increasingly limited role in CSN, playing endless rounds of familiar hits— most of them composed by Graham or Stephen—while self-deprecatingly introducing himself as "the guy who writes the weird shit," before launching into "Déjà Vu" all over again. New Crosby songs became few and far between. Even his second solo album after prison, Thousand Roads, was mostly covers.
Everything changed when an accomplished young musician named James Raymond discovered through an adoption agency that David was his birth father—born to a woman David had a brief affair with in the early '60s—and reached out to him. I still remember the night when David excitedly popped a cassette into a boombox to play the first song they'd written together. Fresh, swinging, and syncopated, "Morrison" sounded both nothing like David's previous work and like a hip extension of it. "That's the best song Steely Dan never wrote!" I said. A serious Dan fan himself, David agreed.
With guitarist Jeff Pevar, David and James formed a new band called CPR, and the creative floodgates opened. They recorded two studio and two live albums, and David went out on tour reinvigorated, playing scores of new songs alongside James' jazzy rearrangements of classics like "Triad" and "Homeward Through the Haze." Predictably, the albums went nowhere in the marketplace because the rock press couldn't shoehorn the band into any prefabricated narrative. While CSN tours and corporate gigs still provided David with his most reliable paycheck, his relationship with the other acronyms was deteriorating in private. But CPR showed him a way to have a more vital career than becoming the most underappreciated member of a much-beloved boomer nostalgia act. He'd broken out of Madame Tussauds' House of Woodstock.
***
I got used to David phoning me upon the spur of the moment whenever he came to San Francisco. One morning, he invited me to breakfast at the Fairmont Hotel, followed by a serious smoking session in his usual corner suite with a view of the cable cars. Seeing him roll up a towel to block the gap under the door so the fumes wouldn't seep into the hallway, as he must have done in thousands of hotels over the years, I felt like I was witnessing some ancient rock-star ritual.
Suddenly there was a pounding at the door, and a booming voice said, "Security!" This being the era before cannabis was legal in California, my panicked brain processed the following at hyperspeed: having a lengthy rap sheet, my mustachioed hero would undoubtedly have to go back to the mattress factory or the equivalent. But wait—I would take the fall! I strode manfully through the smoke, preparing to confess that it was all my fault. Opening the door, I saw the face of Phil Lesh, cackling hysterically.
One day, David told me to get on a plane and fly to Burbank because he and Graham were recording a new album. Arriving in a red convertible with his trademark almost-cut-my-hair streaming back, David whisked me to the studio, where someone handed me a blunt as I was directed to a chair at the mixing board. The band had just recorded the basic track for a soulful ballad by James called "Lay Me Down," and David and Graham slipped up behind me on either side to sing their luminous harmonies directly into my ears: the famed "Crosby/Nash earfuck," as it was known in Laurel Canyon back in the day. I remember looking around and thinking, "If I was dreaming at this moment, how could I tell?"
I finally persuaded David to add "Kids and Dogs" as a bonus track to a CD rerelease of If I Could Only Remember My Name by paying the original engineer of the 1970 session, Stephen Barncard, to make a good mix. The final unexpected hurdle turned out to be convincing David that he hadn't already released the track. ("It's out," he said. "David," I replied calmly. "Go to your CD collection. Tell me which album it's on." Mission accomplished.)
Eventually, I'd earned what every nerdy fan desires most: input on setlists. I was always pulling for tunes that David hadn't played in decades, like "Games" and "The Wall Song." (Just to mess with him, I'd occasionally suggest one I knew he'd completely forgotten, like "Your Life Is What You Fill Your Day With.") David's triumphant return to the Great American Music Hall in 2014—this time with James, Marcus Eaton and the other members of his band—provided one of the most blissful moments of my life. David played "Tamalpais High (at About 3)" at my request after telling the audience the story of how we became friends. I went full Deadhead in the balcony, dancing as the tides of music flowed through me.
***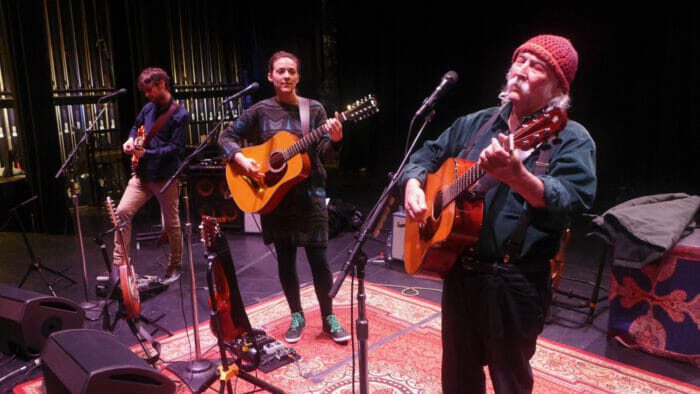 Tellers of ancient fables would recognize the elusive woman in Guinevere's walled garden as the Muse. David was one of the most devoted servants of the Muse I've ever met— particularly once she came back to him after he'd pissed her off so much during the freebase period. He often told me that his biggest regret in life was how much time he'd squandered on cocaine.
By being his friend, I learned that the "David Crosby" most of the world knew was a blustery cartoon that he enjoyed playing in public. The real David was a shy, sensitive, often lonely guy who overcorrected for never once hearing the words "I love you" from his famous cinematographer father Floyd by armoring himself with a supersized ego. (He'd often answer the phone selfparodically, "It is I, mighty and wise.") By raising his son Django with Jan, collaborating extensively with James, and forging creative alliances with the young geniuses in the Sky Trails and Lighthouse bands, David was trying hard to be the loving father he never had.
By nurturing the next generation of musicians like Sarah Jarosz, he also reenergized his own connection to the Muse. His last 10 albums—from CPR to Live at the Capitol Theatre—were among the finest recordings of his career. Another album with the Lighthouse Band, a highly collaborative record with the tentative title Light Years Lost, is already in the can.
In the last months of his life, I undertook two projects with David that went so well they felt preordained. One was a podcast series for the Osiris Media network called Freak Flag Flying that captured the irreverent, wide-ranging conversations we'd been having privately for decades, while playing the Crosby rarities I'd been collecting since high school. The second project was the liner notes for Rhino's 50th anniversary rerelease of If I Could Only Remember My Name with additional bonus tracks, including two versions of "Kids and Dogs." It seemed absurdly cosmic that when the studio we were planning to use for these interviews closed because of COVID-19, we ended up at the old Wally Heider's, now Hyde Street Studio, where If I Could Only Remember My Name was recorded.
Something I didn't want to tell David was that after we finished these projects, I had an uncanny feeling that our karmic business together on Earth was complete. I had debriefed Agent Crosby before he took on his next incarnational assignment.
I saw David for the last time at brunch on the day after Thanksgiving. He and Jan were in a very upbeat mood, and David was energized by a bunch of projects he was working on, including talks with director Robert Zemeckis about a CSNY documentary and an original screenplay about the next incarnation of the Dalai Lama.
He seemed to announce his retirement every few months, but the last time I spoke with him on the phone, David invited me to a concert he was planning at the Lobero Theater in Santa Barbara with James, Stephen's son Chris Stills and other musicians he loved. You can see the moment that David decided to return to the stage in a clip of "Naked in the Rain" posted by James to Instagram.
Though David was rightly proud of his legacy with CSNY, it's no secret that he had been engaged in a very public feud with his former bandmates for the past decade or so, particularly Graham and Neil. David once asked me which sides of the various stories I believed, and I replied, "All of them, and none of them. I listen to all of you and try to triangulate what the truth might be." He said, "That sounds right."
In early January, David left a voicemail for Graham saying that he was ready to take responsibility for having hurt his feelings so they could finally talk it out and put their conflicts behind them. He left a similarly contrite message for Neil. Graham texted back that he was eager to do that. But their long-hoped-for reconciliation never got the chance to happen. On the night of Saturday, Jan. 14, David told me in email that he had tested positive for COVID-19 for the second time, despite being fully vaccinated.
Five days later, someone tweeted at me, "@stevesilberman, Yahoo Finance is reporting that David Crosby died. Reaction?" I clicked on a link with my heart in my throat and read an odd press release on a dodgy website called News Direct claiming that David had died of a "very long illness." Celebrity death hoaxes are legion online, and I wondered if the press release was bogus. Minutes later, The New York Times obituary desk called me to fact-check the details of David's passing. I was unable to confirm even his death, though it soon became clear that our friend was really gone. In the coming days, many of us who had loved David for years ended up grieving in our separate ways, trying to make sense of a great loss—both to music and our lives. A memorial celebration is apparently in the works. Hopefully, it will include musicians from all of the phases of his career.
I like to remember David as a man eager to challenge conventional wisdom on anything, whether it was the architecture of a chord, the inequalities in society or the nature of the universe. One of the last songs he recorded with the Lighthouse band is called "What Makes It So?" May we never stop asking.