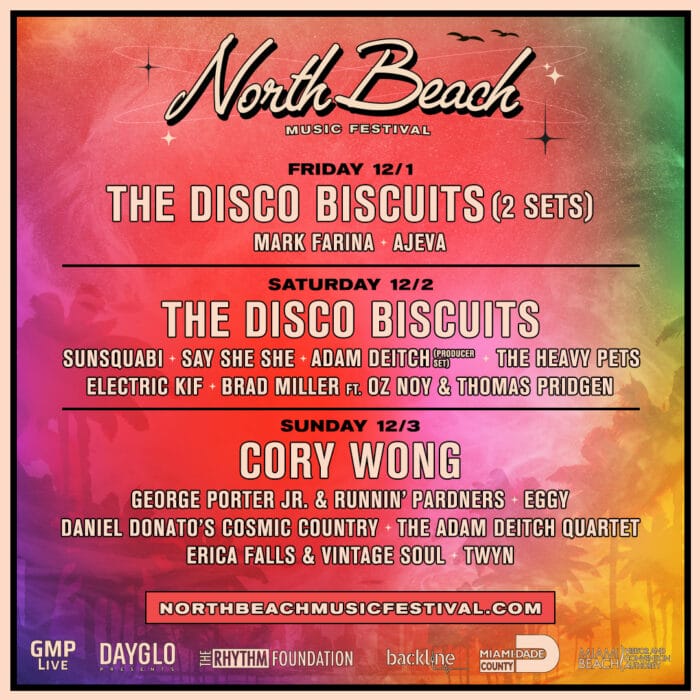 Today, North Beach Music Festival shared the programming for its third annual event set to commence at the Miami Beach Bandshell in Miami Beach, Fla., on Dec. 1-3. To celebrate the detailed schedule, North Beach Music Festival announced that Disco Biscuit's Marc Brownstein will perform a late-night DJ set as Brownie at ZeyZey Miami following the opening celebrations.
"We love the flow of the North Beach Music Festival 2023 schedule," shared festival founder and promoter Gideon Plotnicki in a press release. "All three days showcase the truly eclectic nature of our scene, from Funk to Jam to Electronic Music and everything in between. We look forward to seeing all of our North Beach Music Fest Family in just a few short weeks!"
Doors for the festival open at 4:00 p.m. on Friday for an evening at the Miami Beach Bandshell, featuring performances from St. Petersburg, Fla.-based funk outfit Ajeva, Chicago house, acid jazz and downtempo DJ Mark Farina, along with two sets by The Disco Biscuits.
On Saturday, the festival will expand to Bandshell Park which will host two full days of music across two stages. The Heavy Pets will open the festivities an hour after doors at 2 p.m. and the day will see sets by Brad Miller ft. Oz Noy & Thomas Pridgen, Say She She, Electric Kif, Sunsquabi, Adam Deitch and finally, The Disco Biscuits.
The following day will kick off at 12:30 p.m. with George Porter Jr. & Runnin' Pardners welcoming the day with funk starting at 1:30 p.m. The rest of the day will unfold with sets by Twyn, Daniel Donato's Cosmic Country, Erica Falls, Eggy, and Deitch again, this time with the Adam Deitch Quartet before Cory Wong brings the day to a close.
Doors for Brownie's DJ set will open at 11:30 p.m. An exclusive late-night pre-sale for North Beach Music Festival purchasers will commence on Thursday, Nov. 9, at 12:00 p.m., and general on-sale takes place this Friday, Nov. 10, at 12:00 p.m.
Learn more and find tickets here.