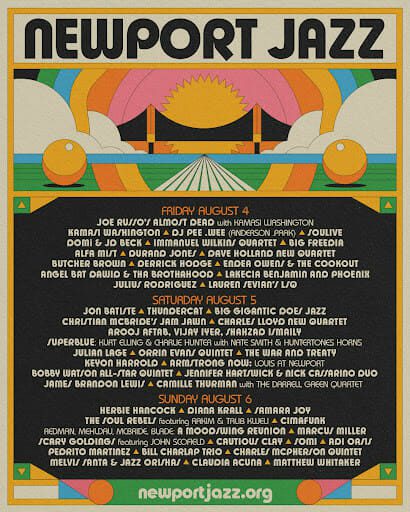 The legendary Newport Jazz Festival has announced a new string of artists who will join in its return to Fort Adams State Park in Newport, R.I., for its 69th annual event on Aug. 4 through 6. The fresh list of esteemed and celebrated acts joins an already-packed lineup set for later this summer.
The new acts include The Soul Rebels featuring Rakim & Talib Kweli, Dave Holland New Quartet, Marcus Miller, Jennifer Hartswick & Nick Cassarino Duo, Adi Oasis, Durand Jones, Derrick Hodge, Armstrong Now: Louis at Newport, Angel Bat Dawid & Tha Brothahood, Bobby Watson All-Star Quintet, Claudia Acuna, Melvis Santa & Jazz Orishas, Lauren Sevian's LSQ, Camille Thurman with The Darrell Green Quartet and Matthew Whitaker.
The previously announced lineup includes the likes of Herbie Hancock, Diana Krall and Charles Lloyd, leading artists and cultural leaders like DJ Pee .Wee (Anderson .Paak), Jon Batiste, Kamasi Washington and Thundercat, along with a thrilling new class of Grammy winners and nominees, such as Best New Artist Samara Joy, DOMi & JD Beck and Arooj Aftab. 
Special ensembles for the summertime occasion include Newport Jazz artistic director Christian McBride's annual Jam Jawn, MoodSwing, Scary Goldings featuring John Scofield, and a highly anticipated collaboration between Joe Russo's Almost Dead and Kamasi Washington. 
Tickets for the 69th annual Newport Jazz Festival are on sale now. To learn more about the upcoming event, follow this link.
Newport Jazz Artist Additions
The Soul Rebels featuring Rakim & Talib Kweli
Marcus Miller
Dave Holland New Quartet
Durand Jones
Adi Oasis
Derrick Hodge
Armstrong Now: Louis at Newport
Angel Bat Dawid & Tha Brothahood
Bobby Watson All-Star Quintet
Jennifer Hartswick & Nick Cassarino Duo
Claudia Acuna
Melvis Santa & Jazz Orishas
Lauren Sevian's LSQ
Camille Thurman with The Darrell Green Quartet
Matthew Whitaker