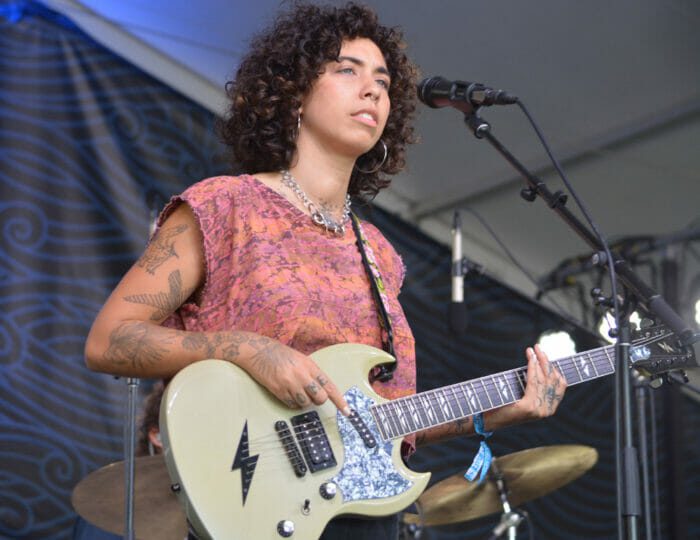 Photo Credit: Dean Budnick
After the first day of festivities, which kicked off on Friday, July 28, attendees of the annual Newport Folk Festival returned to the Fort Adams State Park yesterday in continuation of the musical coming-together in The Ocean State. Saturday picked up with trickling melodies in the late-morning hours–cascading into the afternoon as acts emerged on stage and cut into their sought-after sets. 
Willi Carlisle started off the action on the Harbor Stage, ending his set by embracing the sing-a-long format, which got the crowd to answer back to the self-proclaimed poet and folk-leaning singer. Elsewhere on the grounds, the afternoon presented the arrival of additional players, including Danielle Ponder, whose vocals captured the attention of many, specifically during her spin on the Radiohead-composed "Creep." 
With the afternoon sun high overhead, The Backseat Lovers played, followed by Indigo De Souza, overlapping in time with The Hold Steady, who performed on the Quad Stage. During their stand, the Craig Finn-fronted band brought out Bonny Light Horseman's Josh Kaufman, who was on the grounds to support Nanna, who played earlier in the day. Notably, Kaufman produced the Of Monsters and Men vocalist's set, How To Start A Garden (2023). 
A highpoint of Saturday's festival bill included Goose's frame, which included originals: "California Magic," "Silver Rising," and "Madhuvan" prior to an ensuing take on The Band's "Don't Do It," which sandwiched "Lead Up" with a fitting take on "Animal" featuring none other than The Muppet, who sat in with the Connecticut-based jamband, at his signature spot behind the drum kit. 
Later, John Oates returned to the stage after day one's sit-in with My Morning Jacket—his set of music featured blues artist Guthrie Trapp, who joined in during the Harbor Stage display. Angel Olsen took to the Quad Stage, followed by Jason Isbell's take over of the Fort Stage. During his set, the musician welcomed guest Evan Felker to assist on "King of Oklahoma," later, SistaStrings added to "Death Wish." 
The early evening brought forth the Turnpike Troubadours, who welcomed Tyler Childers to sit in on a cover of John Prine's "Paradise" and their original "The Bird Hunter," adding to the specialty of their time on stage, which came after Amiee Mann's performance. 
The final performance, billed as Jon Batiste and Friends, was cut short due to impending weather on an otherwise nice day. Included were Lauren Daigle, as well as Steve Jordan and Brandon "Taz" Niederauer, among others, who worked through a bank of material to the excitement and pleasure of the crowd. 
Photographer Dean Budnick was on location and shared choice shots from Saturday's event.