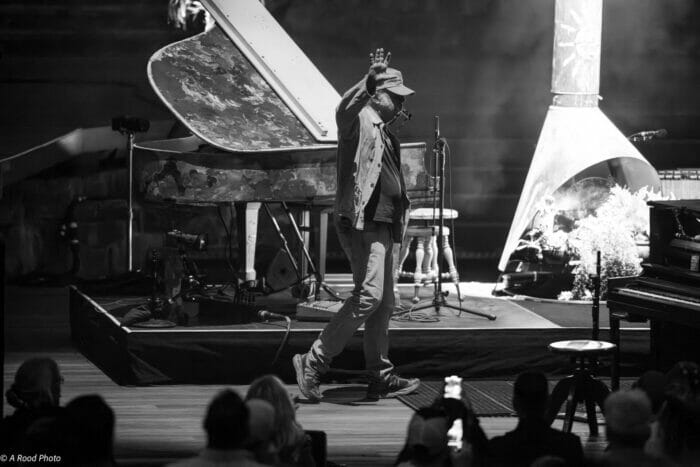 Photo Credit: Steveo Rood
Neil Young commenced his return to the road on June 30 at the John Anson Ford Amphitheatre in Los Angeles. During opening night, the prized musician dipped deep into his archive, dusting off several fabled tunes and treating the audience to a sprinkling of debuts–a trend that has continued throughout the artist's recent west coast appearances.
Last Friday's show got underway with "I'm The Ocean" performed for the first time since 1997. After "Homefires," Young cut into a take on Buffalo Springfield's "Burned." Spinning the Rolodex, the entertainer landed on "If You Got Love," played for the first time since 1986.
A live debut of "A Dream That Can Last" enchanted concert-goers before Young's take on "Song X," a tune referenced in early conversations about the material to be expected on the current tour. "Prime of Life" represented another bust out. Keeping with the trend of mined material, the artist strode through a passionate take on "When I Hold You in My Arms."  
After fan favorite, "Ohio," Young played "Days That Used to Be," followed by a first-time take on "Don't Forget Love." "Heart of Gold" marked the end of the main frame, then for his encore, the singing treated fans to "Love Earth," followed by a cover of Ian & Sylvia's "Four Strong Winds." 
In the days which rolled after Young's initial Coastal Tour stop, the artist continued to hit on material that beckoned to all phases of his career, including a fiery "Rockin' in the Free World" on July 3. He returned to the Los Angeles venue last night, July 5, treating fans to another performance of career-spanning material.
Scroll down to view photos shot by Steveo Rood during Young's June 30 tour debut in Los Angeles.