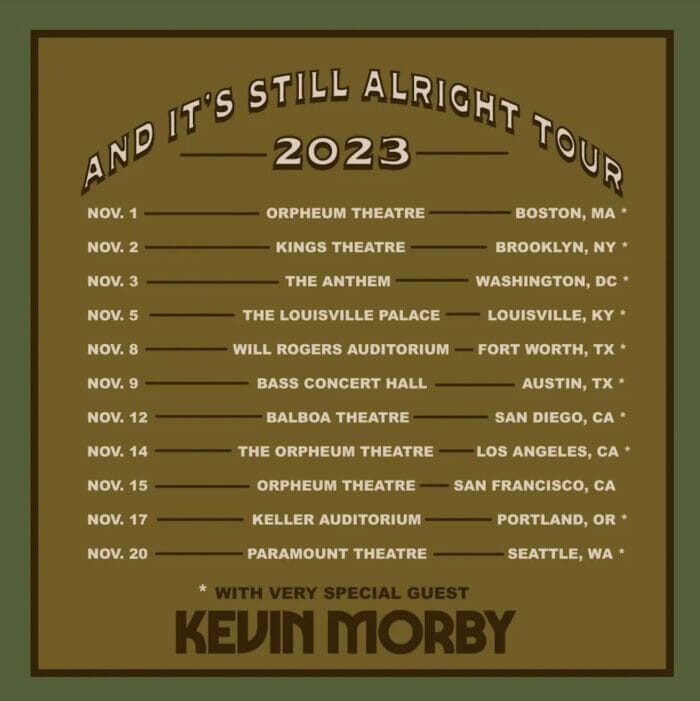 Today, singer-songwriter Nathaniel Rateliff announced he's preparing to revive his highly acclaimed 2020 solo tour in support of And It's Still Alright. After the original tour was abruptly canceled due to the pandemic, Rateliff is ready to hit the stage again, bringing his soulful tunes and heartfelt performances to fans nationwide and for the new shows, he'll be accompanied by his friend and special guest Kevin Morby.
The tour's revival follows a sold-out nine-month run in 2020, cut short just nine days after its kick-off in Minneapolis. The rejuvenated And It's Still Alright tour promises to showcase the depth of Rateliff's musical talents. Audiences can expect diverse performances, oscillating between intimate, stripped-back moments featuring Rateliff's soulful voice accompanied by an acoustic guitar and more elaborate arrangements with a full 10-piece folk band, complete with a string quartet.
The tour is slated to kick off on Nov. 1 at the historic Orpheum Theatre in Boston, with notable stops at prestigious venues like Brooklyn N.Y.,'s Kings Theatre, Austin, Texas's Bass Concert Hall and Los Angeles' The Orpheum Theatre.
And It's Still Alright was released in 2018 and remains the cornerstone for the tour; however, the shows will spotlight Rateliff's full catalog of solo albums. Notably, And It's Still Alright delves into Rateliff's personal journey, reflecting his experiences as a wounded seeker grappling with pain and loss. His introspective and poetic lyrics vividly depict his struggles and aspirations, imbuing the music with a sense of hope and transcendence.
Tickets for the And It's Still Alright tour are now available for purchase. Learn more and find tickets here.
NATHANIEL RATELIFF
November 1—Boston, MA—Orpheum Theatre ‡
November 2—Brooklyn, NY—Kings Theatre ‡
November 3—Washington D.C—The Anthem ‡
November 5—Louisville, KY—The Louisville Palace ‡
November 8—Fort Worth, TX—Will Rogers Auditorium ‡
November 9—Austin, TX—Bass Concert Hall ‡
November 12—San Diego, CA—Balboa Theatre‡
November 14—The Orpheum Theatre—Los Angeles, CA ‡
November 15—Orpheum Theatre—San Francisco, CA
November 17—Keller Auditorium—Portland, Oregon ‡
November 20—Paramount Theatre—Seattle, WA ‡
‡ with Kevin Morby