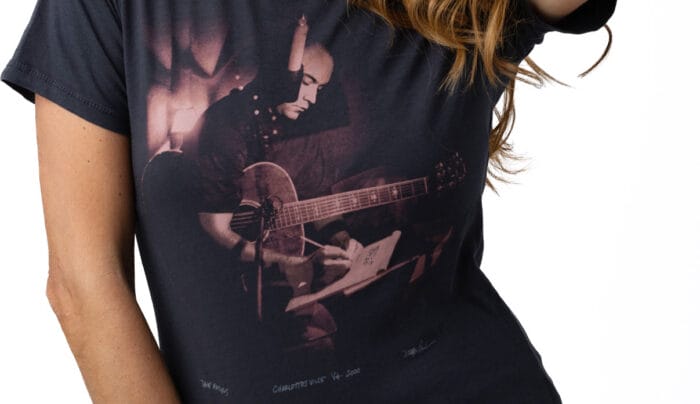 "We were going for moments," Danny Clinch says of the images he selected for his new T-shirt line, which debuted earlier this year. "Whether those moments took place live onstage or somewhere else, that's what we had in mind. These are some of my favorite photographs of my favorite people."
The initial artists featured in the Clinch Collections include Phish, Gregg Allman, Willie Nelson, Johnny Cash, Dave Matthews and Zac Brown—all of these shirts are now on sale in the Relix Marketplace. Bruce Springsteen, Johnny Cash, Pearl Jam, Willie Nelson and Metallica are also among the first round of drops.
Previously available only at select art galleries, the tees are created through a special printing process in conjunction with Jeffrey Levine and Golden Goods, to ensure that the images are properly reproduced in high style.
In the following conversation, Clinch talks about many of the photos that inspired the shirts, as well as some of his other ongoing projects, including the Transparent Clinch Gallery and Sea.Hear.Now, the music festival which The Killers and Foo Fighters headlined in September.
You always have so much going on. Before we discuss the shirts, what else have you been working on as of late?
I did this really cool project called 1000W. It started during the pandemic when a friend of mine who's an artist, his name is Jim Watt, was putting on these jazz concerts in his parking lot when everybody had to be separated and masked up. He was trying to raise money for the jazz musicians who he was bringing down from New York City so they could make a buck.
We ended up making this film together where he decided he would do these Japanese ink wash paintings, and while he was doing them, he would have this jazz band playing, led by this friend of ours, Antoine Drye. They would start playing and he would start painting and we were projecting it onto this screen in the studio. This was when we were able to be in the same room with masks on. So it became a three-way conversation where the painter is painting, the band is playing and I'm filming. It's really cool. It's about a 14 minute film and it's really sort of abstract.
I shared it with Steve Jordan and he loved it. He brought it into the Jazz Foundation of America [Jordan is the Artistic Director of the JFA]. We've streamed it a couple of times and we've sold several of Jim's paintings to raise money for musicians in need, jazz musicians specifically. So that was real cool.
It's very interesting. It's very meditative. When we were doing the film, he was like, "Are you interested in doing this?" I asked him, "There are no rules, right?" He said, "No rules," I told him, "I'm in."
[embedded content]
1000W trailer
So that was real cool. I recently also did this cool project with Porsche which is not music-related so much. They do this thing called Rennsport which is kind of a festival that revolves around everything Porsche. So they had the vintage Steve McQueen Porsche that he bought with his first bunch of money. They also had some of the new electric ones, as well as everything in between. They hired me to go out and put a little rock-and-roll into it to and document it through my eyes, which is cool.
I also went out to one of the My Morning Jacket shows recently where they did It Still Moves, which was really awesome. Photographing that was really fun and it was cool hanging out with one of my favorite bands.
I'm about to go out to LA to photograph Gustavo Dudamel, who is the conductor of the LA Philharmonic. He's their main guy who runs the show. He's actually moving to New York in a year or so and he's like a rock star in the Philharmonic world.
There are a bunch of other things, too. Last but not least that I'll mention is I just did another shoot with Metallica for their Blackened whiskey brand. That's always fun. I like those guys a lot.
There's also the Transparent Clinch Gallery.
Yes, I have the gallery going on in Asbury Park, which is always super cool. We have live music there all the time. Sometimes when a band has sold out the Stone Pony they will come through and maybe play a set at the gallery. That's always fun. We did that with The Head and the Heart. Nathaniel Rateliff came through and did a set at the gallery recently. That stuff's really exciting for us. It's been fun.
There's also Sea.Hear.Now—we've got that going on. So yeah, I'm keeping busy. [Laughs.]
How did you initially envision the festival?
Well, it's interesting, Tim Donnelly and I thought it would be really cool to do something in Asbury. Then Mumford & Sons did their Gentlemen of the Road thing where they were going around and playing in different towns that they felt could use an influx of cash—that was the idea behind it, which we thought was really cool. They came through Seaside Heights, New Jersey, where there had been a big storm and a fire on the boardwalk. They did this Gentlemen of the Road and it was a very small, manageable festival that we thought was really interesting. They inspired us in a sense.
So when Sandy happened, we did something called On The Beach and we asked all our friends to come through—My Morning Jacket, Preservation Hall, Jesse Malin, Brian Fallon, Nicole Atkins and people like that. We produced this thing on our own and it really well. All of our friends were really cool and were willing to help out.
That's when we started pushing around our one-sheet for Sea.Hear.Now. I had done Bonnaroo for 20 years, as you know as well as anyone, and I've been to a million other festivals. Finally, Tim Sweetwood [from C3 Presents] was the one guy who said to us, "Let me come down to Asbury Park and see what you've got going on. I want to see the site. I want to see Asbury Park." When he got there and stood on the boardwalk, it was clear to him that something magical could happen there.
So he was in, and then with our other partner HM Wollman, we put this thing together. Tim Sweetwood and C3 supported our creative ideas and then the three of us gave our input on the musical ideas with the lineup.
The first Sea.Hear.Now was in 2018 and this past year was incredible. We had The Killers headline the first night and Foo Fighters the second night. We also had Nathaniel Rateliff & The Night Sweats, The Beach Boys, Sheryl Crow and a lot of others. It was so much fun.
Another highlight for me was on Saturday night after the festival.  When The Killers played Madison Square Garden not so long ago, Springsteen came out and sat in with them and they got a friendship going. When this year's Sea.Hear.Now was first announced, I ran into Bruce and he was excited that they were coming to Asbury Park.
Anyway, to fast forward, Bruce got sick with peptic ulcer, so he was out of commission. But I had worked with Brandon Flowers and The Killers on their last record. So I texted Brandon and I said, "We do a late night jam on Saturday night. Right after your set, my blues band plays—Tangiers Blues Band—and any of the artists that want will come over and sit in with us. You should come and do a Springsteen song. We've seen you do 'Promised Land' in the past."
I didn't expect to hear from him right away but he hit me right back up and said, "That sounds cool." So then at the festival, I went back to say hello to him. The next thing I knew he pulled out his phone, plays "Promised Land" and the two of us were singing it together. He's like, "Okay, so there's a keyboard solo and a harmonica solo, then I come in here. This is going to be great." Then he asked, "I've got to get to Philly, so can I be early on in the set?" I was like, "Whatever you want, dude." [Laughs.]
So after they walked off the stage following their set, I ran to the Stone Pony and jumped up on the stage with my band. Literally 20 minutes later, someone peeks their head in the door and says, "Brandon's outside, he wants to talk to you." So I we went out and we went over it again. Jake Clemons was there from Bruce's band—Clarence's nephew—and they came in and we did "Promised Land." I had learned the harmonica riff and Brandon came in and crushed it.
There's also a surfing component to Sea.Hear.Now. What are the origins of that?
That was all Donnelly and HM, my partners. HM is a surfer and Timmy wrote for the Surfrider Foundation for years and is a water guy as well. They do this thing called expression sessions, which means that whoever is doing the most entertaining surfing is the one who ends up winning. What's really cool is that it's men and women who are national surfers from all over the place and they surf while the music is playing. Everybody gets to play to someone different. I remember the first year, this guy Sam Hammer, saying, "I surfed to Blondie! I couldn't believe it!" So they're surfing to any number of acts that are playing on stage. This year Sheryl Crow was shouting out to surfers. It was really awesome.
You mentioned My Morning Jacket earlier. You were shooting a documentary at Bonnaroo in 2004 when they played that epic set in the rain storm. MMJ released their live performance earlier this year. What are your memories of them at the festival in 2004 and over the years?
When I think back on them, I remember the very first year that they played Bonnaroo [2003]. They were playing at noon on a Sunday in one of the tents and we filmed that as well. It was just so wild to just see this young ragtag band from Louisville come in, capture everybody's hearts and just tear the place down. Then they did 2004 [on the Which Stage] and after that they were headlining.
I just love that band so much. They're musically adventurous and spiritual too. I think every great band has a bit of mystery to them, and My Morning Jacket has that for me. I even know the guys and I still feel the mystery of it. It's so beautiful. I can imagine those who don't know them personally can really feel the great mystery that they bring to the table—that sense of adventure and love. When I saw them recently at the Beacon they ended with the George Harrison tune, "Give Me Love (Give Me Peace On Earth)." It was really incredible.
Moving to the Clinch Collections, what inspired you to create T-shirts?
I have this friend of mine [Jeffrey Levine] who I met through Citizen Cope. He was doing these really cool T-shirts for Clarence back in the day. We ran into each other and he was like, "Dude, we've got to do a series of T-shirts with your images on them. Something that's a little higher end."  His company's called Golden Goods and they're out of San Francisco. We re-met at BottleRock Festival and he was showing me his T-shirts and stuff. He was like, "We should do this." I felt a little uncomfortable about approaching anyone about it, so I said, "Here's a couple images. Why don't you do some samples and send them my way?"
So he did that and they were incredible—the quality of the shirts and the cut and the care that he took. He did a sewn-in label on the back and then put the Clinch Star on the sleeve. I just fell in love with them and I was wearing them all the time. I also gave a couple out to my friends who kept saying, "Are you ever going to do this? These are really amazing."
The inspiration for me came from old surf shirts. Aaron Chang used to make these shirts that were just his photographs on a T-shirt. There wasn't a big graphic or big name of anything. It was just a simple photograph, like a punk rock tee or a skateboard tee or something, where there was a photograph of a skater and that was it with a rough border on it. I was like, "I want to do that."
So I decided to ask around, and to my surprise, the people that I asked thought it was a cool idea and were interested. Like me, they really flipped out over the quality of the shirts. There's a lot of work that's put into these shirts, not to say the least that the incredible quality of the shirt. It's got the sewn-in label with my mission statement on the background. It's got a hang tag with a little story about each photograph and a little blurb about that particular shoot. People have told me that they're already starting to collect the tags. They're buying the shirts and they're keeping the tags and putting them in their collection of ephemera and stuff that keep from their favorite bands.
The Relix Marketplace is going to have an exclusive on the Dave Matthews shirt. Can you talk about that photo?
Most of these are moment-oriented. Pearl Jam is a great live moment, and the Dave Matthews one is a different kind of moment where he was actually writing a song. We were in the recording studio together in 2000 while he was writing. It's always been one of my favorite photographs of him that I've taken, and I've taken so many that it's hard to choose.
So we try to treat them like a fine art print photograph on the shirt. Underneath it says "Dave Matthews, Charlottesville 2000, Danny Clich." Just really keeping it simple and to the point.
How about the Phish balloon image?
It's one of my favorites. We were up at Fishman's house in Vermont at one point doing a session for publicity, and it started to snow. We didn't expect it to snow, but a big snowstorm happened. So we thought it would be awesome to go outside. They were all grabbing different coats. I don't know if Trey grabbed someone else's coat or maybe he grabbed a coat out of his car that he hadn't worn in a while but when we got out there and were taking these photos, he reached into his pocket because he was cold. Then he was like, "Oh, what's this?" and he pulls out a balloon. He didn't realize it was in there but he blew it up and I grabbed the photo. We all had a good laugh on it. It's become one of my favorites and people just love that photograph.
There also a second Phish shirt, which is titled Wild-Ox.
Yeah, that one's taken with this camera called the Widelux. I would bust it out with Phish and other bands. They all got a big kick out of it because it's like a panoramic camera and the lens moves. It's really weird when you're being photographed. You're like, "What the hell is that?" So they started to call the camera The Wild-Ox, which is why I titled it that.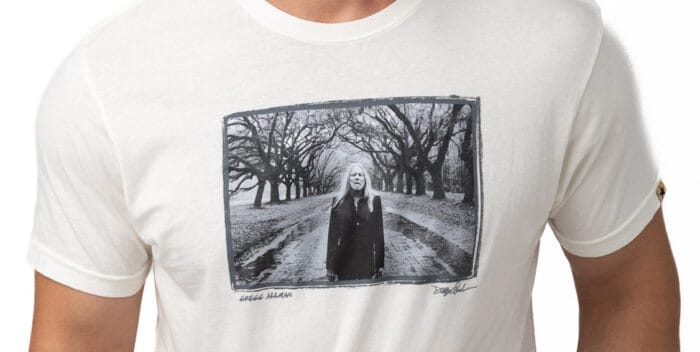 What are your recollections of the Gregg Allman photo shoot?  
I've always been an Allman Brothers fan. They're one of the early bands I listened to as a kid and I really loved the band. I got to know Gregg in the Allman Brothers, and especially towards the end of his life we became friends. We did this shoot for his Low Country Blues record, and me being a blues guy, I was super stoked to be photographing it. We went out to Savannah, Georgia and we hung out. We found this row of trees and it was so beautiful. It's kind of an eerie photo too, in a sense.
I got to photograph that record and this was my favorite image from the shoot. I just find it to be so perfectly Gregg. At that point in his life, being from the South and having traveled the world, he had gone back there because he loved it. It just seemed to me to be a really important image to me.
Now that I think about it, you shot the cover for my 2003 Allman Brothers Bandpiece in Relix. I think that's the first time you ever worked with them, which is nice little bonus connection to the magazine.
I believe you're absolutely right. I've done quite a few covers for Relix and I think it was the first time I photographed the band. I had known Warren for such a long time and I know I photographed Warren and Dickey Betts for one of the guitar magazines back in the day. But, yes, I believe that the Relix shoot was my first full-on Allman Brothers Band shoot, which I think is awesome.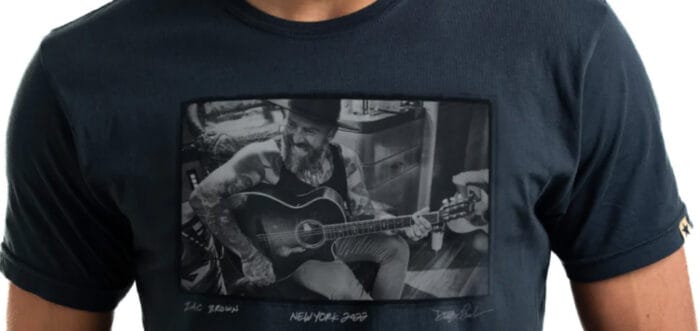 How did the Zac Brown photo come about?
I started working with Zac Brown a couple of years ago. He's a super nice guy and a really great collaborator. Talk about a guy who really cares and works hard. Everyone in his band is a music fanatic, and when they rehearse or when they are sound checking, they're doing it. I really admire someone who works that hard.
Zac has also diversified as someone who's a chef and a foodie and a craftsman. He's building knives, doing all these other things, and he's super cool. I happened to be shooting him for the last record and I was showing off some of the prototypes. We looked at each other and we were like, "Zac Brown shirt?" He was like, "Hell yeah!"
So again, I was looking for a moment. We were on the tour bus at the Citi Field when they were playing and they were running through a bunch of songs. They do that before every show because they're trying to dial it in and get in the zone. So I got this great moment of him playing his guitar in the middle of a tour bus jam. Little would you know by looking at the photograph that right around the corner, about 200 yards away, the stadium was full of people waiting for him to walk out on the stage.
What's next for the Clinch Collections?
When this started I was a little nervous because my relationships with the bands are worth more to me than any T-shirt. But I thought this was something cool to do, so I asked a few of them. They were into it but they already had merch deals with companies like Bravado and Merch Traffic. I wasn't sure what those companies were going to say about it but it turned out they were really cool. They had been following me for a while and they said some nice things. They even made some suggestions about other artists that they work with. So now I feel more comfortable that other people will want to be part of it.
We're still trying to feel it out, though. I'm just happy that the shirts turned the way they did, that people really seem to like them and that we're getting them out there in the world.