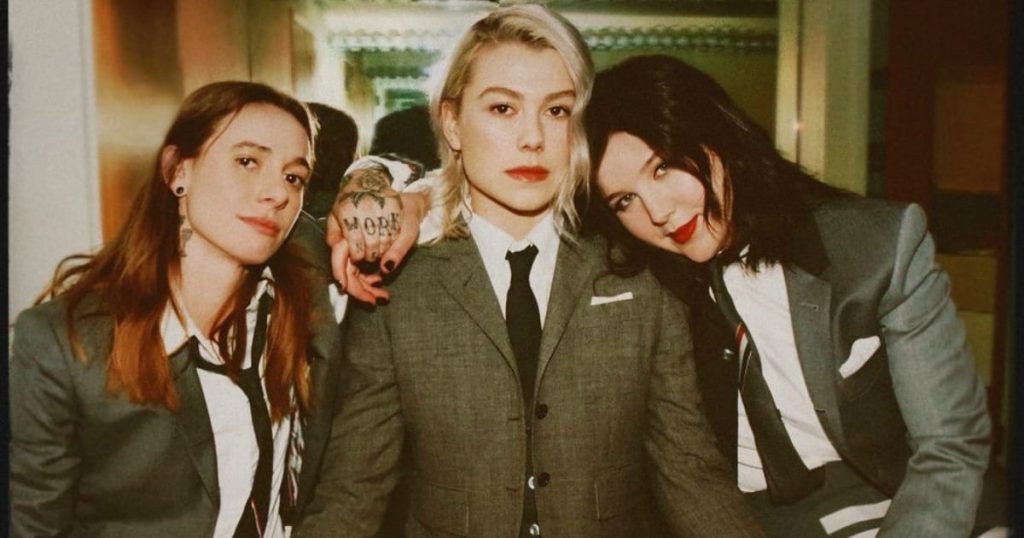 The tradition continues: Since 2017, Phoebe Bridgers has marked the holiday season by releasing a charity single, and this year is no different. The artist and her boygenius bandmates tapped folk duo Ye Vagabond to assist on the traditional Irish ballad "The Parting Glass," a song that Sinéad O'Connor famously popularized. Listen below. 
"The Parting Glass" was initially featured on O'Connor's sixth studio album, Sean-Nós Nua, released in 2002. The collection aimed to display the musician's blend of new and old musical stylings–a feature that seeps through with folk duo and fellow Irish musicians, brothers Diarmuid and Brían Mac Gloinn addition on the single.
As a way of giving back, boygenius, Ye Vagabond, and Interscope Records will donate all net proceeds from the single to the Aisling Project, an Irish-based charity that "provides a safe and secure environment for children and young people in Ballymun. We offer a wide range of ever-expanding activities in a welcoming, safe, caring, and fun-filled environment." Notably, the choice of charity was picked by O'Connor's estate.
Before the release of "The Parting Glass," Bridgers' covered "Have Yourself a Merry Little Christmas" in 2017, "Chrismas Song" with Jackson Browne in 2018, "7 O'Clock News/ Silent Night" with Fiona Apple in 2019, Merle Haggard's "If We Make it Through December" in 2020, Tom Waits' "Day After Tomorrow" in 2021, and The Handsome Family's So Much Wine" in 2022. 
Recently, boygenius graced the October/November issue of Relix. Purchase your own copy of the magazine here.
To learn more and donate, follow this link. Listen to boygenius and Ye Vagabond's cover of "The Parting Glass" below.