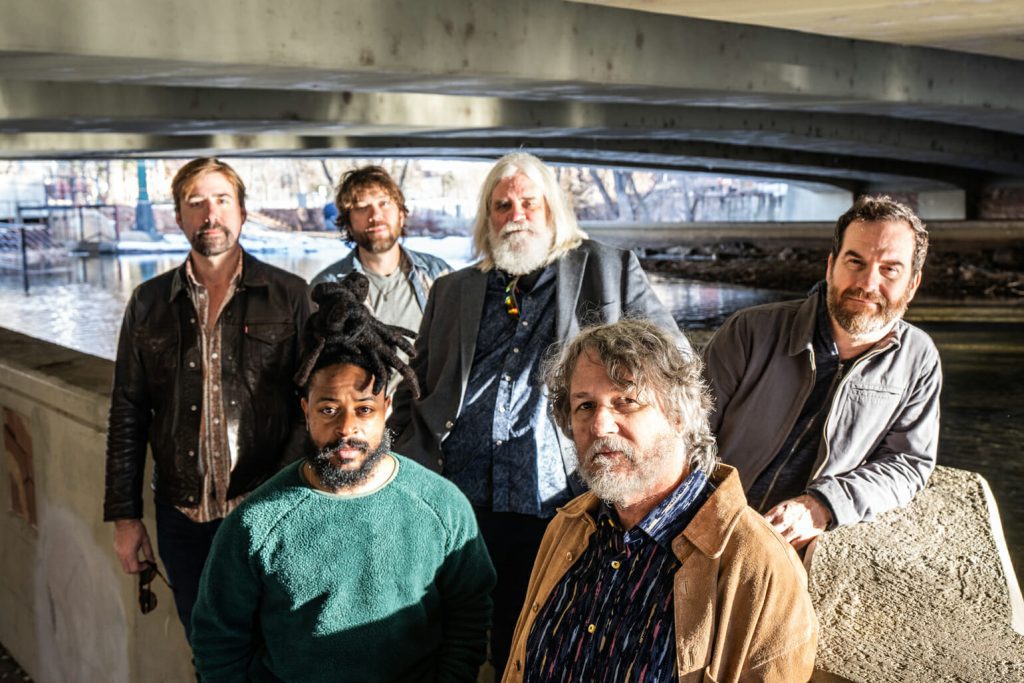 photo: Tobin Voggesser
***
Leftover Salmon's new album, Grass Roots, is loaded with bluegrass renditions of songs by early inspirations such as Bob Dylan, the Grateful Dead and David Bromberg. But, according to co-founder Drew Emmitt, that wasn't always the original plan—mostly, as fellow Salmon co-founder Vince Herman clarifies, because there originally wasn't as plan.
"Like most of the things we've done in our 33 years together, there's never been an overarching business plan or a marketing plan. We just do what we do and hope that something sticks. It may have helped to have had a plan," Herman, who sings and plays guitar in the group, says with a laugh. "But, we're slackers."
Plan or not, after more than three decades, a dozen albums, thousands of performances and acclaim from musicians and critics alike, there's little to no evidence of slacking in Leftover Salmon.
Emmitt, who sings and rotates between mandolin, fiddle and guitar, looks out the window of his home in Crested Butte, Colo., and watches the snow fall on a Tuesday morning in late April. Three days ago, he was in Memphis for the band's Saturday appearance at Shell Daze. The night before that, the members of Leftover Salmon were in sunny Southern California at Skull & Roses, the Grateful Dead-centric festival along Ventura's shoreline. Before that, they turned in two weeks of shows in Hawaii.
Leftover Salmon will spend the summer moving between headlining dates at clubs and theaters, appearances at numerous festivals, and support spots for old friends Little Feat on an amphitheater run. It's the kind of schedule that typifies the intent of the group's latest record and their longstanding philosophy—get together, play music, have some fun and make enough money to quit the day job.
The original no-plan plan for 2023, according to Emmitt, was to follow up the optimism of 2021's post-quarantine LP, Brand New Good Old Days, with another album of original songs. "We were all trying to write songs for a new record, and we just didn't have enough," Emmitt says. "It just wasn't coming together."
Greg Garrison, who has been Salmon's bassist since 2000, had an idea. He suggested that, instead of original compositions, the band could record a collection of covers. Leaning into their bluegrass roots, they decided to hone in on a mostly acoustic album that recalled their nascent days simply jamming with friends.
"We are a band that started out going to bluegrass festivals and pickin' around the campfire," Emmitt says. "This really harkens back to when we were first beginning as players, what we were listening to and where this band ultimately came from."
Individually and collectively, they chose a repertoire and, in May of 2022, the musicians decamped to a studio in Nashville. After enlisting Garrison to serve as the primary producer for Brand New Good Old Days, they also quickly decided to tap the bassist/music professor to helm the Grass Roots sessions. "He's much more organized than the rest of us," Emmitt says. As Herman proclaims, "He's the most organized person on the planet."
***
Compass Records, Salmon's once and current record label, and Compass Sound Studios are nestled on 19th Avenue in the heart of Nashville's Music Row. Back in the 1970s, Compass Studios was Glaser Brothers Sound Studios—otherwise known as Hillbilly Central. Founded by Tompall Glaser and his brothers, Jim and Chuck, the space served as the headquarters for Waylon Jennings and the burgeoning Outlaw Country movement. It was where Jennings cut his first No. 1, "This Time," where Shel Silverstein lounged in the foyer working on tunes and where John Hartford tracked his seminal bluegrass album, Aereo-Plain.
"That was the Outlaw Country studio clubhouse for a while. It's a pretty iconic place, and you feel the history," Herman says, while calling from his current home in Nashville. "That was definitely an element that made it really comfortable for us."
Like those subversive cowboys in the '70s, the members of Leftover Salmon saw a genre in need of some change. Coalescing in Boulder, Colo., circa 1989, they are the spiritual offspring of bluegrass vanguards who dared to break with tradition—somewhat sacrilegiously going electric and adding drums.
"We came along at a time when bluegrass maybe needed a kick in the pants," says Emmitt, who—along with his bandmates—was inspired early on by Earl Scruggs' 1972 effort, His Family and Friends, along with pivotal contributions from the Nitty Gritty Dirt Band and New Grass Revival. "It needed to be thought of as music that was viable, that you could actually tour and make a living playing. Not many people were playing bluegrass on tour. There was Hot Rize and New Grass Revival, but they were breaking up when we started. There was kind of a void."
Leftover Salmon aimed to fill that void by connecting the dots between a number of seemingly divergent genres, forging their eclectic blend of "polyethnic Cajun slamgrass." They traversed the country in their school-bus touring vehicle, winning over audiences at traditional festivals such as MerleFest and Telluride Bluegrass, as well as newer events like High Sierra in Northern California. On an early trip to the East Coast, they were even the serendipitous beneficiaries of some well[1]spread gossip.
"We played the Wetlands in New York City," recalls Emmitt. "There was a rumor that Phish was playing under the name Leftover Salmon. And there was a line around the block. We were, like, 'Oh, my God, here we are in New York City and there's a line around the block to see us!' The place was packed, like 1,200 people, and they dug it. But we did get a lot of questions like, 'So when is Phish going to show up?'"
With co-founder Mark Vann on banjo, the band's original "big three" navigated through several lineup changes, cultivating a style that respected form and tradition—yet still occasionally punched holes in those walls. However, in May of 2002, Vann passed away after battling cancer. Admirably, the wonderfully talented Noam Pikelny stepped in for Vann, but the constant strain of life on the road was starting to take its toll. "We were trapped on this treadmill of touring. We couldn't get off of it. We couldn't change it. We couldn't tour less because of how everything was set up," Emmitt says. "We had kind of outlived that way of touring." And, after 15 years together, Leftover Salmon went on hiatus for a few years in 2004.
If anything epitomizes Leftover Salmon's current bluegrass-throwback period, as they eclipse a second stretch of 15 years together, then it's the group's newest member, Jay Starling. A Dobro player and keyboardist of highly exceptional skill—who also happens to be the son of John Starling, the founding guitarist for '70s progressive bluegrass quintet The Seldom Scene—Starling joined Salmon last year. He rounds out the current lineup of Emmitt, Herman, Garrison, banjo player Andy Thorn and drummer Alwyn Robinson, essentially filling the spot left by keyboardist Erik Deutsch, who departed for a gig with The Chicks and is now touring with The Black Crowes.
"Previous records with Erik Deutsch were great. He is a great keyboard player," Emmitt says. "But, bringing in Jay definitely sharpens the bluegrass aspect. You can only do so much with keyboards in bluegrass. Jay rounds out the band, and it's nice to have that instrumentation. We can be a bluegrass band when we need to be. It came together on this record—a level of comfort and focus."
With that comfort and focus, the band recorded a beautifully assembled set of 10 songs in a remarkably short two and a half days. They mostly tracked live, though the ever-social sextet did welcome a few special guests, including Billy Strings, Oliver Wood and Darol Anger.
"[Darol] stopped by for some singing, picking and a whole lot of grinning," Herman says with a laugh.
Wood, a Colorado native now living in Nashville, initially bonded with Emmitt in 2017, when they both performed at Col. Bruce Hampton's 70th Birthday celebration in Atlanta—a performance that culminated tragically with Hampton collapsing onstage and later passing away at an area hospital. "We just had a really great connection that night," Emmitt says. "Everybody experienced something that was just otherworldly. The people that were there were part of something that was huge and crazy and beautiful and sad."
For Wood's guest spot, they chose "Fire and Brimstone," a greasy exercise in New Orleans funk, most commonly associated with The Neville Brothers, that the band has often covered live. Yet, Garrison dug a little deeper, referencing the original version written by early rock-and-roll architect Link Wray, inspiring the album's least bluegrass cut. "Bringing Oliver Wood in on that was perfect," Emmitt says.
Simply put, Anger, a founding member of The David Grisman Quintet, has been a major icon of the new acoustic music scene for nearly five decades. "He's been royalty for that long," Herman says.
The fiddle player has also been a frequent guest onstage at Salmon shows, sitting in numerous times over the years, making his inclusion on the album nearly a given.
As for Strings, he too shares a spirited history with Salmon, dating back to his days opening for the group at Bell's Brewery in his native Michigan. At that time, Strings was a relatively unknown, wunderkind hybrid of Doc Watson and Pantera—not yet the modern-day face of the bluegrass/jamband world—performing as a duo with mandolinist Don Julin. That early meeting sparked a continuing friendship that has led to many sit-ins during the past few years, as well as some ski lessons from Emmitt.
Strings dazzles on two cuts. He peels off glistening licks alternately reminiscent of Watson and Tony Rice while harmonizing with Emmitt on The Delmore Brothers' "Blue Railroad Train," and he joins in the fun on the Dylan instrumental, "Nashville Skyline Rag." The guitarist and the band worked out the latter number, Herman explains, on the spot during the session.
"It was a great way to see what he can pull off," Herman says. "His break on that is just unbelievable. It is so good; it freaks me out. He's got a great mind and probably a photographic memory."
Of course, the members of Leftover Salmon remain at the top of their game throughout the record. There is Thorn's assured vocal on an up-tempo trip through the Grateful Dead's "Black Peter," alongside Herman's confident turns of phrase during the Dylan classic, "Simple Twist of Fate." And there's Starling's cap[1]tip on "California Cottonfields," a standard his father sang with The Seldom Scene.
Throughout, the ensemble's instrumental prowess is also as prominent and affecting as ever. As much as any song, Herman's sardonic and devilish nod to Bromberg during "The New Lee Highway Blues" exemplifies Leftover Salmon's integral place in the chain of bluegrass history. "This record is all about honoring those things we sprung out of," Herman says. "To be able to do a Bromberg tune just as he's retiring was a real circle for me."
It could be argued, as the founding members of the band enter their fourth decade together, that this album affirms Leftover Salmon's place as their generation's bluegrass torchbearers. Yet, both Herman and Emmitt extinguish any notion of having created a singularly unique brand.
"All of our friends influence each other. Nothing starts anywhere. It's all derivative of something else," Herman says. "To say that we started something—I've never been comfortable with that."
However, Leftover Salmon have certainly learned to adapt as they've grown. They've cut back significantly on bus tours, opting to fly to many shows. They've also branched out—cultivating solo careers and side projects like Herman's new outfit, The High Hawks. It's all the more reason why a return to the band's roots is so renewing.
"As it came together, it just felt like, more and more, this is what we should be doing," Emmitt says. "It's big for us to get in touch with where we came from, to pay homage."
Herman, too, appreciates the results of the no-plan plan and takes it one step further. "It took 33 years and two and a half days to make this record. It feels good on many fronts. It's a great state of Salmon right now," the singer/guitarist says. "I dare say, it may even be peak Salmon." Then, with a smile, he pauses and adds, "It gets easy after 33 years."