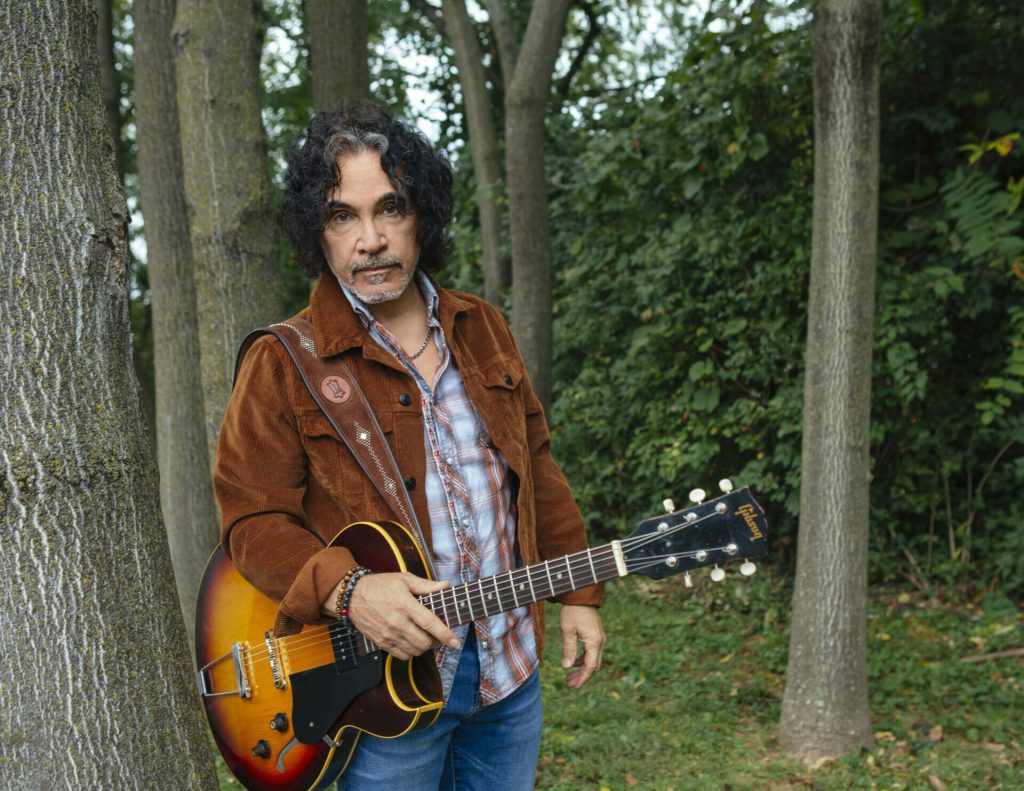 photo: David McClister
***
On April 18, the two-day Relix Music Conference will conclude with a keynote conversation featuring John Oates. The musician, whose memoir Change of Seasons was published to acclaim in 2017, will look back on a career that remains active and vital, both through his work as a solo artist and in partnership with Daryl Hall.
Just prior to this year's Conference, which will take place in Oates' current home city of Nashville, he will travel to California for a series of dates, including an appearance at the Grammy museum. Oates has maintained a steady pace as of late, with the release of regular digital singles, most recently a cover of Timmy Thomas' "Why Can't We Live Together." More music will follow, including a version of the Hall & Oates classic "Maneater," which is finally finding its original form as a reggae song. Oates also has written a number of tunes for the forthcoming film Gringa that are likely to be released, along with a "modern folk album" that is slated for the fall.
You dedicate your Change of Seasons to your hometowns of New York, North Wales, Philadelphia and Nashville. Then you add, "Music City deserves a book of its own but this is not it." Since the Conference will take place in Nashville can you talk about that connection?
Nashville came to me at a very interesting time. I basically checked out in the 90s. Daryl and I kind of stopped touring at the beginning of the 90s. We recorded one album in 1996 but otherwise we weren't really doing anything at all. So I was focused on my personal life during that period of time.
I had moved to Colorado. It was really a complete life change for me. I had gotten divorced in New York, moved to Colorado, met my current wife—we've been together for almost 30 years now—had a kid, built a house and lived in the mountains.
I kind of put music on the back burner until the late 90s when I got involved with some people from Nashville, who introduced me to a songwriter named Jerry Lynn Williams. He worked in Nashville but actually lived in Oklahoma. I got involved with producing an album for him and in so doing, I started meeting the Nashville songwriters. It was exciting for me to step out of the world of Hall & Oates and my collaboration with Daryl to work with other people. I'd never really worked that much with anyone else. So all of a sudden this whole world opened up for me and I had these grand visions of writing a hit country song, which was a fantasy that has never come true. [Laughs.]
I learned quite quickly that I was best left trying to write Oates songs and doing the best I could with those. But what happened to me was I wrote a couple songs in collaboration with some new people. I went to Nashville, did some demo sessions, and in the course of doing the recording sessions, the first thing that struck me was the high level of musicianship that was happening, even on a casual demo session. Then I started meeting people like Sam Bush, Jerry Douglas and Bela Fleck. I did some recordings with them, and I was like, "OK, the musical bar is set extremely high." To be honest with you, not to disparage anything about Hall & Oates at all, but I was coasting along because I could. I was basically playing the songs and doing my part in the Hall & Oates hit parade, so to speak.
I needed to be tested and I needed to be challenged. I needed to take my musicianship to another level. These guys showed me that there was a level of musicianship and professionalism in Nashville that I hadn't really been aware of. When I jumped into it, my name would get me in the door, but in order to stay at the party I had to be able to deliver. So I began to practice and I began to re-explore the roots of the music that made me who I was before I met Daryl Hall and we started doing whatever it was that we achieved.
That was a key for me. All of a sudden I realized that in order for me to go forward, what I needed to do was re-embrace the things that made me who I am as an individual. That was the gift that Nashville gave me, the kick in the ass to practice and really up my game on both songwriting and musicianship. That was the key to unlocking what could be a potential direction for me as a solo artist.
At the outset of your career, one could hear so many musical styles juxtaposed to each another on mainstream FM radio. These days with satellite radio and streaming, the options are both narrower and deeper. What are your thoughts on those opportunities and challenges, particularly in the context of your new digital releases?
The sheer glut of music that's being released on a daily basis is insane. I think it's forced many artists to pick a lane and try to reach an audience with a more narrow focus. It's come out of desperation of realizing that only a few artists are going to be able to have the type of mass appeal that we were able to have in the 70s and 80s. I mean, you can count them on one hand. There aren't many Taylor Swifts.
I think that's forced artists to say, "I'm not going to be able get broad acceptance in the musical audience. So let me just focus on getting the attention of the people, in a much more narrow, focused way." I think that's both good and bad. At least it gives everyone an opportunity to pick a lane and go for it. But that can be challenging in its own right.
This is something I've just experienced while releasing these digital singles. When I first started working with the Orchard and Black Box no one could figure me out because my music touches on Americana, roots, R&B and vintage soul. They were like, "What lane should we be promoting you in?" I said, "Well, I don't have a lane." That's the good thing about me and maybe in terms of promoting someone in the digital world, the bad thing about me.
It was interesting to be able to work with this younger generation of digital marketing people and digital promotion people to say, "Look, you can't put me in a box, because that's not what I do."  So it's been an interesting and revelatory experience for both of us.  I made a conscious effort to be a little bit more narrowly focused with the release of the first couple singles—"Pushin' A Rock" and "Disconnected. Now with "Why Can't We Live Together," I thought if I went for this 70s-esque soul era thing, that people might be able to latch onto that and connect me to their expectation of who I was with Hall & Oates. It's sort of  a social experiment, I guess, and it's kind of worked.
Now I also have a backlog of what I'm calling modern folk songs that I will probably release in the fall. I'm not backing down from being eclectic, versatile and having a lot of wide interests. But I'm also cognizant of how you sometimes have to narrow your gaze to reach an audience. It's a bit of a dilemma for me as someone who doesn't like doing that but I understand it a lot more than I when I started all this.
So is it still your intention to maintain a steady digital release schedule?
I'm good up till June. We've got "Pushin' A Rock," "Disconnected," "Why Can't We Live Together" and then I'm releasing "What a Wonderful World," the classic. I did it in the 70s, soul, R&B style, trying to stay in that lane, so to speak.  
Then I'm releasing a really cool version of "Maneater" that I recorded in Kingston, Jamaica, with some of the legends of reggae—the guys who played with Bob Marley, Peter Tosh, and Toots and the Maytals. I put together a super reggae band in Kingston, went down there to record "Maneater" and it came out great.
So that's gonna be my final release of this digital project. Then I think I'm going to take a little break. I've got a soundtrack for a movie that's coming out over the summer [Gringa]. Then in the fall, I think I'm going to release the modern folk album of stuff that I really like and I've had in the can.
I didn't want to confuse anyone any more than I already was, so I'll give it a little space and then come out with something in the fall. I'm calling it modern folk because it's not traditional in any way.
I've heard some ofthose modern folk tracks and I really enjoy the song you wrote about Sonny Terry and Brownie McGhee.
Yes, it will be part of that release. I co-wrote it with a guy named Joe Henry—not the country Joe Henry, but Joe Henry who's a lyricist and author from Colorado. He's my neighbor out there.
He gave me the idea for it. We talked about the fact that they really disliked each other, and as time went on, they actually hated each other. But one went blind, one lost his ability to walk, so in some cosmic way, it brought them together. They literally needed each other to get on stage.
So not only was their personal story unique, but I thought to myself, "This is a much bigger story. It's a story about kindness. It's a story about lending a helping hand. It's a story about cooperation."
When I began to work on the lyrics with him, I said, "Let's write a more universal story, but use this anecdotal experience of Sonny Terry and Brownie McGee as the core, as something that we can jump off from."
I really like that song, because on the surface it seems like it's about these two guys—and in a sense it is—but it's also about something much larger.
As for music that will surface in more immediate future, you've done a lovely job of making "What a Wonderful World" your own. What led you to select that song and approach it as you did?
It's obviously one of the great American popular songs of all time. It's been reinterpreted by many people, but as far I know, it's always been reinterpreted as a ballad. That song was an emotional inspiration for me during COVID and the pandemic—during that period of time when I wrote "Pushin' A Rock" and "Disconnected."
"Disconnected" was a direct result of feeling disconnected on every level. Then after saying that and feeling like that, I wanted to sing something really positive. I was doing some acoustic solo shows, and I noticed that my songs were very introspective and sober in a way. So at the end of the night, I wanted to leave people with this sense of being uplifted and positive.
I taught myself the song and then I began to mess with the chord progression to make it a little bit more my own. Then I thought, "I've never heard an uptempo version of this song, even though it's an uplifting song with a positive message." So why not encase that message in a musical framework that is energetic, as opposed to a sweet ballad? That was behind my reinterpretation of the song.
When I went in the studio, I had a bunch of guys I chose to play that song, who had a sweet spot for the R&B that was coming out of New York with King Curtis and Bernard Purdie, and the stuff that we were doing with Arif Mardin on Abandoned Luncheonette. That's where I wanted to go with it and they understood completely. So we played it and what you hear is absolutely live in the studio. There are no overdubs. It's five guys playing and that's the track.
In terms of "Maneater," I remember from reading your book that you wrote it right after you came back from Jamaica and it originally had a reggae feel. How did you come to revisit it and can you talk about the sessions you just mentioned?
It was something that I always thought I was going to do one day. The reason I didn't do it sooner is because I didn't want to do a half-assed version with a bunch of guys just playing in a reggae style. 
It finally came together through my good friend Native Wayne Jobson, who's a radio DJ and a producer—he's produced things for Ziggy Marley and all sorts of stuff. He's a buddy of mine and we've hung out in Jamaica many times. I was out with him in Los Angeles and I said, "Now that I'm doing these digital releases, this might be the time for me to do a real reggae version of 'Maneater.'"
He said, "Why don't I put a session together? Let's get the all-stars, the real cats, the guys who played on these records." People like Sly Dunbar, who's probably the world's best reggae drummer. Chinna Smith, the guitarist, played with Marley and Toots. Robbie Lyn, the keyboard player, played with Peter Tosh and a lot of others. Chris Meredith, the bass player on the "Maneater" reggae session passed away a few months later—it was the last recording session he ever did.
We went down to Kingston and had this incredible experience in the studio. I made a mini-documentary which I will release concurrently with the song. It was an incredible experience to be able to play with the real guys and it came out great.
What drew you to "Why Can't We Live Together?" That's another one where you honor the original but also make it your own.
I've never been overtly political in any music I've made. I don't like to proselytize. I'm not that guy. In this case, though, it was so meaningful, with what was going on in the Ukraine, what was going on with the protests around the presidential election. I couldn't ignore it anymore and I couldn't do anything that was better than the Timmy Thomas song.
He crystallized that moment in the 1970s. To his mind it was Vietnam and other issues having to do with race that were happening in the 70s. But a great song stands the test of time. It transcends contemporary moments. That's what appealed to me—it's so stark, it's so unique.
I did a little background research on the song and found out that there were various A&R record company people who told him, "The song's not finished, we need to add some guitars. What about strings?" My reaction was "Wow, that's why labels shouldn't be involved in the creative process." [Laughs.]
I said to myself, "That sounds perfect as it is, so if I'm going to record it, I have to make it my own." Then I said, "What is the signature thing that I do? Background vocals." So I wanted to bring a little doo-wop into it.
It's a slippery slope. I don't want to copy something verbatim. I want to make it my own but I also don't want to use lose the essence of what made the song great.
When I walked in the studio, I'd recorded most of that track at home on GarageBand. I do a lot of my early demos on GarageBand. I love working on it because it's just so easy to use. So I came up with some really cool stuff in GarageBand, and I brought that into the studio along with some great session players.
They all knew the original, and the first thing the keyboard player said was "B3, right?" And I said, "No, exactly wrong. The Timmy Thomas song is nothing but B3. That's the only thing that's on the track. We're not going to have any B3 on this song. We'll do anything else you want to do but no B3." So that was a funny kind of a kick off to the approach.
I wanted to get a 70s R&B feel, so I pulled out my old Danelectro Coral Electric Sitar, which is a guitar-like instrument that sounds like a sitar. It's on the Stylistics "You Are Everything" and some of those Gamble and Huff songs. I pulled it out and that put the icing on the cake with that quintessential 70s vibe.
It's so funny, I hadn't played that guitar in about 20 years.  It was sitting in my locker. I didn't even change the strings. I just pulled it out, played it, and put it right back. It was just a fun thing to do and I thought a new generation should hear what a great song it is. I felt it was a song that everyone would relate to considering what's going on in the world.
Moving on to a subject matter that I imagine you'll address in some way at the Relix Music Conference—how conscious were you about the business side of things at the outset of your career and how has that changed over time?
In the early days, I was a complete idiot when it comes to the business. I fell into the great rock-and-roll tradition of give 'em a bottle of wine and get 'em to sign this paper so you can own their musical life.
It's an age-old story that's happened to everybody, at least it did back in the day. I was weak enough and not clear enough, so I bought into that old thing of, "Hey, go out and be a rock star. Have fun and let us handle the business. You don't need to worry yourself about stuff like that." I took the bait and it went on for years. It really wasn't until the 2000s when I began to wake up out of my coma and realized that I had to attend to a lot of things that were really not handled properly. It had to do with publishing and it had to do with record royalties, contracts, managers, all sorts of things.  
I'm a completely different person now. Unfortunately, I spend more time on business now than I probably do on music. That's because it's so important for my legacy, not only for myself, but also for my wife and my kid. I'm trying to trying to take into consideration the new technologies that are happening—what the future of intellectual property is going to be, how do you control it, and how do you make sure that you have ownership. These are the things that I'm very much involved in now.
My wife is very sharp and she has her finger on the pulse of this stuff as well. So it's great that I have a support system. I'm doing it to protect a lifetime of hard work, commitment and professionalism.
Publishing is the sneaky one that sometimes flies by younger artists.
That's the big one. That's where the money is. Fortunately for Daryl and I, we have an amazing catalog that continues to generate substantial income both from licenses and royalties, which is the gift that keeps giving.
But I worked my ass off for 50 years for that, so I don't want to lose it now—especially with what might be coming down the pike. That's why I'm focused on how to preserve and protect this very valuable asset as we go into an uncharted future.  
Final question: I imagine that over the years you've been asked many times for whatever advice you can offer an emerging artist or a would-be professional musician. What will you typically say?
I say the same thing every time. [Laughs.]  I say learn from the people you love.
Learn from your heroes. Listen to the music that moves you and try to understand why it moves you. What about it appeals to you?  
If you're musically inclined, break it down. What is it they're doing that turns you on?
If you can break it down to the point of copying it, even if you never understand the mentality behind what they created, at least you can understand the mechanics behind what they created.
Then if you're willing to work at your instrument and your craft, perhaps you can translate the mechanics of what your heroes created to something original that you can create.