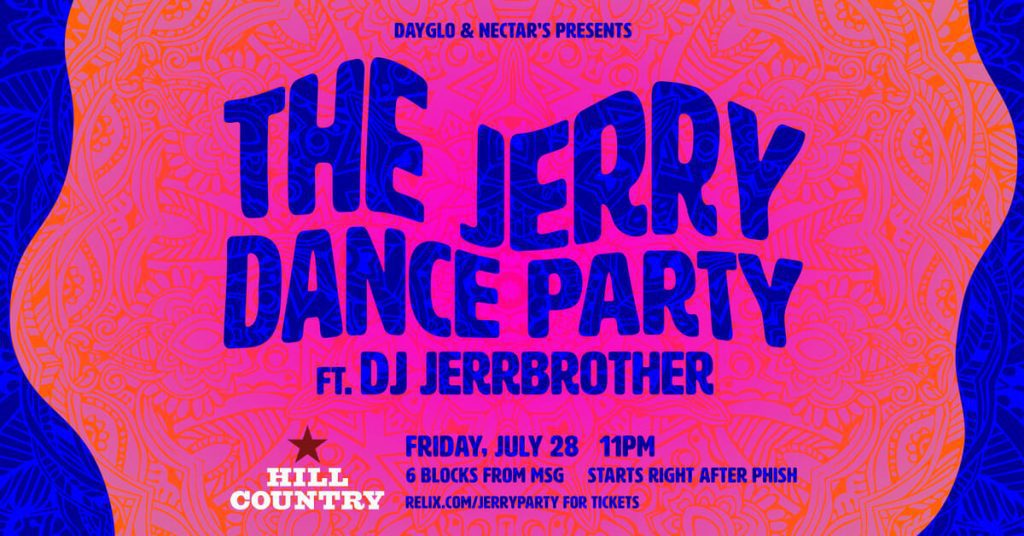 Today, Dayglo and Nectar's have joined forces to announce an impending Jerry Dance Party. The event is scheduled to occur on July 28, at the Hill Country venue in New York City, and will feature a set of music spun by DJ JerrBrother. The after-party will follow Phish's second night on stage at Madison Square Garden, during their seven-night stand at the acclaimed NYC location. 
Following tradition, The Jerry Dance Party will feature state-of-the-art audio combined with a mind-bending light and video experience and will be hosted by DJ JerrBrother. The Jerry Dance Party is known for welcoming guests in after shows to celebrate all eras of Garcia's career, with live cuts by Grateful Dead as well as Old & In The Way, Jerry Garcia Band, Merl Saunders, John Kahn, New Riders of the Purple Sage and many more.
"We're bringing Garcia's entire career to the dance floor for three-plus hours of the most ripping, psychedelic live tracks," said DJ JerrBrother. "Undoubtedly, at every Jerry Dance Party, people come up to me and ask, 'What show was that from?' 'What year is this song from?' I've combed through hours of live Garcia tracks to find the best of the best. We leave people with a renewed sense of exploration and love for the guy who brought it every night, Garcia."
Tickets to The Jerry Dance Party Phish After-Party on Friday, July 28 are on sale now and can be purchased here.
To learn more about Phish's upcoming summer tour, visit the band's official website.