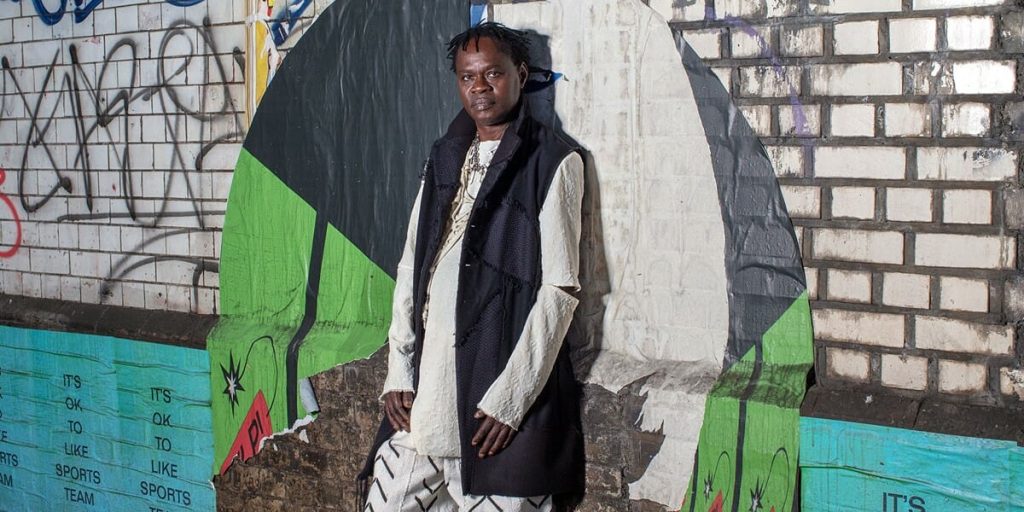 photo: Matthew Donaldson
***
One night a few years ago, legendary Senegalese singer Baaba Maal was sitting just outside a tiny hotel bungalow in Mar Lodj—a village in the country's coastal, mangrove-covered Sine-Saloum region. His band had decamped to Mar Lodj for some rehearsal time, to dive deeper into Maal's three[1]decade catalog of songs. Maal began plucking at his guitar and singing a new melody—a fluttering, swirling tune. That's when he realized that he wasn't alone—an entire chorus of crickets was singing along with him.
During the last track on Baaba Maal's latest album, Being, you actually hear them chirping just below Maal's patiently played guitar—so serenely that listeners are immediately transported to the Senegalese beachfront, where the moon is out, the air is damp and the waves are lapping.
That's always been one of Maal's powers—a devoted, lifelong traveler himself, his music can transport you. It's a quality that has helped him become the de facto musical soul of Wakanda, scoring spots on both Black Panther soundtracks. And it's what has propelled him from his hometown of Podor to stages around the world.
But even after all of that, just months shy of his 70th birthday, Maal still considers himself to be a journeyman.
"Podor was a crossroads town—many different groups live together in harmony—a 'free town,' where runaway slaves would come for safety. Growing up here, I saw one community or another celebrating every night," he says from the porch of his family home, with several nephews playing in the yard. "From 8 p.m. until 5 a.m., you could walk neighborhood to neighborhood, family to family, and learn their songs. You could sing in their languages and jump into the center of their dances. It completely opened my eyes."
Maal was studying music at a conservatory in Dakar and singing in Senegal's national orchestra in the 1970s when the desire to explore engulfed him. He and guitarist Mansour Seck packed their instruments and hit the road while on holiday, but, the singer says, "It was so exciting that I wrote to the conservatory director and said, 'I don't think I'll be coming back any time soon.'"
As Maal and Seck played their way through six different West African countries, two months became two years. The journey was a "lapol," the word Maal's community uses to describe "going on the road to meet people, and to understand that you are just like them." By the time he returned to finish his studies, he was forever changed.
Even now, more than four decades after his lapol, he adds, "If I had the chance to do it again, I would go on the road with no plan. I would arrive in a village knowing no one and say, 'I'm here to play, where are my friends?'"
But, he adds with a grin, "Unfortunately, people do know about me."
Indeed, throughout the 1990s, Maal began fusing local Senegalese music—which is often dense, polyrhythmic, beautiful and electrifying—with more global influences. And global names quickly took note. Over the next few decades, he collaborated with Brian Eno, Taj Mahal, Tony Allen and many others; recorded a whole EP with Mumford & Sons; and evolved into an international touring force. He put Podor on the map by founding the annual Festival Blues Du Fleuve. And his gorgeous, acrobatic vocals became instantly recognizable to listeners around the world, whether they knew the name Baaba Maal or not.
When this West African icon speaks about creating Being, he's invigorated and enthralled—as if it's his first album. It only takes one listen to easily understand why: Mixing new and traditional melodies in his native Pulaar tongue, Maal stacks up layers and layers of Senegalese hand percussion, cut through with spikey guitar and funky dashes of electronics. The album gallops along until its hushed finale, which finds Maal lovingly singing to the crickets.
"Melodies are the elements that comes to me first," he says. "It loops and loops in my head until it offers me the lyrics. The melody leads me to what I want to say."
Across these songs, Maal addresses the different ways that the modern world has affected our ability to simply be. On the explosive opener "Yerimayo Celebration," he sings in tribute to the Senegalese fishing communities and how their lifestyles protect the environment and nourish their souls—a life he would've inherited from his father had he not chosen music. During "Freak Out," he offers a timely warning to those who expose too much of their personal lives on the internet. And with "Boboyillo," he explores how the web can help us find inspiration, connect with one another and create change.
Maal spent the last few years conceptualizing Being with producer and multi-instrumentalist Johan Karlberg, writing and recording in New York, London and Senegal. The pair made a conscious decision to spotlight both the vocal melodies and the percussion, using creative electronics to elevate the songs to uncharted heights. The result is an album full of pulsing, pounding rhythms entrenched in ecstatic, celebratory energy. In other words, it's going to make you dance—one of the purest forms of being.
"Life can be hard, but percussion comes to tell us we must smile, we must dance, we must be together," Maal says. "But also, music is how people tell their stories in Senegal. It's always been like that in Africa. You can be a good singer, playing the most beautiful music. And at the end of the song, people will ask: 'What lesson does this music teach us?'"