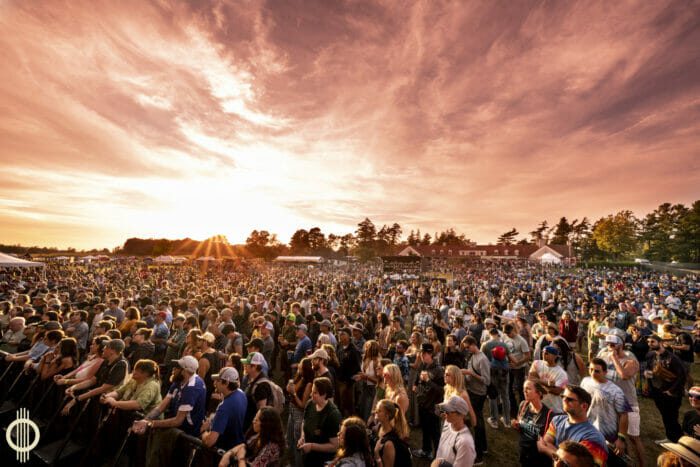 Over the weekend, the Borderland Festival occurred at Knox Farm State Park in East Aurora, N.Y., approximately 20 miles from The All-American City, Buffalo, N.Y. The event got underway on Friday, Sept. 15, with a sprinkling of early afternoon performances leading up to highly anticipated frames courtesy of Dawes and Goose, respectively. During the Connecticut jamband's display, they welcomed brothers Taylor and Griffin Goldsmith to sit in on Goose's 2016 "Rosewood Heart" release, clocking in at nearly 30 minutes. Read more.
The festival picked up on Saturday, Sept. 16, with music from The Damone Jackson Outcome, Miller & The Other Sinners, and Never Ben, all of which came before Mighty Popular's bluegrass-tinged jams. To follow, Neal Francis ran through an hour and fifteen-minute frame. After Sammy Rae & The Friends wrapped their set, it was time for headliners Trey Anastasio and Classic TAB, featuring Dezron Douglas, Ray Paczkowski and Russ Lawton. 
During TAB's stage time, they debuted their version of "Pillow Jets," the new Trey Anastasio/Tom Marshall original first played by the Anastasio trio in May and adopted by Phish over the summer. Also included was a slow version of Phish's "Llama," which has been a part of the Vermont-foursome's repertoire as of late. After capping Saturday's schedule was completed, Sunday saw one last opportunity for memorable displays of musicianship. 
Karina Rykman took the Main Stage early in the afternoon, prior to the melodic stylings of the Krasno/Moore Project. Sandwiched within the music was a Sunday football tailgate and watch party as local favorites, the Buffalo Bills, took on (and defeated) the Las Vegas Raiders. After The Infamous Stringdusters festival slot was time for the final band's performance. 
Before moe.'s festival stand, they had debuted a new original, "Tomorrow Is Another Day," and dusted off some older tunes during a fall tour stop in Cheswick, Pa., on Saturday, Sept. 16. Once at Borderland, the aforementioned players with deep roots to the region, ran through two frames which presented various self-penned material and some covers, including Steely Dan's "Do It Again." 
Scroll down to view a selection of photos from the event, courtesy of Jay Blakesberg and Tobin Voggesser.