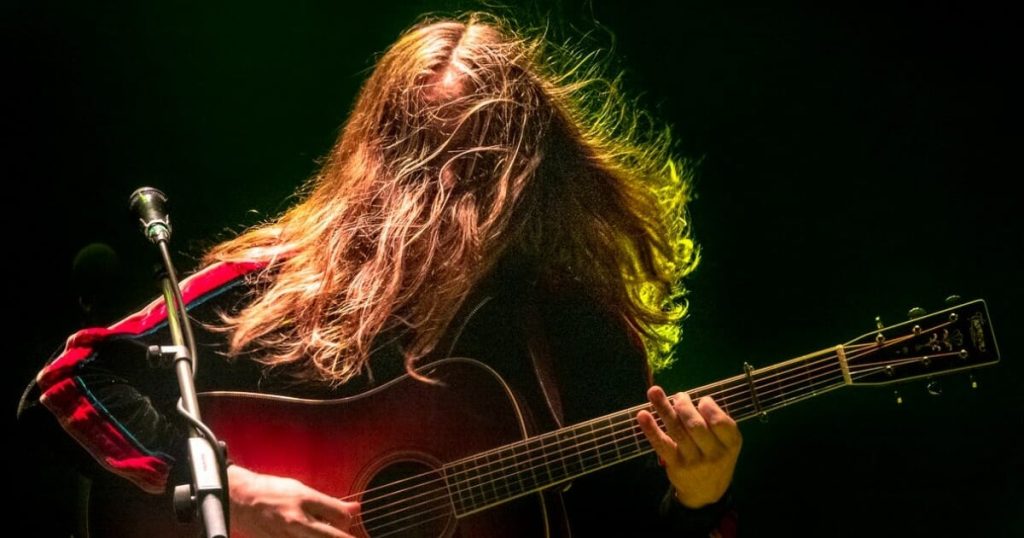 Photo Credit: Scott Harris
This past weekend, Billy Strings commenced the third edition of his Renewal Festival in Buena Vista, Colo. The multi-day gathering boasted a slew of memorable performances from the billed headliner, in addition to fellow guests such as members of Leftover Salmon's Vince Herman and Drew Emmitt, and bands like Della Mae, Shadowgrass, East Nash Grass and other ensembles that lean toward the bluegrass canon. 
Highlights from the gathering included collaborative moments between Strings and the festival performers. On multiple occasions over the weekend, the main act took the time to invite folks up to the stage and jam through favored material to the joy and entertainment of the festival attendees. This trend was set into motion during Strings' first significant performance of the event on Friday, Sept. 22.
After an 11-song first set filled with fan favorites–originals and covers, Strings strode out for the latter half of his stage time. Following a sprinkling of numbers such as "Long Forgotten Dream," "While I'm Waiting Here," "The Fire On My Tongue," and others, the headliner brought Emmitt out on mandolin and Herman on guitar, the pair assisted their host on their own number, "Down in the Hollow." Later on, Strings told the crowd about his parent's love of music and how his mother had seen many great artists in her life, but out of all of them; Larry Sparks was the one who made the most significant impact. The introduction unfolded into a cover of "I've Just Seen The Rock of Ages." 
Next, Strings went with a cover of "West Dakota Rose," inviting East Nash Grass players Cory Walker on banjo and Gaven Largent on Dobro. The pair stuck around and assisted their host with a debut of the Glen Neaves scribed "Old Swinging Bridge." After his guests left the stage, Strings ran through a few added songs, ending Friday night after "Hide and Seek." 
Saturday started with frames from Shadowgrass, East Nash Grass, and Della Mae; intermixed was a surprise day set from the headliner, initially pitched as an inside look at sound check. During the nine-song performance, Strings hit his stride during a series of covers, taking on material from New Grass Revival, Jimmy Martin, Tony Rice, George Gershwin, and other luminaries. For their last song, "Mountain Dew," the band gathered around a single mic, adding to the intimate nature of the seemingly unplanned set. 
Strings' last performance yielded a few surprise sit-ins during the final display of material, such as Shadowgrass's Kyser George on guitar and Clay Russel on banjo during the David Grisman penned "E.M.D.," Jimmie Skinner's "Doing My Time" and traditional "Train 45." During the encore, the same guests reemerged, helping Strings and his team on a cover of Bill Monroe & His Bluegrass Boys' "Uncle Pen." 
After this weekend's fun in Colorado, Strings will take a few days away from the stage before he pulls into Ford Idaho Center Arena in Nampa, Idaho, on Sept. 27, which comes before his highly-anticipated two-night run at Portland, Ore.'s Moda Center. For ticket information, follow this link. 
To read more about String's Renewal Festival setlist, go here. Scroll down to view more from this past weekend in Colorado.