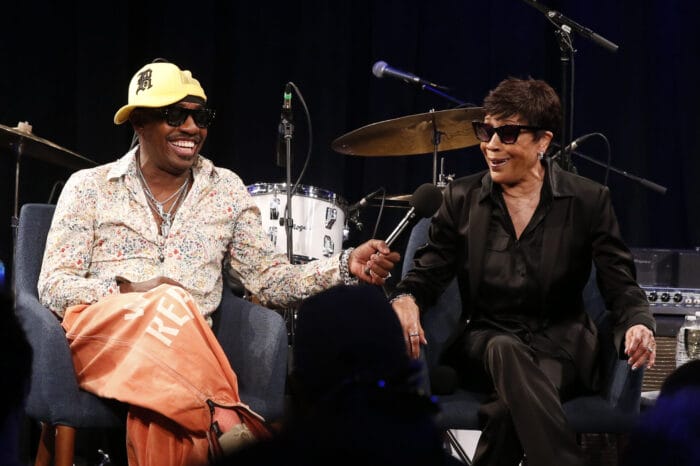 photo: Danny Clinch
***
"If you know anything about my career, you know how many times it's been over. I feel like it's over every time," Bettye LaVette reveals.
Yet the vocalist's artistry and resilience has predominated. That audacity and fire is encapsulated by the title of her new studio album, LaVette!
The singer had just turned 16 in 1962 when Atlantic released her debut single, "My Man—He's a Lovin' Man." She continued recording and performing over the decades to follow, slowly but steadily winning eyes and ears, before achieving breakthrough success with her 2003 album, A Woman Like Me. The record also supplies the title of her 2012 memoir, written with David Ritz, which shares her extraordinary narrative. That story has included a series of ANTI- releases, as well as two recent albums for Verve, produced by Steve Jordan, who worked with her yet again on LaVette!
The core band on the record features Jordan on drums, along with guitarist Larry Campbell, keyboardist Leon Pendarvis and bassist Pino Palladino. Guests include: Steve Winwood, John Mayer, Jon Batiste, Ray Parker Jr. and Pedrito Martinez.
Jordan heaps praise on LaVette, describing her "as a combination of Frank Sinatra, Billie Holiday and Miles Davis."
"I haven't seen Steven since I read that, so I'm slapping him," LaVette says with a laugh. "But really, I was just so flattered because I think so much of him and I know how he listens."
Jordan affirmed his commitment to LaVette by releasing LaVette! on Jay-Vee Records, the label he founded with his wife Meegan Voss.
 "I'm 77 years old and do you know anyone else who has somebody spending $200-300,000 on them at this age?" LaVette asks. "It's not, 'Every time I quit, they pull me back in.' It's 'Every time I think I'm just worthless, somebody does something astounding.' When Steven offered to pay for it, I couldn't say anything, which he was well aware doesn't happen to me often."
Following an album of Dylan songs [Things Have Changed], then a record honoring iconic black female singers [Blackbirds], what led you to focus on Randall Bramblett compositions this time around?
After Verve said, "It's been large, but you can go now," Steve Jordan suggested, "Why don't you find a writer that you like and have him write you some songs?" I thought about this for minute and I said, "I have this writer that I met and I've already recorded two of his songs."
Randall had opened for me, and as I was coming into the gig, I could hear his melodies and loved them. So I invited him to my dressing room and asked, "Do you write these for other people or do you just do them for yourself?" He said, "I write them for anybody that will do them." I said, "Would you send me something?" So he sent me a batch and I chose those two, one of which then came out ["Where a Life Goes" on 2015's Worthy]. Joe Henry produced it, and it's just a beautiful song where I'm talking to my dead sister. He was talking to his mother, but he's just such a clever writer.
So when Steve told me to find a writer, I reached out to Randall and I ended up sending Steve about 18 songs. Randall's songs are vignettes. They're little movies and pictures.
Has the process of recording gotten any easier over the span of your career?
I hate recording and I hate rehearsing because I have the attention span of a child. So it has gotten much easier now because when I tell producers, "I'm gonna sing this once for me and once for you," they trust me. When I was younger and I did "My Man," I stood there with Johnnie Mae Matthews and she went through it with me, line by line.
But I haven't sung anything more than twice in 40 years. I practice in my head. My husband hates that because he thought that when he married me, he'd be getting all these free shows. [Laughs.] But I don't sing in the shower. I don't sing around the house. I'm singing all of the time in my head, though, so when I'm getting ready to do something, that's how I'm practicing. It still amazes my husband that he doesn't hear me sing anything, and then I go on the stage or I go in the studio and it's there. But I didn't just do it; it's been in my head all the time.
Unless I'm in the studio or on stage I feel kind of silly acting like that or going through it all. That's why it's been so hard for me to audition. Then everybody's so surprised when I do the performance. Jim Lewis [her longtime mentor] said, "If you come and see her rehearse, you will never come and see here again." But when I'm on stage it's another thing altogether.
My husband constantly says, "You have to see her. You have to see her." Everybody that saw me signed me.
What are your memories of your initial live gig?
The first time I ever stepped up to a microphone, I was singing "My Man." I had never been to a show. I had never been on a stage. The few things that I sung in church—just two or three things—I had sung a cappella with no microphone.
The very first time I went onstage was after "My Man" came out and I was doing promotion around the city. This was in Detroit for a DJ—it was like a record hop. Marvin Gaye was there because I think "Stubborn Kind of Fellow" came out the same weekend.
When I went on the stage, the band said, "Count it off," but I had never heard those words before in my life. So Marvin Gaye kicked it off on the side of the stage because I didn't know what the hell they were talking about. I knew how to sing it when it got going, but I didn't know how to get it going. [Laughs.]
How has your approach changed, if at all?
These days I'm so relaxed. I used to lose my voice all the time. For one thing, I felt like I had to hit all these high Etta James things when I first started singing. If it was a three day gig, I usually did two shows a night. The first night I'd do the two. Then the next night I could only do one and next night I couldn't talk at all.
I later found out that most of it was due to the fact that I was singing too hard and that when I was finished with the show, I should just shut up and go to bed. [Laughs.]  But now, when I go on the stage I remember all the things that Jim had been trying to teach me. When I was trying to sing a particular way, he said, "You can sing, just let it come out however it comes out."
To this day, over 30 years since he passed away, you continue to acknowledge Jim Lewis and his role. You thank him on LaVette!
There's nothing that comes out of my mouth that doesn't make me think of him. He'd say, "Stop attacking the tune, just relax. Let the tune come to you."
He wasn't trying to show me how to be flashy. He was trying to show me how to be an upstanding citizen who sung like Louis Armstrong would've liked.
As I said in the book, he put me out of the car one night because I said I didn't like Sarah Vaughan. I meant he literally did so on the freeway. [Laughs.] I wasn't that far from my house, though.
I had never belonged to a union. I belonged to four of them when I was with him. I never had any insurance. Just a myriad of things. He said, "These are the things that make you an honorable person."
He didn't care if I could pack Yankee Stadium or not. He made me such a unique artist because he wanted me to just be that—an artist. He could hear this thing that I work so hard on now to keep preserving. I could not hear it then. I just thought that if I was as good as my contemporaries, then that was as good as I wanted to be.
In your book, you mention that despite the frustrations and near-misses early in your career, you decided you couldn't get cynical because if you did, it would turn up in your music. At this point I imagine you can explore the full gamut of emotions given what you've been through, as people certainly understand and maybe even expect that of you. Does it free you up to express different sentiments that you didn't feel comfortable with when you were younger?
The only things I didn't feel comfortable with when I was younger were songs like "Lush Life." If you remember the part in book about when I was in living in Muskegon, my family had this jukebox, and there were these songs—I didn't know if they were country songs or blues songs or pop songs, they were just songs.
I knew a song by Roy Rogers and Dale Evans. I knew one by Gene Autry because my father loved him. My mother loved all the country western singers, so I knew a song by Red Foley. My sister was 13, so I knew songs by her new artists, which were B.B. King, Little Lester and people like that. Those were the first songs I ever learned.
By this point you have such familiarity with Steve, Larry and the other musicians. How did that impact the record?
Well, one big difference is when we got the ready to lay the tracks down, I caught COVID. [Laughs.] That weekend I had done this concert with all these various people and I caught it. Then we were gonna go in the studio a couple days later.
I'm so glad that we had already gotten together here at the house. I cooked them jambalaya or something like that. Then me and [Leon] Pendarvis, Steven and Larry, we worked out what it is I wanted it to be.
Larry Campbell was the first person I knew who had that COVID when it first started. I asked him, "How long was it before you were in control of your voice?" He said, "About six months." Well I had days. [Laughs.] It's not like being hoarse, it's like you don't have possession of your voice. You reach for it and it's not there.
Thankfully the guys knew what I had in mind and we did it on Zoom so they all had my face before them. Steven had me plugged into his headsets and everybody else did. That was the way we laid down the tracks because they've worked with me before, they've been in my home and they're such sensitive musicians that they were able to lay down these tracks. It turned out to be intimidating. I told them they were trying to outplay me. I said, "Y'all got me in a weakened state and you decided to jump on." [Laughs.]
You mention Larry, who is both a badass musician and an affable, unassuming person.  
Have you ever met a nicer person in your entire life? I swear to you, he and Tina Turner and Freda Payne, those are the nicest people I have ever met in my entire life. Also, Smokey Robinson's first wife, Claudette. I've never met anyone as nice as they are.
Both Larry and Penn both, they know that I adore what they play. It's not even adoration anymore. It's like, "You know what's in my heart, play it." [Laughs.]
Sometimes my mind goes back to the questions of "If I'd had these guys all the time, would the records have been better? Would they have been bigger?" But I'm glad I have them now. They're everything an old woman needs. They're cute and they play good. [Laughs.]
How did you first come to work with Steve?
The Verve deal was such a strange thing. My album covers before that were done by a woman named Carol Friedman, who is just a fabulous photographer and music enthusiast. She said, "I would love to hear you do some Bob Dylan tunes." I told her, "I would love to do them if you can somehow find someone who will pay for them." [Laughs.]
So she took the whole deal to Verve—the Bob Dylan idea with Steve Jordan producing it and Larry Campbell playing on it. I didn't know Steve Jordan and I didn't know Larry Campbell and I didn't like Bob Dylan but I wanted to be on Verve. If Jim had known that I was on Verve and he wasn't dead, this would have killed him. [Laughs.] He loved Verve and he was a musician during the time that Verve was recording all the black artists.
Verve liked the idea even if I didn't at first. But I liked the money and I immediately liked the musicians. They let me pick the tunes, so I figured I could find 10 songs that I liked.
What was that process like?
Kevin [Kiley, LaVette's husband and manager] listened to like a thousand songs and he narrowed it down to a hundred for me and said, "I think you might like these." I can't sit and listen to music like that. With Kevin, you could pipe it into his coffee and he could drink it. Oh God, he loves music. I couldn't have made a better choice. To this day he keeps files for me. If we're randomly in a restaurant and I say, "I really like that tune," he'll look up who did it or who wrote it.
He's everything that I'm not musically. He even likes music more than I do. [Laughs.] He also likes all the people, so he remembers all their names. It took me 50 years to find him but I made a perfect choice.
In A Woman Like Me you describe winning a contest to sing the Schaefer Beer jingle—"Schaefer is the one beer to have when you're having more than one" a slogan that likely wouldn't pass muster these days. At the very end of the book you mention that you were looking for audio of the ad. That was over ten years ago, did anything turn up?
Not yet. We have looked so hard, and Kevin is still looking, because the other day he found an article about the winners. You know, that happened through a contest, and he found an article about the winners of the contest and he tried to contact them to see if they had anything else. But we haven't been able to find it. I really do not know what happened to it.
I've devoted a great deal of time and thought—sober and drunk—trying to think of the arranger's name because he went on and did other things in popular music. I can't think of his name, though, for anything. I can see him so clearly in my head and I was thinking he may have copies of it.
I didn't even know that I had won a Clio award for it. When Kevin and I got married, he chased them down religiously and I got my little statue. When Kevin found the award, I was just stunned. It was the first award I won in my life and did not know I had won it for 30 years. [Laughs.]
You've been singing "Let Me Down Easy" for over 50 years and your performance remains moving and powerful. Does your head go to the same place every time?
It's like when my dog Mickey got hit by a car. It hurts exactly like it did when I saw that happen. When I go on the stage, I go to places like that.
"Let Me Down Easy" is never a happy song. When I was recording it, I was looking at the guy that I was singing to. That doesn't happen anymore but I know how that felt and I will never get over that feeling. There's no other way I can feel when I sing that song.
On this new record, "It's Alright" is another tune that just breaks my heart. When we were recording it, that one was actually a three-fer because I cried so much during the whole thing. I sounded just like a drunk crying, which is what I was. I told Steven, "I'm getting sober and I'm doing this tune, even though it hurts me."
Is there another song from the record that you're eager to share live for one reason or another?
I want to go out there and dance to "Mess About It." This arthritis is jumping on my ass and trying to beat me up, but I've got me some boxing gloves and I'm fighting it. I won't be able to move to it in the heels that I like to wear, so I've lowered the heels. I may even have to lower them to flats, but I want to dance to that tune. "Plan B" reminds me of Johnny "Guitar" Watson and I want to be able to walk to that in time. The arthritis doesn't want my legs to bend when I want 'em to bend but I am working on this. I love these tunes so much, I want to stride along. This ain't a matter of dedication, it's a matter of arrogance. [Laughs.]