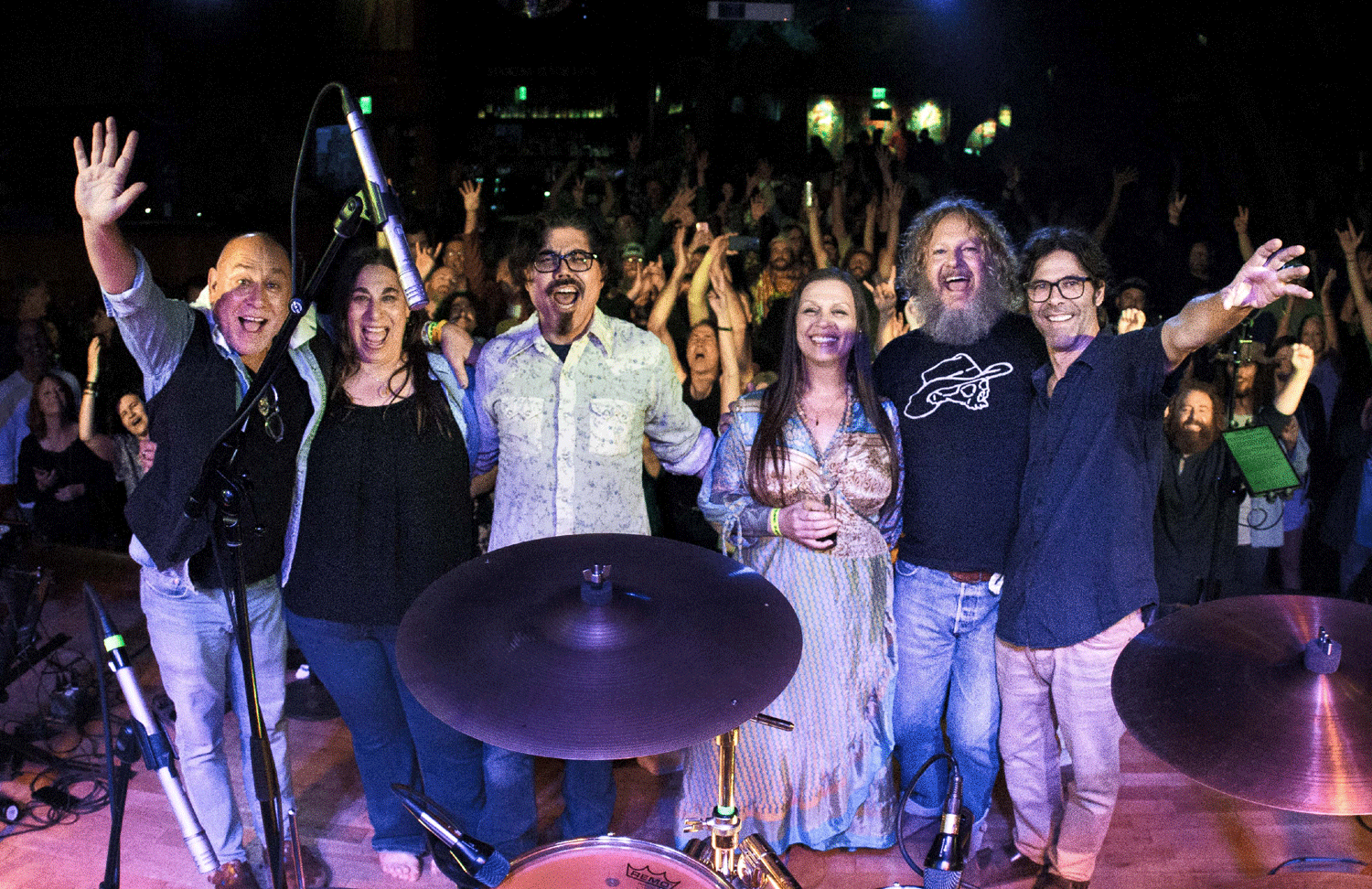 In 1993, Garrett Deloian and Rodney New[1]man met while they were both working at a restaurant in Colorado and immediately bonded over their shared love of the Grateful Dead. While the new friends ended up going their separate ways, they stayed in touch, writing and recording together remotely. And, when they both independently landed in Southern California, their reunion set off an extraordinary chain reaction.
"Garrett is a wildly talented guitarist, and he's got a cool knack for mimicking other guitarists," Newman says. "He used to do it as a joke—when we played live music sometimes, he'd turn to me during a song and yell out, 'Clapton!' and then start soloing in a Clapton style. It sounded exactly like Clapton. It was the same thing when he'd say, 'J.J. Cale,' 'B.B. King' or 'David Gilmour.' He could shift on a dime. Playing Jerry Garcia, the guy that he probably loves the most, seemed effortless."
Up until recently, LA didn't have a robust Grateful Dead cover band scene; there were only a handful of groups, who often found themselves on the same bills. Yet, through that small web of Deadhead musicians, Newman met accomplished keyboardist Jon Gold—who was performing with Cryptical Development—at a PCH Club gig that they were both playing with Southern California Dead institution Cubensis. Not wanting to compete with Cubensis, Deloian and Newman decided to form a group that focused on the Jerry Garcia Band instead. They brought on Gold and solidified the Jerry's Middle Finger lineup after adding bassist Son Vo and soulful singers Halina Janusz and Lisa Malsberger.
 In 2016, the new outfit played their first shows at the Corazón in Topanga, Calif.—an intimate performance space deep in the canyon—and the musicians once again felt a tangible connection. "That shared experience is something that everyone's keeping alive, whether we're members of a tribute band or we're audience members searching for that feeling," Newman says. "There was a serious force of energy going on at Corazón. It was a combination of that space being this womb that gave birth to the band and this community. It was the perfect cocktail of ingredients for that period of time, whatever people were needing, wanting and sharing."
Jerry's Middle Finger will alternate faithfully recreating JGB shows and putting together their own dream setlists. And word has started to spread outside of LA recently. Their high-profile set at Ventura, Calif.'s Skull & Roses festival led to Bay Area gigs at Sweetwater Music Hall and Terrapin Crossroads, as well as appearances in Santa Cruz, Calif., and at Laytonville, Calif.'s The Hogfarm. More recently, they sold out Los Angeles' famed Troubadour. As Newman explains, "We know the potential power of what we're doing."