Nas' multimedia company, Mass Appeal, finds itself entangled in a racial discrimination lawsuit as a white veteran documentary producer alleges she was subjected to racist comments and subsequently fired. The woman claims company executives discriminated against her, creating a hostile work environment. 
The Lawsuit
A white veteran documentary producer, Melissa Cooper, who served as the head of development at Mass Appeal, has filed a lawsuit against Mass Appeal, co-founded by hip-hop icon Nas. Cooper accuses the company of racial discrimination and unfair treatment. 
According to the complaint, Cooper endured venomous and racist comments about "White folk" and "crackers" at the hands of her colleagues, including Peter Bittenbender, the CEO of Mass Appeal. The lawsuit further alleges that Cooper was removed from important projects and eventually terminated without an investigation into her claims.
'Usual White Folk Behavior'
One focal point of the lawsuit revolves around the upcoming Hulu documentary titled, Freaknik: The Wildest Party Never Told. Cooper and Bittenbender both serve as executive producers on the project. However, the lawsuit highlights the frustration expressed by Jenya Meggs, Mass Appeal's Senior VP for Partnerships & Content Acquisition, regarding Cooper's involvement in the project. 
Meggs referred to Cooper's selection as "Usual white folk behavior" in a text message conversation with Terry Ross, a producer for Freaknik."
The lawsuit also reveals that Meggs expressed discontent with Bittenbender's decision not to hire a candidate she had recommended, with Ross responding, "These white folk something else." Meggs subsequently refused to work with Cooper, leading to her removal from several projects and ultimately stripping her of her primary role at Mass Appeal.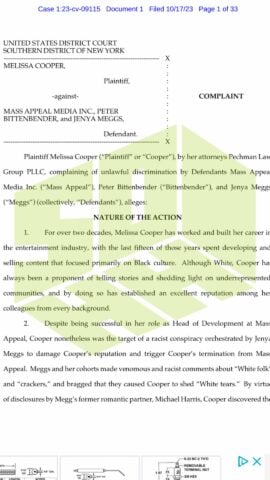 Cooper's Removal 
In addition, the complaint says that Meggs would later tell Bittenbender she refused to work with Cooper, the complaint says. As a result, the lawsuit claims:
"Bittenbender removed Cooper from a number of projects, including Mass Appeal's Hip Hop 50 Live concert at Yankee Stadium planned for August 11, 2023. Cooper's removal from this important project, along with others Meggs was staffed on, effectively stripped Cooper of her primary role at Mass Appeal."
On June 16, 2023, Cooper was told she was being fired, with her last day being June 30. The lawsuit alleges Bittenbender and Mass Appeal conducted no investigation into Cooper's claims of racial discrimination that month. Bittenbender would then terminate Cooper and still employ Meggs. 
Despite Cooper's claims of racial discrimination, no investigation was conducted into the matter, and she was terminated while Meggs remained employed at the company. 
Nas x Hit-Boy
Nas was not named in the lawsuit, and Meggs and Ross have not commented on the allegations against Cooper.
In unrelated news, Nas recently released his latest album, Magic 3, in collaboration with star producer Hit-Boy. This project marks their sixth album together, following their work on the series and the Kings Disease trilogy from 2020-2022.
Mo'Nique Settles Discrimination Lawsuit
A previous high-profile case involving racial discrimination occurred in 2017 when actress and comedian Mo'Nique sued Netflix for offering her a low-ball deal for a comedy special. Mo'Nique accused the streaming platform of discrimination and successfully settled the case in June 2022 after urging the Black community to boycott Netflix.