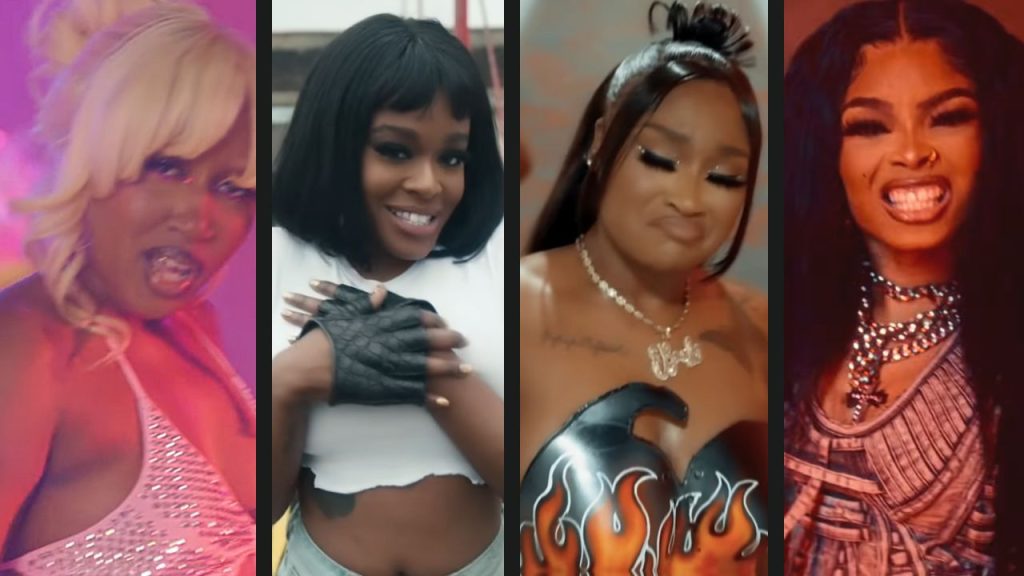 A group of talented female artists and musicians are making waves in the industry with their exciting new ventures. From Lil Kim and Yung Miami's "Telfar x UGG" collab, Marsai Martin's collaboration with Tampax to Lola Brooke's latest project release, and more–these women are proving their talent and taking their careers to new heights. 
UGG x Telfar Ft. Lil' Kim & Yung Miami
In another exciting development, Lil Kim, Morris Chestnut, and Yung Miami have teamed up with Black luxury brand Telfar for a collaboration featuring boots and casualwear brand UGG. This star-studded campaign showcases the talent and style of these renowned artists.
The New Dynamic Duo
In a joint project, Lola Brooke, along with Lil Kim, Eric Bellinger, and Hitmaka, released a remix of "Curious" that samples D'Angelo's hit song "Lady." This refreshing collaboration brings a 90s R&B vibe and promises to be a popular hit for the fall season.
Erica Banks With Another Banger 
Erica Banks continues to captivate audiences with her unique flow and catchy beats. Her collaboration with rapper Gloss Up, titled "Talmbout Nun," has already gained significant attention, with the music video garnering thousands of views since its release.
Baby Tate's 'Lollipop'
Baby Tate knows how to serve up a dose of confidence, and she's doing it with a cherry on top! Her latest single, "Lollipop," isn't just a catchy tune; it's a sweet anthem that'll make fans feel like the superstar they truly are. With its infectious melody and empowering lyrics, the "Hey Mickey!" artist is setting the stage for a girls' night out like no other.
The New Triple Threat Partners With Tampax
Marsai Martin, the accomplished actress, along with NCAA champions Angel Reese and Flau'Jae, has joined forces with Tampax for the groundbreaking campaign "A Better Way to Period." This empowering collaboration aims to challenge taboos surrounding menstruation and empower women to make informed choices about their period protection. 
Martin, known for her entrepreneurship and versatility beyond acting, continues to make an impact in various fields.
Nicki Minaj In Her Bag
Nicki Minaj has made a pivotal decision to postpone the release of her highly anticipated album, Pink Friday 2. As a result, eager fans must exercise patience as the album's new drop date is set for Nicki's 41st birthday, setting the stage for what could be an extraordinary birthday surprise. 
Aside from her newest project, Pink Friday 2 album, the rapper has even bigger moves in the making. On Tuesday Oct. 24, it was announced that the Queen of Rap would also be partnering with both retail store JC Penny and Amazon for the launch of two new perfumes releasing on December 13th and December 26th.
Absolute RAYE of Sunshine
Meanwhile, RAYE and her little sister Absolutely kicked off their My 21st Century Blues Tour in Raleigh, NC, captivating the audience with their mesmerizing performances. The rising U.K. star's haunting melodies and powerful vocals left fans eagerly anticipating her upcoming album, Cerebrum, set to release on November 17th.
Coco Goes Platinum
Coco Jones, former Disney Channel star, received a Platinum Plaque for her hit song "ICU," reaching No. 1 on Billboard's Mainstream R&B/Hip Hop Airplay chart. This achievement marks a significant milestone in Jones' career and solidifies her talent in the music industry.
TayMoney To Get On The Road
TayMoney, the "white girl from Dallas," surprised her fans by announcing her participation in the Hood Hottest Princess Tour alongside rapper Sexyy Red. This collaboration hints at possible joint records that fans can eagerly anticipate.
Victoria Monét & Kelly Rowland Uplift Each Other
Victoria Monet, the sultry singer, and Kelly Rowland shared an intimate moment during an interview for Rolling Stone. The two artists discussed their admiration for each other, stories of motherhood, and the shift from being behind the scenes to taking center stage. 
Monét was also featured on the cover of Essence Magazine, further solidifying her position as a rising star.
Halle Bailey With New Music On The Way?!
Halle Bailey, one-half of the Bailey sister duo, Chloe x Halle, recently shared snippets of new music she has been working on. Fans are excitedly awaiting the release of this project, which promises an up-tempo beat and live violin strings.
Megan Thee Stallion Talks Mental Health 
Megan Thee Stallion, amidst her personal battles, focused on her physical and mental health during a social media hiatus. The Houston Hottie took her fans on a virtual journey with Nike, emphasizing the importance of self-care and mental well-being.
Beyonce Releases 'CÉ NOIR'
Beyoncé continues to mesmerize the world with her latest venture as she introduces her new luxury perfume, CÉ NOIR.  The iconic Grammy Award-winning artist announced the release of her new fragrance on Tuesday, Oct. 24, after teasing fans with samples during her Renaissance World Tour.
Coi Leray On Top
Coi Leray, the talented rapper, starred in a creative Tinder advertisement that empowers women to make choices. Her hit song "Players" perfectly complemented the concept of the ad. 
Additionally, Leray is a finalist for the Billboard Music Awards in the "Top Rap Song" category with her song "Players."
Flo Milli's 'Fine Ho, Stay'
Flo Milli unveiled the cover art for her upcoming album, Fine Ho, Stay. The bold and visually striking cover art reflects her lyrical prowess and showcases her unique style and talents.
Lady London To Persevere 
In other news, Lady London's recent announcement about losing hours of her music has become a topic of discussion among fans and industry insiders. 
Despite the setback, Lady London remains resilient and has channeled her energy into her forthcoming project, S.O.U.L., which explores the dynamics of love within relationships based on zodiac signs. The project is set to release on November 3rd and showcases London's growth as an artist.
Azealia Banks' 'Dilemma': Frenzy in the Beats!
The electric Azealia Banks isn't here to play. Her latest track, "Dilemma," is a musical firecracker that's exploding on the scene. With her signature fierce style and lyrical prowess, Azealia Banks is turning heads and dropping jaws.
SOHH squad, check out these new drops by these female hustlers, and have a fun-filled weekend!