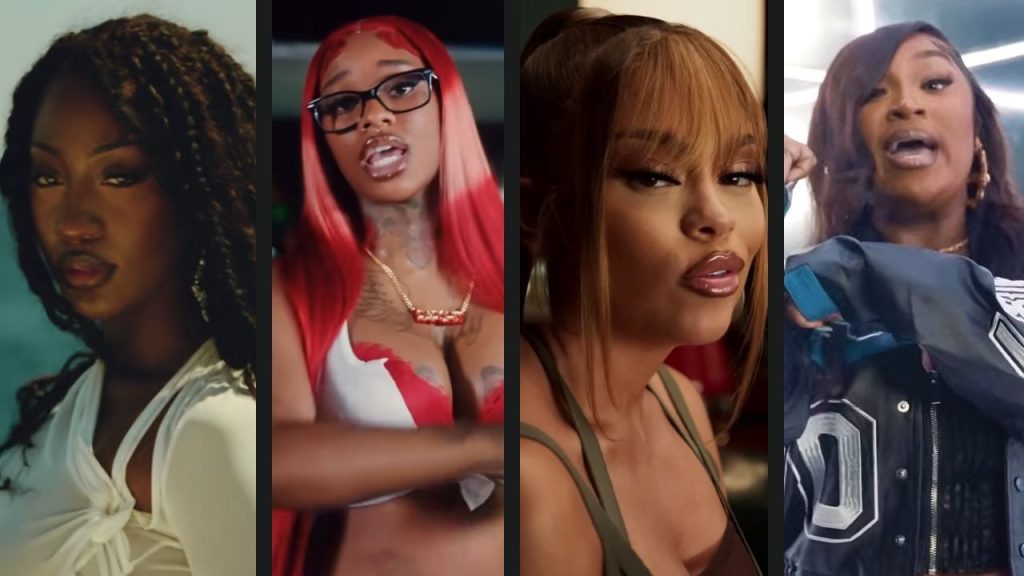 The ladies have been taking over all week with their latest achievements and contributions to the industry. Latto secures a partnership with Halls, Erica Banks releases a fiery remix, Tems drops a new banger, SZA takes the spotlight of Rolling Stone, and more.
'Pep Talks' With Latto: Rapper On Wrapper Edition
On Oct. 3, it was announced that Latto, along with Metro Boomin' will be opening for the Amazon Live Music, hosted by 2 Chainz, the event is set to take place on October 12, 2023. 
To add to the excitement, the "Put It On Da Floor" rapper has partnered with popular cough drop brand, Halls for a "Rapper on Wrapper" win. The collaboration with the company will feature small pep talk quotes on the medicine's wrapper.
Erica Banks On Newly Released Freestyle
In light of the "Poppin It" rapper's birthday, Erica Banks has been making some pretty big moves. Besides attending the 2023 BET Hip Hop Awards, the "Buss It" rapper released her freestyle version of Young Nudy's "Peaches and Eggplants," which has garnered over 49,000 views since its Oct. 3 release. 
Tems With New Music 
In celebration of the third anniversary of her album For Broken Ears, Tems has released a fresh single titled "ME & U." Remarkably, the music video for the song amassed over 133,000 views within just six hours of its release.
SZA Poses For The Grammy Preview
​​On October 3, "Good Days" singer SZA had a significant day. She graced the cover of Rolling Stone Magazine's Grammy Preview issue, being hailed as more than just a superstar; she's a force of nature. During the photoshoot, she showcased various outfits, including a vibrant green skirt set, a stylish blue and white ensemble, a daring black dress, and an all-white ensemble.
Sexyy Red Drops New Music Video 
The " Pound Town" rapper Sexyy Red has released her official music video for her new single "No Panties." The visual featured social media personalities, " I wanna be like Jayda Wayda" Terry Reloaded, and "Do you have a wristband" Kervo Dolo.
The video has garnered over 26,000 views since the October 4th drop.
2023 iHeart Radio's Jingle Ball Tour 
The holiday season is getting even hotter as iHeart Radio's Jingle Ball Tour announces its star-studded lineup. Headlined by rap icon Nicki Minaj and artists like SZA, Ice Spice, and many others, this annual music extravaganza is set to deliver electrifying performances across 11 cities.
Ice Spice To Guest Star On SNL
Aside from being announced as a headliner for iHeart Radio's 2023 Jingle Ball Tour, the "In Ha Mood" rapper has been in her bag. On Oct. 4, it was announced that she will be the musical guest on the season premiere of SNL on Oct. 14, alongside Pete Davidson.
'Girls Need Love Too': Summer Collabs With Victoria Monét 
​​On Oct. 2, Summer Walker, known for her hit "Karma," shared a sneak peek of her upcoming collaboration with Jaguar II artist Victoria Monét, featuring Spotify and TikTok entertainer Terry Joe for the song "Girls Need Love." In addition, the songstress is celebrating the fourth anniversary of her 2020 album, Over It.
Halle Bailey's 'Angel' Scholarship
Halle Bailey recently announced the creation of the "Angel Scholarship" on her social media platforms. The scholarship aims to support outstanding young black women pursuing their dreams in the performing arts. 
As Bailey unveiled the winners of this prestigious scholarship, the initiative sheds light on the importance of empowering Black scholars in an educational system that often overlooks their talents. 
Spending The Holidays With Mariah
Mariah Carey is set to spread holiday cheer with her upcoming Merry Christmas One And All Tour. The Christmas Queen will once again captivate audiences with her timeless holiday classics as she embarks on a 13-show journey across the United States from November to December.
Beyoncé On Set… AGAIN!?
Beyoncé has set the stage for another momentous release, unveiling Renaissance: A Film By Beyoncé. This documentary takes audiences on a mesmerizing journey through her legendary Renaissance World Tour, from its opening show in Stockholm, Sweden, to its grand finale in Kansas City, Missouri, offering an intimate glimpse into her artistry and musical legacy. 
Additionally, Queen Bey will also be launching a new collection for IVY PARK on Oct. 12. 
Megan Thee Stallion In Theaters 
Amid the news of her new acting role in Dicks: The Musical, Megan Thee Stallion released her new song from the tracklist titled, "Out Alpha The Alpha." 
Dicks: The Musical is set to be in theatres on Friday, Oct. 6, for all of the Hotties to enjoy. 
Issa Rae: Little Miss Prominent Figure 
AfroTech, an annual gathering celebrating Black success in the tech industry, will feature the Emmy-nominated actress, producer, and writer Issa Rae, and the well-respected artist and producer, Timbaland, as headliners. 
Additionally, Rae has also been named the creative director for the 2024 American Black Film Festival, giving fans something to look forward to.
Laphonza Butler Sworn In  
Following the passing of Sen. Dianne Feinstein, Lephonza Butler has assumed the role of California's newest senator. Notably, she is the first Black woman to hold this position, taking her oath of office on Wednesday, October 4, 2023.
Coco Jones For New Campaign 
On Oct. 2, the "ICU" singer surprised fans in a promotional video for Kim Kardashian's brand line, Skims. As Coco Jones sported the chocolate bandeau and briefs, she discussed confidence, self-esteem, and shared a small glimpse of her day-to-day wardrobe routine.
Coi Leray Releases New 'Players' Visual 
After two days of tantalizing fans with a teaser for the official music video of "Players," Coi Leray has now confirmed the premiere time. The highly anticipated visual is set to release at noon on Friday, Oct. 6,, with Coi showcasing her new signature blue hairstyle. 
This video has been a source of excitement since its announcement in November 2022.
Kash Doll Poses For The Cover
 On Oct. 3, Kash Doll celebrated her magazine cover reveal. The "For Everybody" rapper was featured on the cover of the renowned Hype Hair Magazine, where she flaunts her silky tresses and a golden chrome silhouette.
Janelle Monae On Tour + New Music 
Janelle Monae is currently on her highly anticipated The Age Of Pleasure Tour, which commenced on August 30 in Seattle, Washington. To coincide with her new embark around the world, Monae has released her new song titled "Champagne Shit," featuring Latto and Quavo.
Maiya The Don Reveals New Mixtape 
The "TELFY" rapper recently released her new debut mixtape titled, Hot Commodity. The mixtape cover pays homage to Maiya The Don's hometown, New York, as she is seen on a billboard in Times Square. 
Lizzo Says 'Good Morning'
Amidst her ongoing legal battle, Lizzo celebrated a professional win as her song "Truth Hurts" was prominently featured on The Morning Show.
SOHH fam, let's show these ladies some love and support, and have a fantastic weekend!