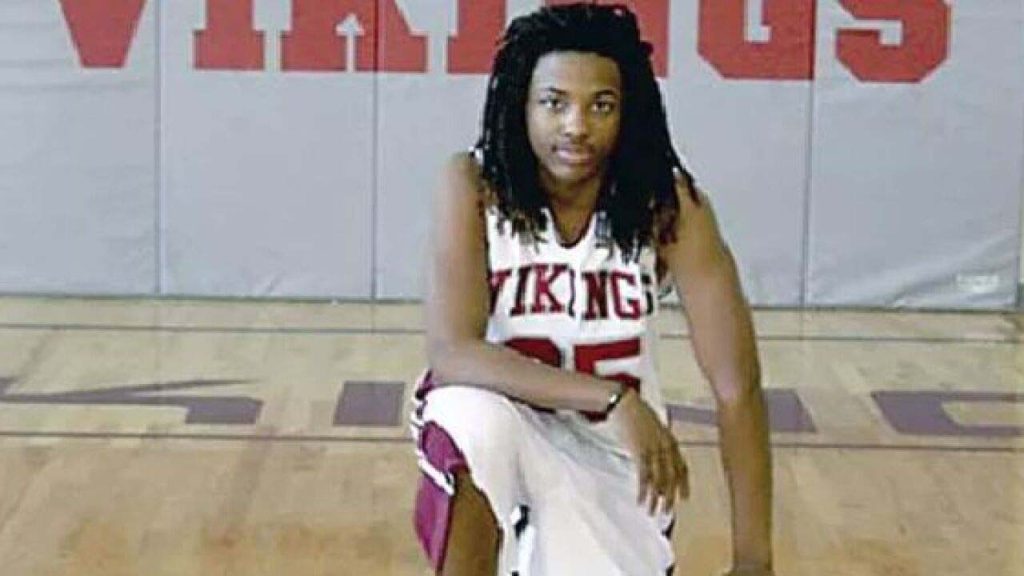 The family of Kendrick Johnson, the teen whose body was found rolled up in a gym mat at his high school in 2013, is taking legal action against the Georgia Bureau of Investigations (GBI). The late teen's parents have been fervently searching for answers in the wake of their son's tragic demise, and they are determined to find justice.
Behind The Death of Kendrick Johnson 
On Thursday, January 10, 2013, the body of Kendrick Johnson, was discovered rolled up in a gym mat at Lowndes High School in Valdosta, GA. 
Since his death, Jackie Johnson, Kendrick's mother, and his father, Kenneth Johnson, have been desperately trying to find answers on what happened to their son that night. Jackie and Kenneth have filed a lawsuit accusing the GBI of providing false information regarding their son's death. 
Since that tragic day, the Johnson family has been tirelessly searching for answers and grappling with the belief that Kendrick's death was not accidental. They allege that someone intentionally killed their son.
The Lawsuit
According to the initial investigation, Kendrick accidentally died while reaching for his shoe that had fallen inside the upright wrestling mat. However, the Johnson family vehemently disagrees with this conclusion and suspects foul play. 
In their lawsuit, they argue that there is no evidence to support the accident theory and claim that the GBI's medical examiner fabricated information that painted a false narrative of what happened to Kendrick.
Kenneth Johnson Speaks 
Kendrick Johnson's father, Kenneth, expressed his distrust in the local authorities, stating:
 "We live there. We know how this town is. We know how they will lie. We know how they will cover up for one another."
The family's lawyer, Jonathan Burrs, pointed out that the Johnsons discovered significant discrepancies in the investigation's synopsis, he stated: 
 "What the Johnsons found was that there was materially false information in that synopsis that could've only come from the medical examiner that invented this narrative, and we say invented because there is no evidence to support it."
Furthermore, the Johnsons allege that their son's body was "butchered" and "mutilated" by the GBI's medical examiner. They claim that the examiner's actions further obscured the truth about Kendrick's death. 
Tubi's 'Finding Kendrick Johnson'
The family's pursuit of justice and the real facts surrounding their son's tragic demise are chronicled in the 2021 release of Tubi documentary, Finding Kendrick Johnson.
Finding Kendrick Johnson, written and directed by Jason Pollock and narrated by actress Jenifer Lewis, delves into the night of Kendrick's death, examining autopsy reports, deleted video footage, and potential suspects. The documentary also uncovers unsettling secrets about the long history of Valdosta, GA.
With this lawsuit, the Johnson family hopes to bring attention to what they believe is a miscarriage of justice and to attain the truth about their son's untimely and mysterious death. As they continue to fight for justice, they remain determined to uncover the full story and find closure.
Updated By: Kynedei Iman Hobbs (9/21/23 at 4:45 pm)
Mother of Kendrick Johnson Scammed By White Woman Who She Says Used Dead Teen's Name For Profit And Clout
The mother of Kendrick Johnson – the teen whose body was found rolled up in a gym mat at his high school in 2013 – appears to have been scammed. Jackie Johnson says she was approached by a woman on Facebook under the guise of helping her prepare a rally for justice for Kendrick. In the end, the dead teen's mom was forced to pay out of pocket for unfulfilled promises.
The Scam
On April 14, a TikToker named "Jolly" accused Dana Banks of scamming Kendrick Johnson's mom, Jackie Johnson.  He started off a three-minute-long TikTok with a warning. He said, "Please make sure this lady doesn't scam another mother and if we can, please help out Ms Johnson. #justiceforkendrickjohnson"
Jolly then went on to add, "Of course, it was a white woman," before instructing the audience to get a good look at the alleged scammer, Dana Banks.
According to Jolly, Banks "took advantage of the pain of a black mother, who lost her son and then scammed her."
Seventeen-year-old Kendrick Johnson died by suffocating after falling headfirst into a rolled-up gym mat at his high school on January 11, 2013, according to autopsy reports.  After a brief run-through of the circumstances surrounding Kendrick's death, Jolly said Kendrick was "obviously and apparently murdered, but no one has ever been held responsible because the police the medical examiner and everybody involved colluded to cover up his, death which wouldn't have happened if he was a white teen." 
Moving past that, Jolly then introduced Dana's role in the story. He said "Dana messaged  Miss Jackie Johnson on Facebook and said that she would like to hold a rally in support of Kendrick Johnson demanding accountability". This supposed rally was to hold at the Capitol in Washington, DC. Dana claimed Johnson told her not to "worry about it," in addition to covering for hotels, transportation, and putting the rally together.
Kendrick's mother agreed to this. On the day of the rally, April 11, Johnson and other Georgian mothers who had lost their children to gun violence or police brutality went up to DC in a charter bus that Banks had arranged.
A photo of the rally was then shown in the TikTok video, where Jolly stated that "Mrs. Johnson was not very happy," and then explained why. The rally was in a muddy field. Furthermore, Banks did not advertise the rally, so no one else was there except for Jackie Johnson and the other mothers. 
That's when Jolly said it got "real ugly". When the mothers arrived at their hotel, it was revealed that the rooms were reserved but unpaid. Attempts to call Dana were made, but Dana did not pick up. 
"Her phone was off and she was a ghost," said Jolly. 
Scammed Out Of $12,000
This forced Johnson to pay nearly $4,000 out of pocket in hotel room expenses for her and the other mothers. Then, the group tried to get back to Georgia but could not because the bus fee was unpaid. In order to get everyone back, Jackie was forced to pay $8,800.
Over $12,000 reportedly came out of Jackie Johnson's pocket for Dana Banks' scam rally. Jolly then showed screenshots evidencing money being raised for the rally in Kendrick Johnson's name. He shared how Banks thanked "people on Facebook for their heartfelt donation" but has been a ghost since the day of the rally. 
"None of that money went towards the rally or to Mrs. Johnson," said Jolly in an emphatic voice. "So Mrs. Johnson is out $12,000 and Dana made money and clout off her son's name." 
In the final moments of the video, he shared Jackie's cashapp handle, with "Internet, do your thing."
Jackie Johnson, under the TikTok handle @jackie.johnson47, commented on the video. She wrote: "Dana Banks didn't pay for the bus at all, not even for us to make it to Washington DC; she only used my son's name for clout."
Devastating Autopsy Details Are Fueling Our Resolve For #JusticeForJelaniDay
A new autopsy has revealed facts about the death of Illinois State College graduate Jelani Day. This comes three months after his body was found. According to a private forensic pathologist, Jelani's jaw was sawn out, among other heartbreaking revelations. The black community is once again devastated, but not deterred.
The victim's mother, Camren Bolden-Day, gave a statement that detailed the facts of the autopsy findings and refuted false reports.   
"No organs were missing. I do not want to stray off from the facts. There were contradicting facts from the first preliminary autopsy compared to the second independent autopsy, but this is not a case of organ harvesting. However, my son did not put himself in a river. My son was murdered and my goal and purpose are to find out what happened and hold those responsible accountable."
Originally Written By: Aevum Callum