Gunna has achieved another milestone in his illustrious career as his single "Fukumean" has been certified platinum. The track is featured on his latest album, A Gift & A Curse, which was released on June 16, 2023. 
Certified Platinum
According to the Recording Industry Association of America (RIAA), "Fukumean" reached platinum status on Oct. 3. Fans and listeners were quick to react to the news of "Fukumean," earning platinum certification.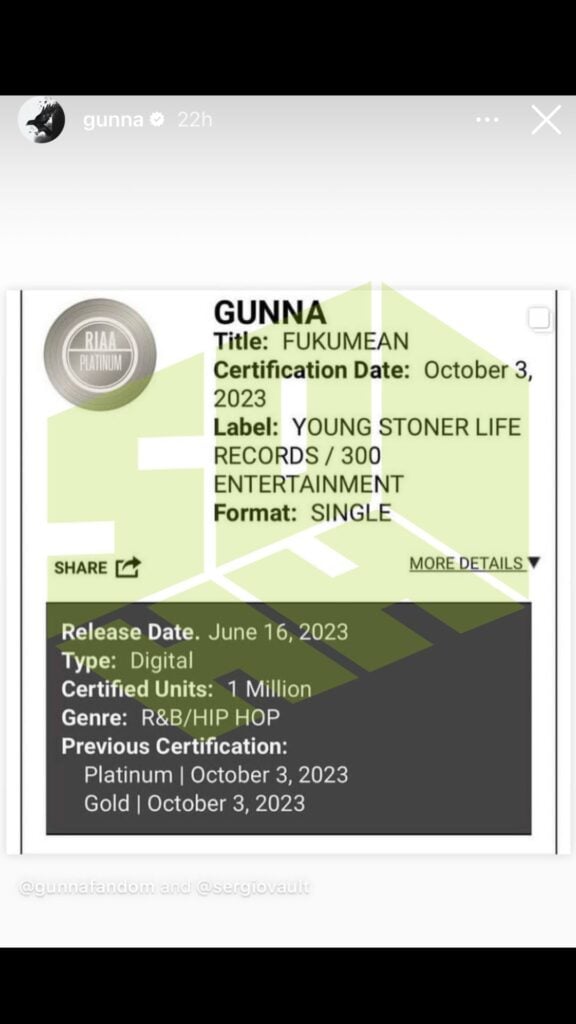 One user praised the Atlanta rapper, saying, "Goat had the best comeback I have ever witnessed," while another dubbed it the "song of the year." Not only did "Fukumean" achieve commercial success, but it also climbed the charts. The track reached No. 4 on the Billboard Hot 100 chart and secured the top spot on the Billboard R&B/Hip-Hop chart.
Updated By: Chris Samuel (10/6/23 at 3:36 pm)
Gunna's "Fukumean" Takes Over As Most Streamed Rap Song Of 2023, Surpassing Drake's "Search & Rescue"
Gunna has reached another milestone in his rap career with his single "Fukumean" becoming the most streamed rap song of 2023. This achievement marks the Atlanta rapper's successful comeback, surpassing rap superstar Drake's hit song, "Search & Rescue."
Gunna Surpasses Drake
Gunna's "Fukumean," featured on his latest album, A Gift & A Curse, has overtaken Drake's record for "Search & Rescue," which debuted with 2.4 million U.S. streams on Spotify in its first week and became the first rap song of the year to reach 100 million streams. 
"Fukumean" has garnered over 118 million streams on Spotify alone, solidifying his return to the forefront of the rap scene. 
This accomplishment is especially significant for the former YSL rapper, as it is his first charting hit since being released from prison in December of 2022, after facing RICO charges alongside fellow Atlanta rapper Young Thug.
Silencing The Critics
Gunna faced backlash upon his release from prison, with many accusing him of being a "snitch" for accepting an Alford plea deal. 
However, his recent success with "Fukumean" has silenced critics and proven his career is far from over. The hip-hop community and fans on social media have expressed their surprise and admiration for Gunna's resilience. 
Many users have commented on his unexpected comeback, with one user saying, "They said he wasn't gonna bounce back, but he may be bigger than ever now lmao."
In addition to his streaming accomplishments, the "Pushin P" rapper continues to make waves in the music industry. "Fukumean" has become his highest-charting solo song, reaching #1 on the Billboard R&B/Hip-Hop charts, as well as topping the Billboard U.S. Rhythmic chart. 
His album, A Gift & A Curse, also claimed the No. 1 spot on the Billboard R&B/Hip-Hop charts.
It's Gunna's Era
Gunna's support for Thugger has also garnered attention. On September 9, at the Barclays Center in Brooklyn, Gunna displayed a graphic onstage that read "Free Jeffery," Young Thug's real name. 
In addition, as the "Drip Too Hard" rapper celebrates his achievements, Drake has also etched his name in history by becoming the first artist to surpass 75 billion streams on Spotify. This achievement raises the question of whether Gunna could potentially reach similar heights.
Doja Cat Hits No. 1
In a year of notable achievements, another rapper who made waves in 2023 is Doja Cat. Her single, "Paint The Town Red," became the first rap single to reach #1 on the Billboard Hot 100 chart, breaking a one-year drought of rap songs topping the charts. The last rapper to claim the #1 spot on Billboard was Nicki Minaj with her August 2022  hit, "Super Freaky Girl."