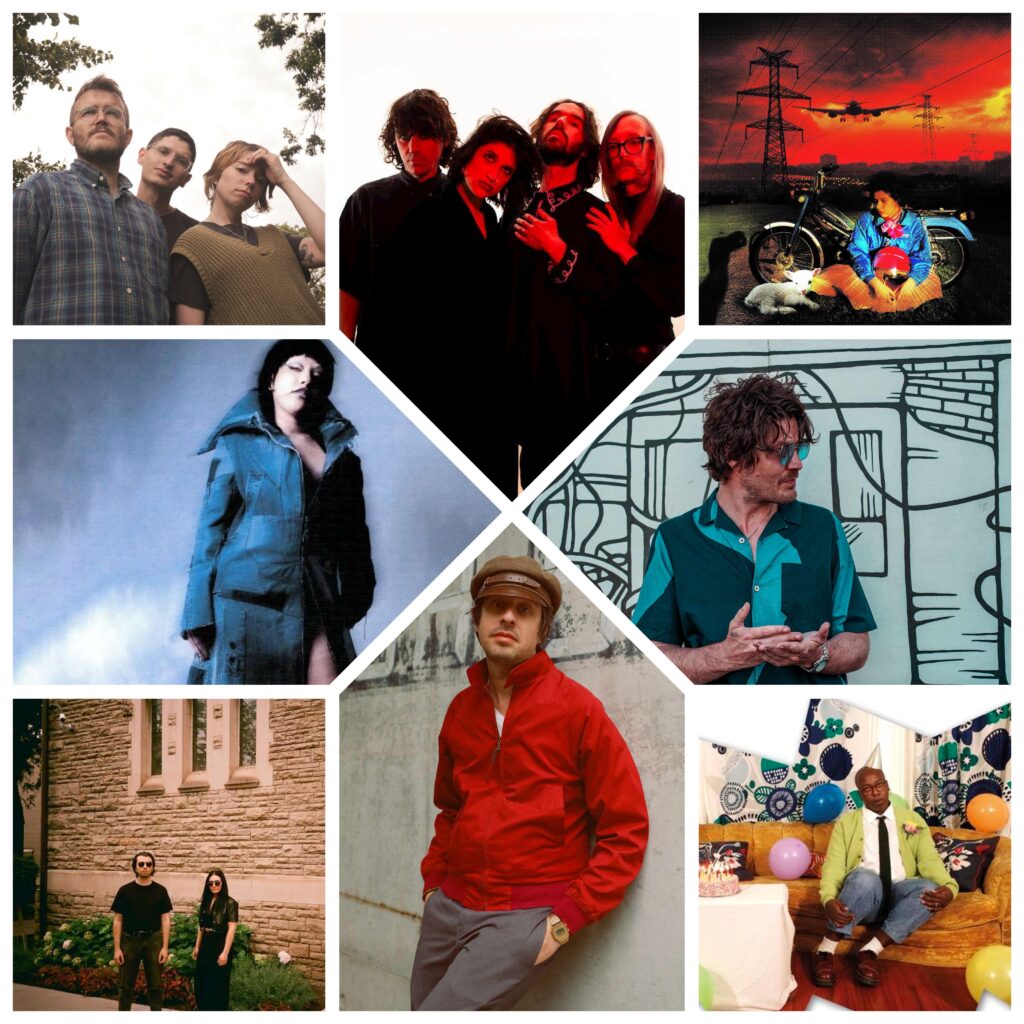 If you haven't been swept away by Storm Shit or struck down by variant #23,587 and your ears are still at least partially functioning, wrap your lobes around these morsels. It's TOTW again.
Delilah Holliday – Long Time Coming 
With synth sweeps, industrial club rhythms, and a delivery that's both artfully detached yet powerfully in the moment, Delilah Holliday's new track 'Long Time Coming' is an awesome moment of poise and self-contained power.  Swelling into atmospheric euphoria detailing her self-belief, determination and seeking to find emotional balance through her experiences.  It's lifted from  'Invaluable Vol. 2' on November 3rd via One Little Independent Records.
'Invaluable Vol. 2' works as a heady tale of caution, and the search for clarity in creativity outside of the intoxicating noise that surrounds us all. It's about being true to oneself despite what doubts or distractions we may face. It's also about the confidence and support that comes from the acceptance of this. Seven tracks map something of a journey, that can be viewed in the context of a single night out, but recall thematic elements that are universal. Delilah tells us that "the first part of the EP is very downtempo. It's got a couple of little uppers in it, but it's sort of introducing you to the quest you're gonna go on. The second part is like the wild ride, and then you start going downhill. And it screeches to a stop when you remember who you are again".
Skinny Girl Diet, which she founded at the age of 14 with her sister Ursula and their cousin Amelia, were a staple of the 2010's UK indie-punk landscape. She then successfully transitioned to her current solo moniker with the release of her debut single 'Babylon' in 2018. Shortly after, she would appear on the Baxter Dury album 'B.E.D' alongside Étienne de Crécy. (Bill Cummings)
[embedded content]
Brontez Purnell – Bachelors Theme
Why we love it: Because Brontez Purnell is a Confirmed Bachelor. Or so the title of his forthcoming album tells us. It will be upon us come the 10th of November courtesy of those good people at Under The Rhythm.  But we don't have to wait that long, least not for a piece of the album's action as the Southern-raised, Oakland-based musician has kindly shared a single from it, and it is no less than Confirmed Bachelor's opening track, 'Bachelors Theme'.
Purnell tells us, rather intriguingly, that,"'Bachelors Theme' is about being at the STD Clinic and accepting the pitfalls of being way too attractive and overly desirable – and a thunder crack of epiphany strikes: mass acceptance is overrated and (maybe, perhaps) only one guy deserves your love."
Now, on that basis alone it surely has to be worth a listen. With an accompanying video made by and starring 13 Reasons Why man Brandon Flynn (as the Sad Clown), I can assure you it would be 90 seconds of your time very well spent. 'Bachelors Theme' is a glorious trash-pop stomp that luxuriates in the fact that it really is that good. (Simon Godley)
[embedded content]
Me Rex – Infinity Worm
Why we love it: because even though this came out a few weeks ago, its been my track of the week, and their brilliant debut proper LP Giant Elk came out on Friday which is a must listen to. 
Two thirds of Me Rex are the duo  Happy Accidents who also happen to be among the most prolifically brilliant pop song writers of the past three years, their album Sprawling is wall to wall hits. Stunning stuff. 
What's great about this, is that it starts off like the bastard son and daughter of Sum 41 (in too deep?!?!) but instead of an irritating nasally American shouting at us we've an urchin London vocal and fucking humongous chorus you will be yelling at the top of your voice in the shower for weeks. There's a chord change in the middle of the chorus that smacks you in the feels and then at the end orchestral swells and so does the lump in your throat. Weird what music can do. (Jim Auton)
[embedded content]
Sam Scherdel – R.E.T.R.O.
Why we love it: Because Sam Scherdel's star is currently in the ascendency. Ahead of a huge show at Doncaster Dome later this month where he is supporting Two Door Cinema Club, the rising songwriter who has been referred to as "Sheffield's answer to Springsteen" has just just released a new single 'R.E.T.R.O.' which affirms his growing reputation.
Speaking about the new track, Sam Scherdel says, "'R.E.T.R.O' was written in 2021 after the initial lockdowns. It's a bittersweet pop record which contains the message to appreciate what you have whilst you have it, as the moment it's gone is the moment it hurts."
'R.E.T.R.O.' is a piledriver of a song that is certainly Boss-like in its powerful delivery. Driving, dramatic, rhythmic, and melodic, it charges along with joyous defiance. (Simon Godley)
[embedded content]
Dermabrasion – Halberdier
Why we love it: Because 'Halberdier' rocks like a demon. The new single from the Toronto-based duo Dermabrasion is captured here on its accompanying video through a series of clips shot by members of the crowd at a generator show under a viaduct in the band's home city earlier this year. 'Halberdier' echoes that same subterranean, post-industrial vibe.
Taken from Dermabrasion's debut album Pain Behaviour, which is due to be released on January 26th next year via Hand Drawn Dracula, and following a run of incendiary local live shows supporting such luminaries as Lydia Lunch, Retrovirus, Special Interest, Pixel Grip, Nox Novacula and Front 242's Patrick Codenys, 'Halberdier' is guaranteed to move the duo onto a much bigger musical map. (Simon Godley)
[embedded content]
Sean Ono Lennon – That Fucking Feeling
Why we love it: Because Adam Green is once more back on the musical map. In truth, there was a never really a time when he wasn't, but having reformed the cult anti-folk misfits Moldy Peaches and them playing their first European dates in 20 years earlier this year, his classic albums have now been reissued. On top of this a tribute album to the maverick musician will be released on 1st December 2023 on Capitane Records.
A whole bunch of heavy hitters including Father John Misty, Regina Spector, Devendra Banhart, Lou Barlow, The Lemonheads, The Cribs, and The Libertines have lined up to record cover versions of Adam Green's songs and as part of this edition of Tracks of the Week we can bring to you Sean Ono Lennon's wonderful interpretation of 'That Fucking Feeling'. And Ono Lennon does the title track from Green's latest solo album great justice, retaining all of its madcap irreverence as he does so. (Simon Godley)
[embedded content]

Islet – Euphoria
Why we love it: Islet recently returned with the excellent Soft Fascination on Fire Records, a sleeker, and even more focused beast than their previous records. Opener and scene setter 'Euphoria' is a spinning celestial delight, dappling elastic percussion and entwined vocals led by Emma's hypnotic chants, underpinned by twitchy beats and flanked by samples and synths that sound like laser beams. There's a joyousness here, encapsulated in a weightless capsule, powered by detail of driving bass, distortion, keyboard stabs and oscillating harmonies, swelling to a heady and otherworldly crescendo, it's the sound of orbiting the galaxy. It's fantastic!
They say: "It's about repetition and volume and feeling subsumed into sound, the coming together of crowds and the merging or separation of consciousness when a body is divided through childbirth or being so in lust, in love that you feel you can dissolve into another person."(Bill Cummings)
[embedded content]
nil00 – Hold Me Back(With U)
Why we love it: Liverpool-based multi-disciplinary artist nil00 recently released 'Hold Me Back (With U)', the second single from their forthcoming new EP l0ve. Downtempo, and recorded onto tape this end of the night song is a 'end of days love song' according to nil00. Ripe with yearning and lovelorn vocals, and a subtle stripped back quality draped over scratchy acoustic guitars, it sounds like someone singing in your ear through a battered Casio Walkman, but that only adds to its lo fi charm. 
The new track, which is the closing track of l0ve, follows on from 'No.1 Crush'. Speaking on 'Hold Me Back (With U)', they add, it was "simply made of guitar and vocals through an autotune pedal recorded straight onto tape for the sheer old timey thrill of having to get the perfect take. It's a celebration of everything we won't get back."
nil00's self-produced EP is a play set in the damp theatre of emotional downpour. Bursting feelings, tender confessions and the aching embarrassment of crushing hard; l0ve guides us through it all. It takes a tighter and pared back approach to the glitchy layered production of their first EP 00, with a maturity in themes and cohesive narrative that glides through the transformative nature of love and desire. (Bill Cummings)