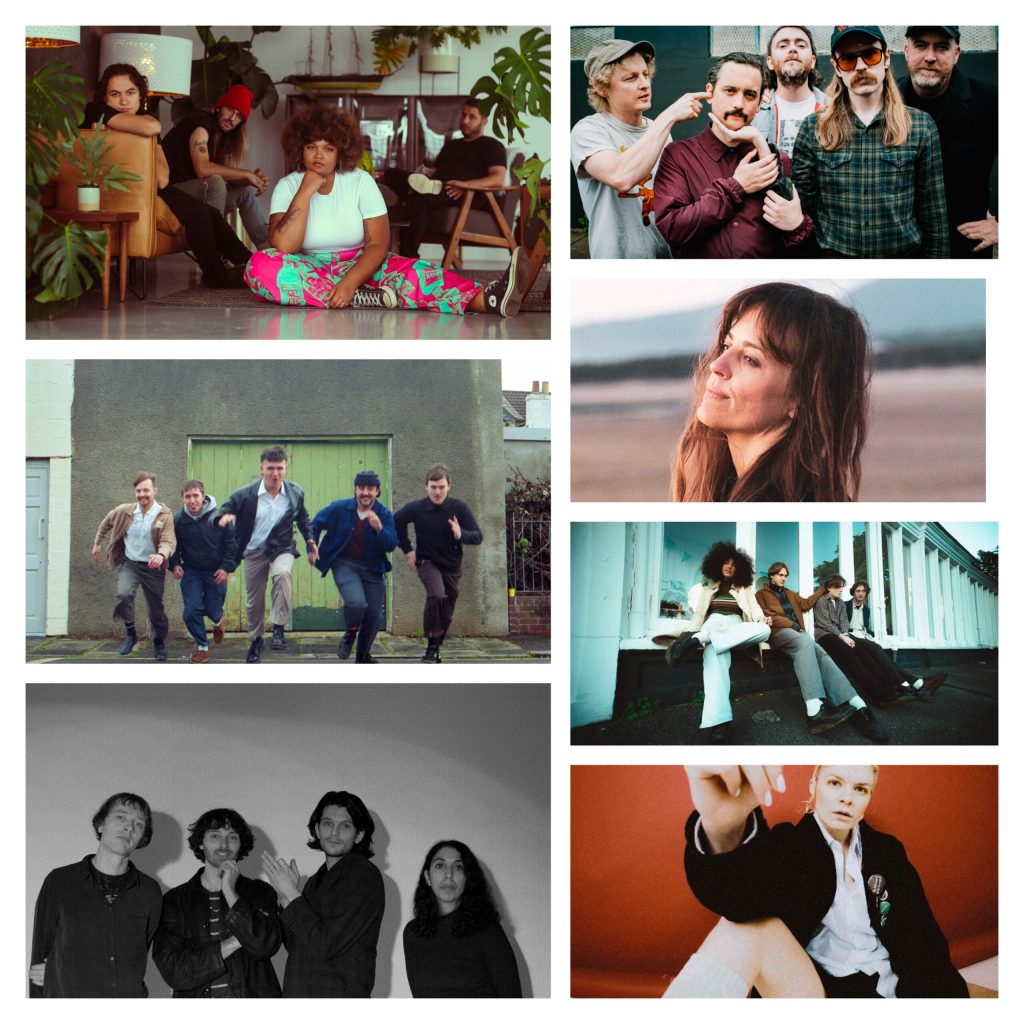 January is nearly over, it's getting a little bit warmer, but everything is still shit. Hurrah. Would we want it any other way? Yes, of course we fucking would. He's something to cheer you up a bit. Some of it. Other tracks might just make you feel melancholic and wistful but that's fine too. Take from it what you will. Have a great week.
Holiday Ghosts – Vulture
Why we love it: Garage rockers Holiday Ghosts have released 'Vulture' the lead track from their forthcoming album Absolute Reality which is set for release April 21st via FatCat Records.  The opening jangly guitar sets a pace which never lets up.  It canters along with the drums layering ontop to reinforce the beat.  The combined vocals are gorgeous but it's the guitars that lead the way on 'Vulture'.  They add texture, a touch of menace and a rhythm that ebbs and flows and all the while that cantering pace is maintained throughout. How is music able to paint images in your imagination?  Glorious.
Speaking ahead of their single release, Holiday Ghosts revealed: "This song has had two lives.  I remember playing it a lot five or six years ago on acoustic guitar as a kind of spaghetti western instrumental.  It was half the speed and really atmospherically menacing. I've lost interest in musically pretending that I'm in a western movie now.  When reimagining this track I'd been obsessively listening to the first The Cure compilation 'Boys Don't Cry' and Young Marble Giants/Weekend.  That style of production which has so much emphasis on space really got under my skin". (Julia Mason)
Heather Woods Broderick – Crashing Against The Sun
Why we love it: Back in November, Heather Woods Broderick graced these pages with the hypnotic single 'Blood Runs Through Me'. Now the American musician and composer is back with 'Crashing Against The Sun', another wonderful song that is destined for her forthcoming album Labyrinth which is set for release on 7th April via Western Vinyl.
Of 'Crashing Against The Sun', Broderick says the song is about "coming to terms with the realities of today, and moving through the present with a presence of mind and recognition of all the possibilities the future holds. It's about what we cling to as reassurance or validation in our world, and how these things are often fleeting. The song illustrates a curiosity as to how those same sentiments can also have dual existence and present positivity. The subtleties of existence are full of variability. Our experience can often feel redundant, but uniqueness lies in the details. Essentially, time flies, enjoy the ride." 
And such hope courses through the translucent veins of 'Crashing Against The Sun' as it glides along serenely, giving the listener confidence and the reassurance of an aural route map to negotiate their way through the complexities of life. (Simon Godley)
English Teacher – Song About Love
Why We Love It: because English Teacher do brilliant pop songs, with observational lyrics dripping with sarcasm, with a danceable groove and indie rock sympathies. It's for everybody. And everybody should love it. This one sounds incredible because it has Dan Carey slathered all over it. He doesn't make a bad record. Hopefully this is a lead single from an LP that he has sprinkled over his magic dust over brilliant songs crafted from the brilliant mind of Lily Fontaine.
She says about the single "It's a pop song about doing chores instead of doing someone else, and how even songs with social or political themes that analyse contemporary discourse, rather than lyricism about tired themes like romantic love, still come from a place of love, or lack thereof." (Jim Auton)
Saloon Dion – I Don't Feel
Why We Love It: Just watch the video for Saloon Dion's new track 'I Don't Feel'.  It's impressive that they are having a lesson on handshakes.  It's the first impression we make with people and the band want to understand and improve them!  'I Don't Feel' is the first track from their debut EP which is due out later this year.    This is groove-laden guitar music with a vocal thats echoey and sung, quite a departure from the current crop of shouty/spoken post punk bands.  The bass is prevalent throughout and the chorus is anthemic and is more reminiscent of the Stone Roses or Happy Mondays.  And back to the video, do watch it, its hilarious.
Discussing the track, Saloon Dion further explain:"'I Don't Feel' is a song about being reluctant to seek help from others.  What it isn't, is a song about having no feeling, but more of choosing what to feel and when to feel it.  It speaks of the barriers we all put up to protect ourselves, no matter the damage they may do in the long run". (Julia Mason)
O Hell – Pixel
Why We Love It: because it is a beautiful departure for O Hell, the alter ego of Lucy Sheehan, also known as the bassist for Projector but her solo project can be much more electronic and industrial. This is tender and brittle, echoing piano and just Lucy's double tracked vocals are ethereal and wash over you like a Brighton beach wave on a cold, grey day as if made specially for January 2023 when there's scant optimism on the horizon. It's pretty and majestic and pretty majestic.
Lucy says "I was at a studio way out in the Sussex Downs, and I started playing this fucked piano, completely out of tune. Anyway I didn't know it was being recorded. I was in my own world. I showed my collaborator George, and as big fans of Amnesiac we decided to scramble it into this strange, surreal piece of electronica" (Jim Auton)
Dakota Jones – Sugar Pie
Why We Love It: Music to feed the soul is what we need more of right now and Dakota Jones are the ones to supply it.  The 4-piece from Brooklyn, New York are fronted by Tristan Carter-Jones with her honey-laced vocals which literally stop you in your tracks.  'Sugar Pie' is the new single and its delicious.
The band explain:"It's the effortless cool of a gang of two, walking in step through streets paved with sugar under a plush pink sky.  Don't know where you're going and you don't care. It's rose-coloured glasses on the tip of your nose, and kisses like cotton candy."  
Dakota Jones just make everything feel a little better.  The vocals of Tristan seem effortless yet there is such quality in her sound.  The instrumentation carries you along in all its depth and to be honest every time I listened to 'Sugar Pie' it finished too soon and I just had to listen again.  We all need to do what makes us happy, and right now Dakota Jones are near the top of my list. (Julia Mason)
Pigs Pigs Pigs Pigs Pigs Pigs Pigs – Ultimate Hammer
Why We Love It: Pigs Pigs Pigs Pigs Pigs Pigs Pigs feel like a band for our time.  Their pulverising music is more appropriate than ever.  They have released 'Ultimate Hammer' the second single to be taken from their fourth album Land of Sleeper.   They continue to channel a raucous and furious energy.  'Ultimate Hammer' is full of electricity.  Those guitars are wild and unleash a fury.  There is a pause for breath midtrack.  The lyrics include the rallying cry "I keep spinning out, what a time to be alive".  It's not certain whether it's a good or a bad time to be alive, I suspect there is a hint of sarcasm here.  But as 'Ultimate Hammer' charges towards its end, to be honest the observation is almost superfluous as the listener has lost themselves in the glorious wall of sound. 
Vocalist Matt Baty expands on the background behind 'Ultimate Hammer' "Everything at the moment feels like it's moving at one hell of a speed. Momentous events pass by in the blink of an eye while we try to keep our heads steady on a planet spinning roughly 1,000 miles per hour.  Maybe it's always been this way but it sure is hard not to feel dizzy. What a time to be alive." 
Guitarist Adam Ian Sykes continues: "'Ultimate Hammer' is the by-product of being trapped in the house and listening to too much ZZ Top, if there is such a thing.  It was written to be unapologetic, a selfish endeavour with the only consideration being how fun it would be to play live." (Julia Mason)