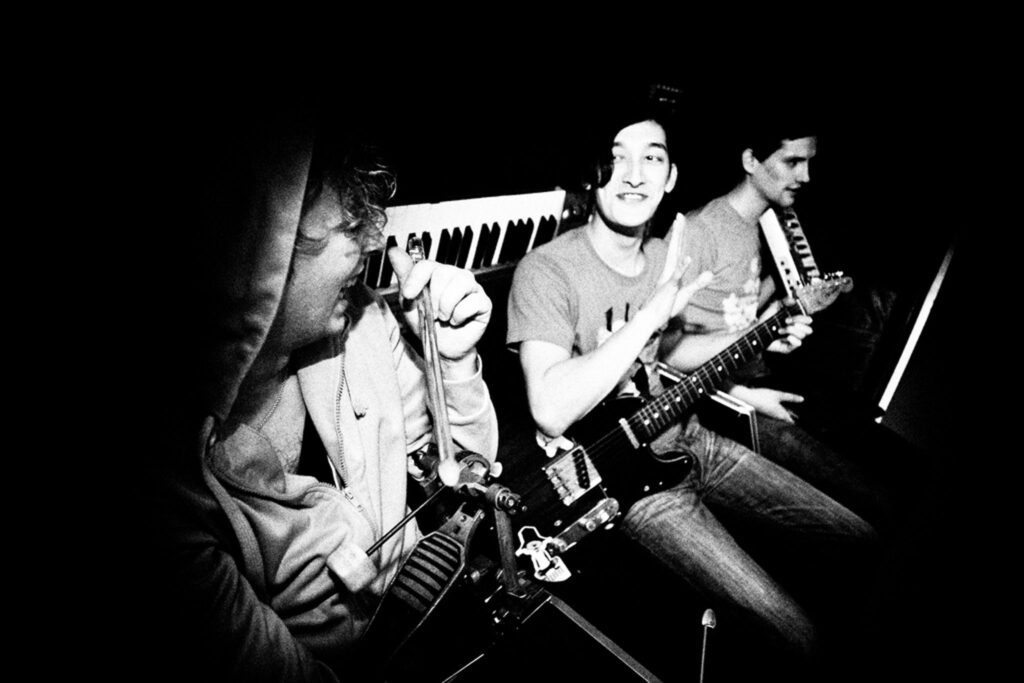 Pull The Ladder is the new EP from Bristol based electronica trio Concrete Disco, led by multi-instrumentalist and chief songwriter Jonny Wharton alongside brothers Joe (keys/laptop) and Dom Cusack(drums/samplers). 
Pull The Ladder EP features the singles Turbulence (June 2023), Pull the Ladder (March 2023) and Spinning (February) alongside new single What Do You Dream Of?.  Concrete Disco are supporting electronic legends The Orb on a UK tour in Autumn 2023.  Today, Jonny Wharton talks us through the EP track by Track below.
"At its heart the Pull the Ladder EP is a meditation on the contradictions inherent in our ability to innovate, collaborate, and progress, set against tendencies for destruction, exploitation and conflict. In spite of our propensity for problem solving, we seem to be the architects of our own greatest challenges, on both a private and public level. Yet there remains the hope that kindness, compassion, and reason will win out.
The opening eponymous track Pull the Ladder considers the state that we are leaving this planet in for future generations, as we continue to pollute and mutilate our environment. It seeks to hold up a mirror to the absurdity of defecating on our own proverbial doorstep, whilst acknowledging the part we play in this brinkmanship as individuals.
Turbulence explores how tribalism is stoked to create divisions, whilst those very lines in the sand are being eroded and redrawn. It concludes with a call, above all, for tolerance and acceptance, to transcend those barriers and points of difference, embracing our commonality. Musically, it features a Tibetan flute lick alongside a phrygian dominant scale (better known from its usage in middle eastern traditions and progressive metal) which brings a sense of both uneasiness and resolution.
Spinning interrogates our predilection for repeating the mistakes of the past, societally and personally speaking, and the frustration of being aware of this yet seemingly unable to prevent it. The track was sparked by the sampled drone of a spinning top which forms a simple metaphor for the resultant themes, whilst also providing the cover art.
What Do You Dream Of? tempers the element of pessimism in the preceding tracks, with its refrain expressing faith in the power of humanity's aspirations, creativity, and ingenuity to manoeuvre ourselves out of the very corners we have painted ourselves into. Abstract guitars and shifting ambient textures are joined by a driving rhythm section from which the optimism of the lyric must strain to emerge.
UK tour with The Orb Autumn 2023
2nd November, Dreamland Ballroom,Margate
9th Hangar 34, Liverpool
24th The Baths, Ipswich
25th Waterfront, Norwich
30th o2 Academy, Birmingham
1st December Quarter House, Folkestone