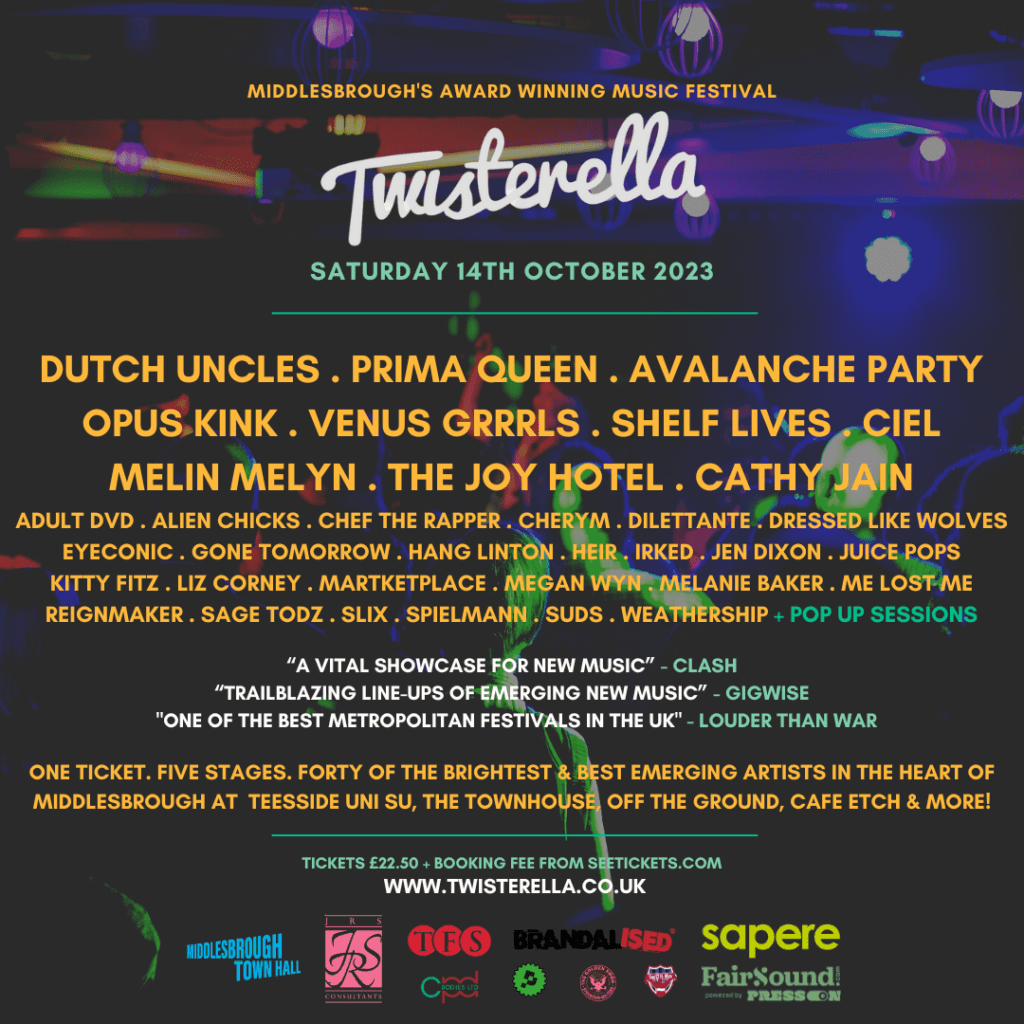 Middlesbrough's forward thinking music festival Twisterella returns for its ninth year and has just announced the final lineup for the annual event which takes place this year on Saturday 14th October across various venues all within a few minutes walk of each other in the town centre. Headliners already announced are Prima Queen, Dutch Uncles, Avalanche Party, Opus Kink and Venus Grrrls.
Added to the final line up already are post-punkers Shelf Lives, Brighton alt-pop outfit Ciel, psychedelic country pop collective Melin Melyn, seven piece Glaswegians The Joy Hotel alongside new additions including indie-poppers Marketplace, Megan Wyn, Kitty Fitz, Melanie Baker and Liz Corney, who is best known for her work with The Cornshed Sisters and Field Music.
The popular metropolitan all-day event has previously played host to established artists, such as Sam Fender, Pip Blom, Dream Wife, Benefits, Clean Cut Kid and The Howl & The Hum. The festival's co-promoters have a successful pedigree when it comes to emerging talent having previously promoted shows for the likes of The 1975, Wolf Alice, Alt-J, Daughter, The Vaccines, Mumford & Sons and many more.
In addition to the music lineup, Twisterella also hosts its own (un)Conference, an inclusive forum that brings together key figures from the music industry in Middlesbrough Town Hall on the morning before the main event. Here they share their knowledge, provide guidance, and offer feedback to Teesside's next generation of artists which this year will feature the likes of BBC Introducing DJ Shakk, Press On Vinyl's Danny Lowe, Hanglands' Jasmine Sidhu, NARC Magazine/Tees Music Alliance'sDavid Saunders and more. 
Henry Carden, co-promotor of Twisterella said "It's been amazing to follow the progress of some of the line-up over the summer, be it Prima Queen performing multiple crowd pleasing sets at Glastonbury or Melin Melyn having a huge crowd Green Man… most of whom were wearing the band's signature Jolly Baskets caps!"
Full festival schedule can be found here https://clashfinder.com/s/twisterella2023/
Tickets are available here https://www.seetickets.com/event/twisterella-festival/the-hub-teesside-university/2473927