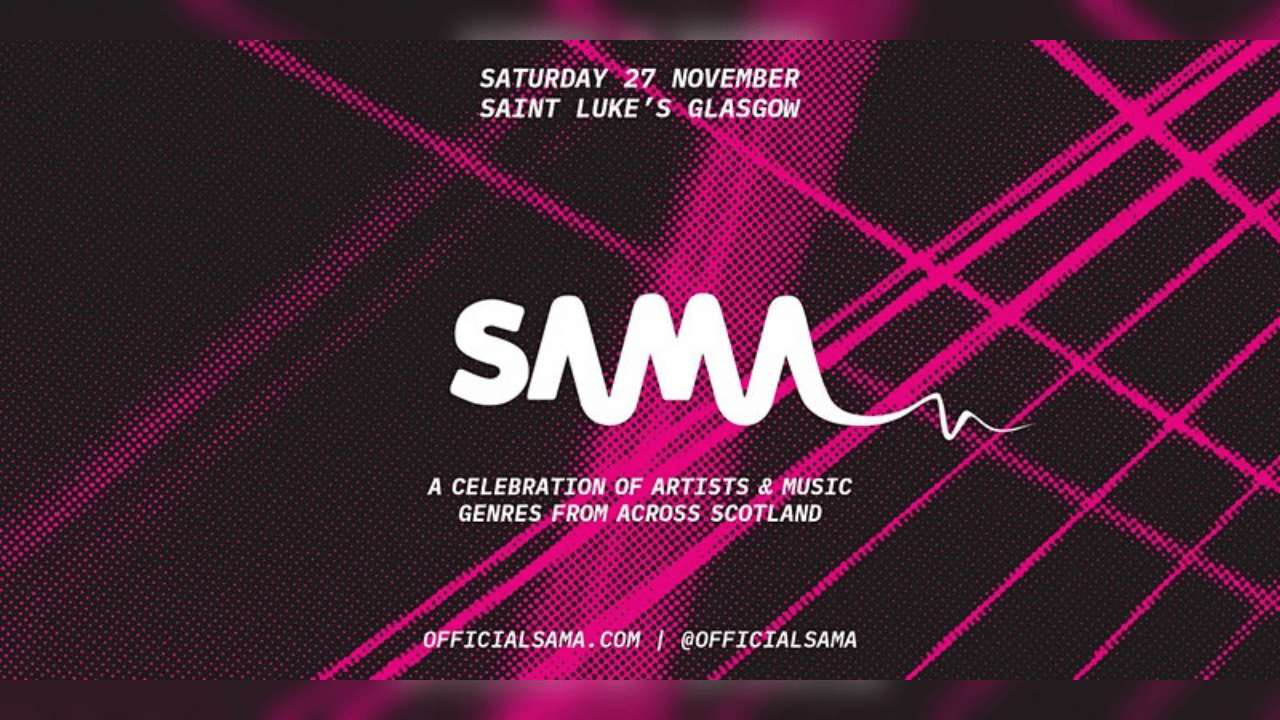 The nominees for the 12th annual Scottish Alternative Music Awards (SAMA) have been revealed today, with the winners to be announced at an exclusive live ceremony at Glasgow's Saint Luke's on Saturday 27th November 2021.
SAMA 2021 will celebrate the rich creativity and innovation of musicians across Scotland and champion the best of the nation's emerging artists whose talents have shone over the past 12 months despite the ongoing challenges presented by the COVID-19 pandemic.
Fans are asked to vote from a total of 28 of the best new artists in the country, selected by some of the country's most influential music tastemakers and champions, including Phoebe Inglis-Holmes of BBC Introducing In Scotland.
Speaking about the event she said: "I'm really delighted to see such a wide range of genres and artists being nominated at this year's event. This SAMAs 2021 honours list is truly full of some of the most exciting and deserving acts I think these awards have ever seen, to the extent that I think there'll be some really close calls for the winner, in multiple categories.
"It'll be amazing to feel that nervous anticipation on the night to see who'll come out on top, and of course catch amazing live performances from the likes of recent Sound of Young Scotland winner, LVRA."
Voting opens at officialsama.com/vote at 12noon on Monday 8th November 2021 and runs until 5pm Wednesday 10th November 2021.
SAMA 2021 winners will be announced on Saturday 27th November 2021 at Glasgow's Saint Lukes in a ceremony hosted by acclaimed poet Leyla Josephine and Scotland's new music champion Jim Gellatly.
The exclusive event will include the live return of cult noughties band Union Of Knives as well as performances from avant-trance artist and double SAMA 2020 winner TAAHLIAH and LVRA, recent winner of the Sound Of Young Scotland award. Tickets for the event are £10, available from Eventbrite https://www.eventbrite.co.uk/e/scottish-alternative-music-awards-2021-live-ceremony-tickets-190207324227
The categories and nominees are as follows:
Best Acoustic 
Christy
Constant Follower
Lizabett Russo
Lizzie Reid
Best Electronic
AISHA
Barry Can't Swim
KAVARI
Macka
Best Hip Hop
Bemz
Chef
Clarissa Woods
K4cie
Best Live Act
Andrew Wasylyk
Bemz
Rachel Aggs
Tom Spirals
Best Metal 
Dvne
Frontierer
Godeater
Hellriper
Best Newcomer
AiiTee
Bee Asha
Chef
Danny Cliff
Best Rock/Alternative 
Dictator
MEMES
Spyres
Swim School