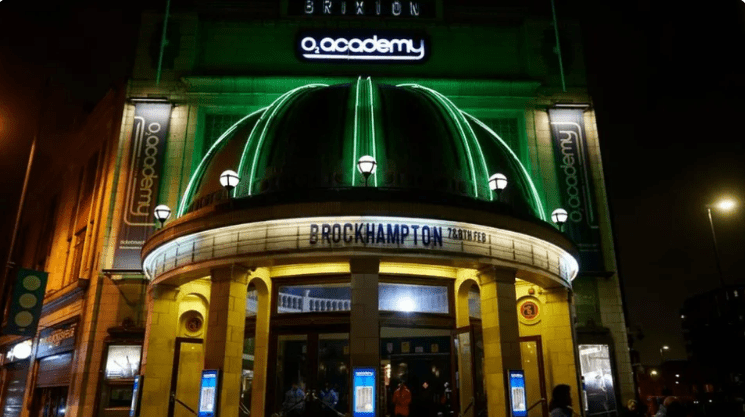 Iconic South London venue, Brixton Academy, is in danger of closing after a fatal crush at a gig on 15th December when two people tragically died. After just two songs, singer Asake announced, 'We have to stop the show…They breached the door. You've got 3,000 people who have broken the doors.' Lambeth Council is now considering revoking the venue's licence and The Night Time Industries Association (NTIA) is urging the public to campaign to keep the venue open. There are 24 hours to save Brixton Academy by signing the petition and letter to be sent to Lambeth council by midnight on Monday 15th May.
Since the Campaign to Save Brixton Academy launched on Thursday 11th May, the NTIA have confirmed that they have had an amazing response with over 10,000 written representations submitted to Lambeth Council in support, on top of the 100,000 music fans which have signed the change.org petition to keep the Brixton Academy open. The Night Time Industries Association (NTIA) is also asking people to sign a letter to be sent to Lambeth Council, highlighting the importance of the venue by Midnight on 15th May. Each of these written representations will go towards the licensing review hearing which will take place at a later date.
Michael Kill, CEO of NTIA said, "We want to again, urge all involved to step forward and engage in productive and meaningful discussions, with an aim to resolve the current challenges and present a unified position on delivering the safe and effective management of this space in the future."
He added, "The outcry from the music community has been extremely humbling, with over 10,000 responses in just a few days, this level of response really shows the emotional connection that this venue has with music fans across the UK and around the world…The venue is hugely important to the social and cultural economy of London and the UK and without doubt one of the landmark performance venues in the world."
"The potential loss of this venue would be catastrophic for the industry. Most people who are engaged with this campaign are angered and shocked that this venue could be lost forever."
Brixton Academy has hosted everyone from The Clash to Diana Ross, Madonna to Bob Dylan, the Rolling Stones to Rihanna, The Smiths to Snoop Dogg. Bought from a brewery for just £1 in 1983, Brixton Academy has since become one of the UK's most revered venues.  
Stuart O'Brien who started the Petition to Save Brixton Academy (Change.org) said on the petition site,
"What happened there was a tragedy, but caused by people…Bring in new security procedures including crowd control to ensure a repeat doesn't happen." Speaking of the petition he said,
"The response from the public and community has been phenomenal, it's important we work together to save these important iconic spaces from closure and urge Lambeth and the Authorities to come together and find a solution to the current challenges, so we are able to keep this amazing space open."
While the Met Police has called for Brixton Academy's licence to be revoked, Academy Music Group, which runs the venue, has said it has presented detailed proposals which would allow for the venue to reopen safely.
George Fleming, CEO of Save Our Scene said,
"Our worry is that if the council & government continues to undermine culture and close down venues, we could see the industry move further underground where there is not the same level of regulation or safety. All they have to do is look at what happened in the '90s."
"In this case, we are urging Lambeth Council to work with Brixton Academy on finding a constructive way to keep this sacred space open & safe for people to enjoy. It's far too important for the local economy & our culture to close down and would set a precedent, which our sector can not afford."
Stuart O'Brien added, "In order to help stop us losing this iconic venue we need to get as many representations into Lambeth Council by Midnight on Monday 15th May. Just follow the instructions provided by the amazing people at NTIA to send a letter of representation to Lambeth Council in support!"
Sign the letter and petition below by Midnight on Monday 15th May to Save Brixton Academy.
Make Representation to Lambeth Council for Brixton Academy: https://www.ntia.co.uk/save- brixton-academy/
Petition to Save Brixton Academy:  https://www.change.org/p/ save-brixton-academy- savebrixtonacademy?recruiter= false&utm_source=share_ petition&utm_medium=twitter& utm_campaign=psf_combo_share_ initial&utm_term=psf_combo_ share_initial&recruited_by_id= b074df20-e72c-11ed-9fca- 9f556c237032&share_bandit_exp= initial-36105319-en-GB