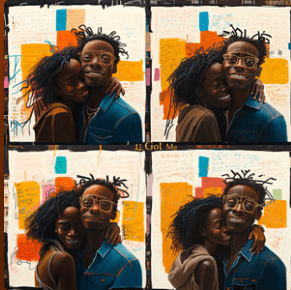 MMYYKK, the maestro of neo-soul, has unveiled a dazzling new single 'U Got Me'. MMYYKK is the moniker of the Minneapolis-based musician Mychal Fisher, but you can call him 'Mike.' The highly acclaimed singer musician and instrumentalist is renowned for his unique blend of soul, R&B, electro and jazz. 'U Got Me' is a boundary-breaking love song, with flawless production, intricate and complex rhythms and boundless melodies that build into full-bodied harmonies atop billowing brass, impeccably showcasing MMYYKK's vocal prowess. The single follows the success of the musician's earlier release, 'The Midst Of Things', which serves as the lead single off his highly anticipated album of the same name.
MMYYKK said,
'This is a song for lovers and romantics. You know that feeling when you know you've fallen for someone and you're all the way in? This song is about that part. It's about the feeling of choosing someone and knowing they have chosen you. In spite of each other's shortcomings. you've been through trials together but on the other side, you are stronger as a unit. This is the song you dance to at your 20th wedding anniversary and show your grandkids ya'll still got it lol.'
MMYYKK's highly anticipated second album, The Midst Of Things is due to be released independently on 28th July. The album is forward-thinking and experimental as well as possessing his characteristic soul and groove. The album follows MMYYKK's celebrated EP 'Science' which came out in 2021 on Rhythm Section records.
Follow MMYYKK (pronounced 'Mike') here: