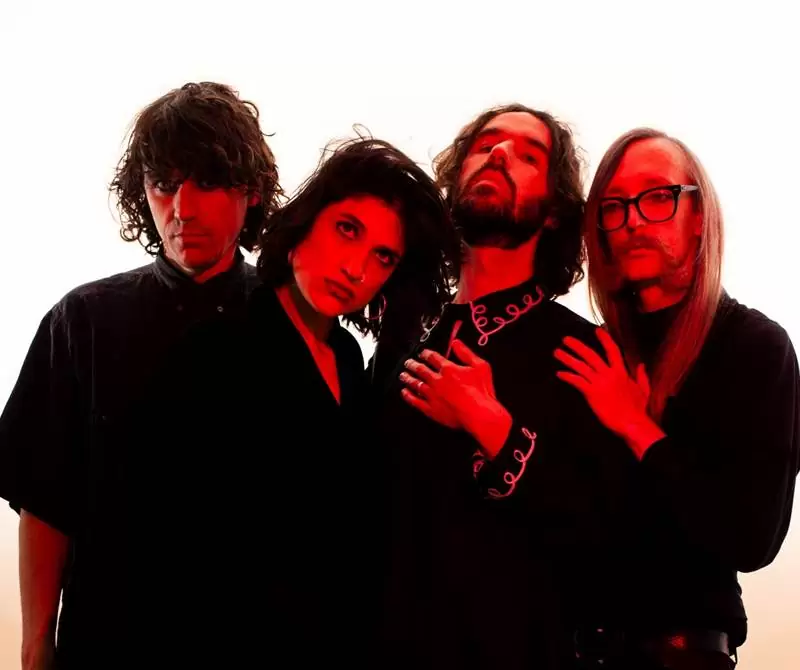 Welsh band Islet return with new album Soft Fascination set for release on the 29th of September. Opening track 'Euphoria' is a rush of Emma's inventive, chanted vocal refrains, swathed in spinning, ethereal atmospheric keys and underpinned by sprawling rhythmic shifts, its a trip in the vast vista of their imaginations that burrows deep into elements of psych, krautrock and dream pop. Islet are sonic adventurers who we want to follow into the unknown.
Accompanying the track is a great new video that Emma from the band directed with dancer Anushiye Yarnell who choreographed the piece in one take responding to the music.
"The way Anushiye moves is so present in the moment and so full of life, she was the perfect fit for this song. We did a few improvised takes, all completely different, and chose the one that was, in her words "sensitive, understatedly crazed… re-channeling my cellular innocence and joy,"  said Emma
Watch here:
"It's about repetition and volume and feeling subsumed by sound. The coming together of bodies, the merging and separation of consciousness."  says Emma Daman Thomas (vocals and bass.)
Self-produced and with the instrumentals recorded live with few overdubs the effect is direct, in your face and immediate. Recorded & mixed by Joy Stacey and mastered by Katie Tavini, this is a record of now. There's a grit that brings the band closer to a spiky punk energy than they've ever got before.
"We wanted to do something that was less pretty than the last record" says Emma "more direct, more energy. The songs are shorter, leaner and more stripped back."
The first half of the record is intentionally fast, intense, almost relentless. The second half is more spacious, with a largely instrumental track opening the side as the album unravels and becomes more hazy.
Here there is excitement and fascination and a willingness to show a lack of restraint in realising it, traversing hailstorms, hedgerows, broken promises and poisoned prayers; constantly breathing real life all in.
"The album is named 'Soft Fascination' after that state of mind where focus drifts. Attention is diffused and the mind can wander. It's about letting yourself go, being part of something that's much bigger than ourselves," added Emma.
With the return of founding member JT they're a quartet again, Islet have continued to develop, define and re-focus their vision with a breath-taking new album, 'Soft Fascination'.
Set to release their new album this autumn, Islet will be heading out on the road for a number of UK live dates to celebrate the release.
'Soft Fascination' is out 29th September. Available in Limited Edition Clear Vinyl & CD.
LIVE DATES
June
30th : Rebel Fest, Rogerstone, Newport, UK
September
29th: Rough Trade, Bristol, UK
30th : Clwb Ifor Bach Cardiff, UK
October
4th: The Lexington, London, UK