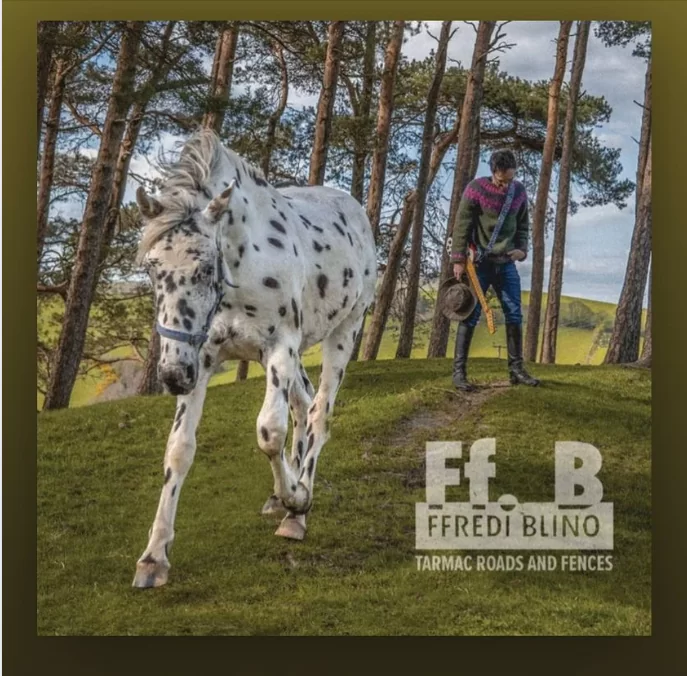 Welsh/Aussie indie 'genre- neutral' songster Ffredi Blino is back with his second album 'Tarmac Roads and Fences' rich with fresh quirky melodies, whimsical notions, surreal observations and 'sweet fingerpicking goodness.' Following his acclaimed lo- fi lockdown debut The Dishwasher Tapes, the new album features more acoustic, melodic vibes straying into country folk territory at times, but keeping the quirky indie heart beating, all underpinned by the beautiful drum work of Sophie Wozencraft of Manchester's The Deep Blue.
The name Ffredi Blino was created to reflect his love of linguistic word-play, and gives a big nod to his adopted Welsh homeland. In Welsh, 'wedi blino' means 'tired' – you might say it in the middle of a yawn. 'Ffredi Blino' turns that phrase into a name "that a non-Welsh-speaker can have a good chance of pronouncing right at first glance!"
The album interestingly features two completely different versions of the same song. Title track 'Tarmac Roads and Fences' is a moody & moving contemplation on technology and separation from nature, but for a BBC Radio Cymru live session, Ffredi decided to reinterpret the song in Welsh, resulting in opener 'Ffyrdd Tarmac a Ffenses,' an upbeat track reminiscent of Cool Cymru stars, Gorky's Zygotic Mynici. The track came about as an attempt to write a Welsh translation of the existing English song. This proved harder than expected, and a completely new song with a different vibe and attitude emerged, with a few key translated phrases retained in an otherwise wholly new lyric.  
It's the Welsh high-energy version that catapults you dancing into this eclectic treasure trove of an album where you never know what you are doing to discover next. Each track is highly skilled and crafted in its own right, whilst confidently straddling a spectrum of genres.
By the time you have reached track three, you have traversed the Welsh English and French Languages as well as a cornucopia of influences from jazz to French avante guard, to rock to country and everything in between. In a world of cookie-cutter music, it is a satisfying mould breaking listen
Singles include 'Fruitfly' – a funky love jam for insects, recently featured by Cerys Matthews as her show opener on BBC 6 Music; a surreal French jazz groove with a mind-bending video to match from director Izzy Rabey; and 'Ffyrdd Tarmac a Ffenses', from BBC Radio Cymru and Radio Wales. It's deliciously funky; a track that you can imagine a surreal lounge singer using to woo the crowd infusing jazz with French nouveau pop, 
It's a satisfying classy, witty and eclectic listen, this track is a cross between The James Taylor Quartet and Flight of the Conchords, it feels as if you are in a underground smoke filled jazz bar after hours. Try watching the following video without smiling:
Ffredi grew up in the Southern Hemisphere, gravitating to guitar and songwriting from age 4. His first composition was 'A Bare Bottom' – which he describes as "arguably a high point." There followed years of fronting "scratchy rock'n'roll bands," with a competing pull towards melodic, acoustic folk. His influences are as diverse as Prince, Gruff Rhys, Talking Heads, Joni Mitchell, Lou Reed and a whole lot of unconscious ones which jump out differently to different listeners.
As frontman of various bands, Ffredi has performed at a range of gigs and festivals around mid-Wales for the last 10+ years, including Radnor Fringe, MachFest, Workhouse and his Llanidloes hometown offerings, KINGSfest and Sesiwn:Session.
His debut gig as Ffredi was in late December 2020, for the live streaming KINGSfest Xmas show, followed by a return to live gigs in The Lost Arc, Pavilion Mid Wales and more.
His second album Tarmac Roads and Fences is out now. Ffredi Blino will be playing in Aberystwyth, The Brecon Jazz Festival and the Elysium Gallery Swansea. See below for tour dates and more details.
Tour Dates
July
14th Bank Vault, Aberystwyth
August
12th The Cathedral Lawn stage at Brecon Jazz Festival
September
15/9 Elysium Gallery Swansea
Ffredi Blino – New music from Wales
Twitter: @ffrediblino Instagram:  @ffredi.blinofacebook.com/ffredi.blino
.