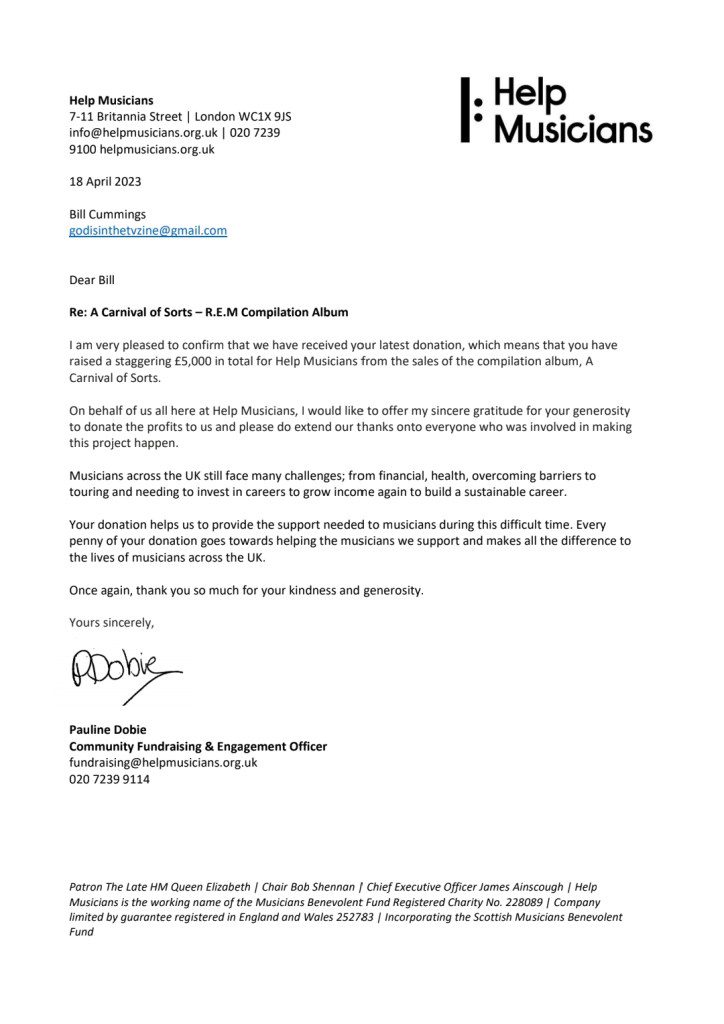 I am delighted to announce that we have finally finished donating the £5000 pounds to Help Musicians raised from 'A Carnival of Sorts' our R.E.M. covers compilation, that we released at the end of August in 2021. It took some time as the money raised came in small amounts, the compilation is still selling and has made just over £6000 in total with bandcamp taking a percentage of the total sales any remaining funds will be passed on to Help Musicians. Today I present the receipt letter from Help Musicians below. Pauline Dobie, community fundraiser at Help Musicians said, "This is such a generous sum of money, for which we are incredibly grateful.  As previously advised, 100% of your donations has gone and will go towards helping musicians directly."
It's an incredible amount for an organisation that has been supporting and funding artists during the pandemic and beyond. When we had the idea for the compilation, I couldn't have dreamed that it would sell so well and make so much.
We would like to thank everyone who has bought or supported the release, and each and every act who specially recorded a version of a R.E.M. track for our compilation album and the producers who lent their time to mix them. Plus the labels such as Libertino, Reckless Yes, Fierce Panda, Bubble Wrap recordings, and Mike Turner at Happy Birthday To Me Records plus Samantha Chamberlaine and Chris from the Waiting Room podcast, who have helped and worked with us and allowed their artists to appear on the release! Also to artist Kevin Alvir who is a big R.E.M. fan and worked with us to create this beautiful artwork for the release.
Thank you to Adam Walton, Dandelion Radio, Josh Gaffin (WTSQ) and John Kennedy for giving the artists on the compilation airplay and everyone who reviewed the album or any of the tracks. Finally, we would like to thank R.E.M. and their social media team who supported our week of coverage on the band themselves who endorsed the compilation. As a lifelong R.E.M. fan I was thrilled with their support without which undoubtedly the compilation wouldn't have made as much!
Also announcing today our Kylie covers compilation raised just over £1000 for Macmillan Cancer charity earlier this year which we have begun donating. We are now planning a Cure covers compilation to tie in with ten days of the Cure earlier this year, in aid of Mind. If you are interested in contributing to the album get in touch [email protected]
Thanks