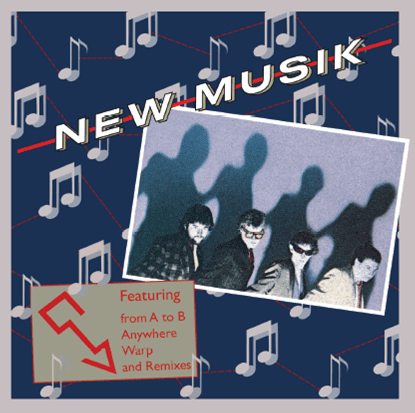 It must be like finding the Holy Grail when a band writes a song with a good hook. A simple tune that will live on long after the song has finished. Or even better, when a song's name is just inferred, and seeing the title conjures memories of the tune. This happened on noticing that New Musik were to have a 4-CD, 3-album box set released, that was to span the band's career. 'Living By Numbers', was a song that had narrowly missed the top 10 in 1980 and it was this that came to mind, that after 43 years still possessed that same magic.
As their debut album, From A to B starts, a doorbell sounds and I'm immediately alerted, as during the seconds that follow, a period of dead air ensues. I'm left wondering how many listeners to this LP (or Cassette) back in 1980 leapt up from their sofas, lazy-boys, or bean bags, to answer their front door, only to hear the vocal of footman, Tony Mansfield sing "You're running in circles, you're travelling in straight lines…", as the fast paced single 'Straight Lines' races into your life. A sentiment we can all see ourselves encountering from time to time, that it's hard to believe after only 3 albums New Musik were to call it a day, as their frontman was to explore a career as a freelance producer. Producing a series of successful albums, for artists the likes of Leeds synth pop band Vicious Pink, The Damned, B-52s and Captain Sensible among just a few. His skill in the use of the Fairlight CMI, a synthesiser and sampling workstation paying dividends. Its ability is something we perhaps take for granted today, but in the early 80s was like travelling to the moon.
I found analysing this collection while held captive in my car, travelling to see another musical antiquity, was the best option. During this process I picked out some treasures, although to be fair as the tracks repeated on my outward and inward journeys, it was evident that the artist's songwriting was something of a missed gem. On their first album, tracks like 'Living By Numbers' and its following number 'Dead Fish' are filled with lessons in their composition that might be considered relevant today. This first album rounds off its passage with the tune 'The Safe Side', a track where some strange bending of notes occurred as it played. The album achieved a chart placing in the UK of 35, whilst demonstrating a musical ability that was far from on the safe side.
Their second album Anywhere, opens with 'They All Run After The Carving Knife,' what immediately comes to mind is the nursery rhyme, Three Blind Mice. I'm sure Mansfield had this in mind when he wrote the song, but possesses a twist on "They all ran after he farmer's wife. She cut off there tails with a carving knife…", well she should've got a cat in the first place. The songwriter shows off his production abilities, as a totally untamed and unrelated electronic rhythm is played through the first 57 seconds, blips and bops aplenty, before a more conventional pattern is introduced. This consists mainly of a drum machine taking centre stage, as synthesised notes and a guitar strum's over the top. This urgent, yet controlled number, see's Mansfield singing "…see how they run…" as a poke at how society was turning in the early eighties is conveyed.
The third number, 'Churches' is launched and I'm left considering just how political this band might have been. Veiled references toward society are made in the first song, while in this number the words run "…When four horsemen come riding. Stars turning colliding. The future stands frozen. The time of the chosen…", perhaps a bleak look at the power religion and those schools many of us can't even consider hold, that with a synthesised backing, makes this all the more palatable. Two subjects that were considered general consumption during the 80s were 'Luxury' and 'Design', or at least this is what we saw on our TVs and in magazines and these were subjects brushed upon during this 1981 offering. During the track 'Luxury' Mansfield sings "…and now you need a change of style. You try another combination. So on you go. Intent to win. The game of situations…", with the chorus telling the listener "This is your life of luxury…". In the song 'Design', it's no different, as this number projects what we see made for us, the song continues '…It's plain to see. The human industry. Changing all the time. Changing all the time. Changes all the time. This is design…", during an incredibly catchy number. In1980s Britain this was how society was changing and is the basis of what we see and use today. The album is like a time machine, hit play and travel back in time and was an album that saw what was coming over the horizon.
'Here Come The People' kicks off the third album Warp and felt offered the best representation of the 3 recordings. This number possesses an Orwellian feel to the lyrics, as that all-seeing eye voices "…here come the people…". I felt I was blowing the dust off that copy of '1984' I have on my bookshelf, a kickback to my school days. Playing to a Nile Rodgers-style guitar riff, with slap bass and electronic drums, lifting the number from its grey beginnings. The second track is 'Going Round Again', which is 20th-century poetry. Mansfield starts by singing "…A naughty girl has crossed a boundary. She steps too far across the line. She's had her way with everybody. Because she needs it all the time…", then the song's title. Some of these can make the listener laugh out loud and this is certainly one of those. Why the album didn't even touch the charts is a crime. Its Kraftwerk-like musical tones are perhaps sweeter than their West-German counterparts, but the electronic resonance is similar.
The album really is a trip back in time, with two tellings of 'All You Need Is Love', one of which really is a reworking of the Lennon and McCartney number, played to ethereal electronic strains. Many have attempted this number, but this alternative telling really stands out and Mansfield's vocals work just as well as Lennon's original. The musical arrangement is every bit in keeping with The Beatles original score. It's not pretending to be anything that it isn't, which is perhaps why it didn't achieve the same commercial success as it might have done. Instead, it's an album that is exploring the possibilities, it's just a shame that these possibilities were not expanded on in further releases. One final observation is the track 'The Planet Doesn't Mind', in 1980 ecological issues were being considered, as Mansfield sings "…What on earth is really happening, is for you to realise, if the planet doesn't mind, it must be alright…". But what we now know is that the planet really did mind.
A final disc of B-sides, extended versions and edits is included, consisting of 15 tracks which offer an hour's worth of music. This is an incredible journey and one worth taking. With numbers like 'Sad Films', a B-side to 'World of Water', a less synth-pop orientated tune, which rests on a more conventional score of guitar/drums, with synthesiser playing a reduced role. The final number is one I talked about earlier, a remix of 'Here Come The People', in true 80s fashion offers a longer, if not more watery vision of this first track on the album Warp. A fitting resolution to this look at a band that brushed fame but deserved far more. Of course, Mansfield did find his true calling in production and an interview with the artist is included in the booklet that comes with this clam-shell presented set. This is a true synth-pop journey.
Website; https://www.new-musik.co.uk/