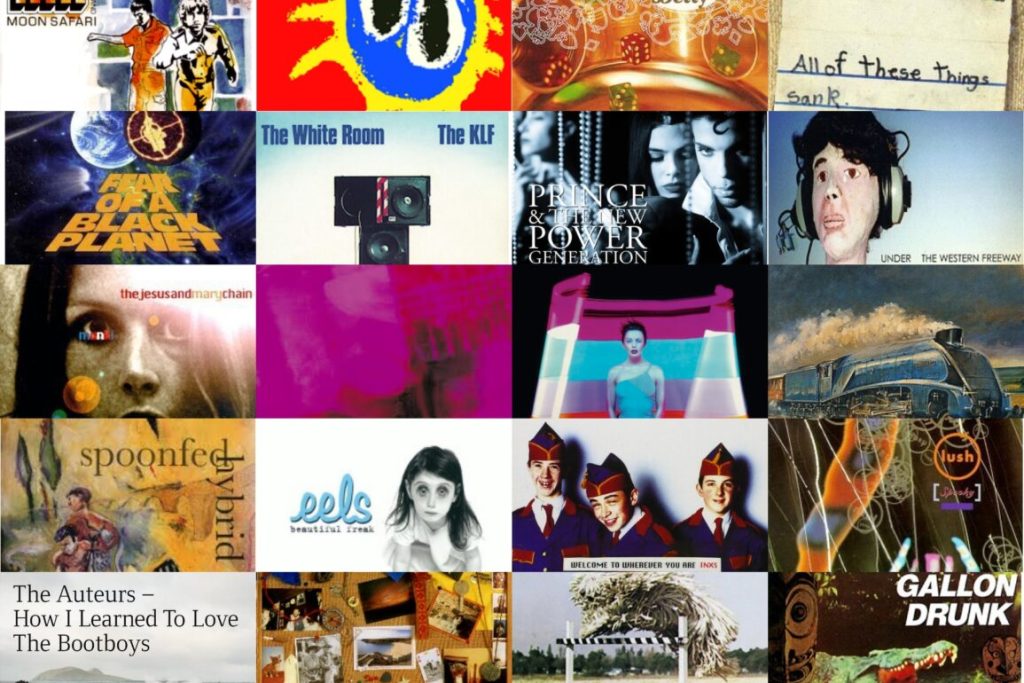 Today is National Albums Day and the theme is albums of the 1990s, so we have compiled our own list of some classic and underrated albums of the decade, read below.
My Bloody Valentine – Loveless
How's this for a list of facts for an album: Released in 1991 after being in work for three years, My Bloody Valentine's masterpiece cost Creation Records £270,000. From this not-insubstantial amount, £15,000 is said to have been splashed out on a single guitar loop. Not surprisingly, this tardiness added to the sort of cash independent labels just didn't spend very nearly put Creation out of the game. When the band toured Loveless, some audience members were physically sick due to the barrage of warped and twisted walls of distortion. It was also rumoured that one of the sound engineers had to quit; the noise levels were getting dangerously out of hand. So was it worth all the time and expense? You'd better believe it.
Onto the record itself then. In my opinion, on no record before or since has the sleeve cover so perfectly aped the music within. A blurred, woozy image of an electric guitar being given "the treatment", lit up in bright day-glow pink.
When I listen to Loveless, I'm still never quite prepared for what follows those four dry, reverb-drenched drumbeats on the first track 'Only Shallow'. The only way I can describe the sound is thus: otherworldly. Guitars squall, falling in and out of tune; the sound inside Kevin Shields' head finally realised.
Throughout the record, Billinda Butcher's vocals are whispered, and the lyrics are nigh-on indecipherable. If you assume through this, that the band had nothing of importance to say then I reckon you've got it wrong. Britain in 1991 was an awful place, and MBV defined the times better than most. The disorientating music coupled with the opaque lyrics effortlessly sum up the directionless rut the country found itself in.
As for the rest of the record, well. If you were looking for a song to soundtrack the end of the world, you couldn't go far wrong with 'Loomer', and just when you're becoming slightly claustrophobic from all the walls of sound closing in, up pops 'When You Sleep', with a hum-able tune (shock, horror!).
When I was talking of the influence this record has had I forgot to mention a certain Mancunian group who would sign to the very same label as MBV. The intro of the track 'Sometimes', with its marriage of acoustic guitars and mass distortion, would be half-inched by Oasis for their first number one, 'Some Might Say'.
Loveless comes to a fitting end with the epic 'Soon'. It takes the Happy Mondays' ecstasy-induced bounce (on first listen I thought it was going to be some sort of shit indie dance track), plants a monumental slab of white noise over the top, yet still manages to be the most accessible song off the album.
For all the money spent, and time taken, Loveless' production still sounds a bit slight; but that's okay, you just turn it up louder and let yourself be enveloped by the neo-psychedelic cacophony. The only trouble comes when you put another record on and forget to turn the volume down; it nearly blows your head off. I can't help thinking though, that this was precisely what MBV intended to happen. (Liam McGrady)
Prince – Diamonds And Pearls
Diamonds And Pearls was clearly removed from split-haired grunge or indie of the era, and definitely would not have been on my radar at the time. The build-up to the seminal album releases that autumn hadn't exactly been auspicious. Loop (amicably) and Spacemen 3 (with rancour) had split up. Prince's contemporaries, Elvis Costello and the Psychedelic Furs had released respective albums that were barrel-scraping cul-de-sacs/last roll of the dice affairs. And 'Shiny Happy People' was EVERYWHERE. Shoegazing did promise but proved to be an anachronism in the perennial boy's club of the music industry. All this going on, and I had just discovered the landlocked timeless beauty of Astral Weeks.
The 65-minute Diamonds And Pearls was the public's choice but was inflicted with unusually somewhat indifferent reviews. It did, however, become Prince's third bestseller behind Purple Rain and The Batman Soundtrack. His days of 'The Revolution' were far behind him. Now it was the turn of 'The New Power Generation'. Like his previous albums, it begins in a token 'epic' fashion with 'Thunder' which is worthy of 'gospel-rock' juxtaposed with eastern sounds which aimlessly drift amid contemporaneous Italian House-sounding piano. Unusually, for an album opener, it outstays its welcome. The versatile 'Daddy Pop' begins with a nod to Booker T with alternating lead vocals a la Sly and the Family Stone, and eventually takes on a life of its own which is both simultaneously 'ambient' and 'Saturday Night'. The title track begins warmly and seductively like the Prince of Yore. He sings in a deliberately deeper register and the vocals of his band-mate, Rosie Gains take it to an earthier higher plain.
'Cream' occupies the same territory as mid-period T Rex, with a subtle touch of Bob Marley. Prince plucks words out of the steamy air while the call-and-response vocals of his colleagues deliciously alternate. A welcome move away from his obvious mentors. 'Willing And Able' begins with an almost Curtis Mayfield feeling of claustrophobia within sheets of welcome soothing velvet. The X-rated 'Gett Off' is a Prince anthem trademark of overt sexuality. It is expected on a Prince album as a McCartney ballad is on a Beatles album. Occupying the same Mystic-Eastern territory as the Cramps' 'Kizmiaz', it is brilliantly all over the place, and no doubt will appeal to both lovers and musos in the house.
'Walk Don't Walk' is smattered with intense urban sounds and comes across like a raunchier Fleetwood Mac – with layered male and female vocals. The third salient compilation-friendly track is 'Money Don't Matter 2Night' with a womb-like nostalgic vibe. A cautionary tale and very topical to boot. 'Push' delivers which 'Jughead' didn't promise. Pallet-mixing to the extreme. The New Power Generation are most definitely Prince's Family Stone as we are made to feel the organic presence of the members in an almost early 'virtual reality' way.
'Diamonds And Pearls' eventually concludes in a Princeian smooth hip-swaggering way with 'Live 4 Love' where he regains his divine control as 'the main man'. It begins in a Kraftwerk/Psychedelic Furs way and evolves into a purist-centric rocker so beloved of Funkadelic, with the Purple One's elevated pronounced guitar solo taking centre-stage – like a summary of the album and his career to date. Still transcendence in unit-shifting chunks. From then on, things started to get slightly weird. But even in '91, still, no-one could p**s on Prince's parade. His moment was 4-ever living.
Public Enemy – Fear Of A Black Planet
Although 'Fear Of A Black Planet' is indeed one of Hip Hop's greatest achievements; it's also full of contradictory broadsides and diatribes that should more than worry your average white liberal – or any white person for that matter. The implications of Public Enemy's lyrical tirades are to a point, unsettling: which is intentional. Salvos are blasted at homosexuals ('Meet The G That Killed Me'), Hollywood (who frankly deserve it) and at the preconceived white conspired oppression.
There are also the implications of the LPs loose and main theme: the pseudo-theories of the notable African-American psychiatrist, Frances Cress Welsing – her tracts, 'Theory Of Colour Confrontation', and to an extent, 'The Isis Papers', are used as the foundations. Cress' corollary conclusions on race conclude that the white minority practice both a conscious and unconscious system of control, in an ongoing battle of survival, to ensure their (and mine) genetics continue. She seeks to arm those under the yoke with all the knowledge and intrigues of this system, so it can be dismantled. In addition to this, Cress controversially postulates on the melanin complex which claims that white people are genetic defects, descendants of mutated albinos who left Africa for their own good and took on a highly aggressive nature to survive.  Add to this the appropriate, calls of indignation over disparaging comments made by Professor Griff on Jews (never the best move) – in particular the supposed statement that they were, "the majority cause of the wickedness" in the world – in an interview for the Washington Post in 1989. Much of the press, rightly so, called Griff to account – though he maintained these remarks were never made. Chuck D briefly fired him from the group, before bringing him back into the fold.
As a massive gesture of defiance and bird-finger salute, 'Fear Of A Black Planet' would go on the attack. Conceived as a complex epic, which would mirror the highs and lows; builds and comedowns; and the light and shade dynamics of a live performance, 'FOABP' would propel the group to global success; selling to a high percentage of white teens like myself. Intentionally a call to the black brethren to shape up and start taking action to better their plight; this universal heterogeneous album reached audiences far removed from the black community. Though it's rousing, if not sometimes contentious, dispatch rattled many, its importance has been built up to staggering levels of reverence. That whiter-then-white music bible, Rolling Stone (who ignored rap music for the best part of the '80s) placed this album at 300 in its all-time 500 list, whilst even the upper echelons of the Library of Congress added to the National Recording Registry in 2005 – part, in some ways, of the establishment recognizing its importance. (Dominic Valvona)
INXS – Welcome To Where You Are
1987's 'Kick' may have been their greatest success and the quintessential INXS long player, but by 1992 Grunge and Indie were 'in' and INXS were seen as outdated and passe. That this album, their true masterpiece, was not nearly as successful is not surprising given the musical climate at the time but this album is an absolute peach from start to finish, their most diverse, experimental and consistent album by some margin…
From the snake-charming opening bars of the first track 'Questions', we are ushered into a very different experience from the usual rock-funk formula they had perfected, refined and over-laboured by this point, and it is certainly an audacious opener, full of tabla, sitar and an eerie chord sequence which without pause for breath, bleeds straight into second track 'Heaven Sent' which is the punkiest freshest thing they ever did… This, in turn, bleeds into 'Communication' and the album establishes itself as an Aussie Rock Screamadelica, To name a few highlights, There's a sinewy bass-heavy dance on 'Taste It' and 'Wishing Well', huge massed choruses on 'Baby Don't Cry', Lou Reed on the gorgeously understated 'Beautiful Girl' and the incredibly dark closing track, 'Men And Women' which would make a great end to a career last-song-on-the-last-album kind of song which is apt because if they had made this their last album it would be a fitting epitaph to their career with not a single filler track in sight (Even Kick had a couple, admit it!)
As it was, they stumbled on for a few more, mostly mediocre and pitifully poor albums before Hutchence's suicide in 1997 but this is an album that I have dug out again recently, and it sounds every bit as fresh and exciting as it did then. Out of time but certainly not out of ideas, this was INXS at their true peak, artistically questing and unafraid of change which made the later volte-face with the following albums all the more baffling. (Nikolia Rainbow)
Primal Scream – Screamadelica
'The best thing about 'Loaded' was that it proved we were right' Bobby Gillespie, 1990
It was 1991, and bands like the Stone Roses and The Happy Mondays had already made quite an impact on the music scene. The twisted lyrical genius of albums such as 'Pills 'N' Thrills and Bellyaches' had griped the club cultures and Primal Scream wanted their moment. An already heavily anticipated band on the Creation Record books, Primal Scream released Screamadelica, an album that fused rock and dance and subsequently changed music forever.
Introduced to DJ Andrew Weatherall at a rave, Weatherall was given the task of remixing  their track 'I'm Losing More Than I'll Ever Have.' The result of this was 'Loaded', a track that featured samples of Peter Fonda in the iconic sixties movie The Wild Angels. 'Loaded' and it became the band's first major hit record. Screamedelica featured gospel house with 'Come Together' and the dub diffusion of 'Higher Than the Sun'…a song that Creation Records founder Alan McGee has cited he wants to be played as he leaves this mortal world. Screamadelica was the first album to win a Mercury Prize in 1992, beating the likes of U2 and Saint Etienne. The album was a musical gathering of gospel, psychedelic, bass-driven grooves, a masterpiece, an album that moves around with itself, an esoteric voyage of mind-blowing tunes.
In a way Screamadelica is the most daring album of the 90s, any experiment is risky and this one certainly paid off. Primal Scream proved that dance music and rock could exist alongside one another. Although a collaboration album, one of which can be credited mainly to the magic of Weatherall it was Primal Scream's vision and sheer imagination that created what I consider to be the most important album of the 90s.
With all the renewed interest in 1990s shoegaze bands, perhaps thanks to the return of Slowdive and Ride, it's made me critically reappraise the bands that shaped my late teens. Unsurprisingly, most of it doesn't really stack up anymore, at least not in the way it did at the time. But there's always one album that cuts so deeply into your adolescence that it will take you back there every time you hear it. (Abbas Ali)
KLF – The White Room
With the hi-jinks and occasional low-shots that Bill Drummond and Jimmy Cauty have got up to over the years, it's perhaps not surprising that people may have forgotten that what made them famous in the first place was the music. Oh yes. One of the things that comes flooding back when listening to this album again is how bloody great some of these songs are. 'What Time Is Love,' 'Last Train To Trancentral' and '3AM Eternal' were deservedly huge hits, the latter reaching no.1. The KLF were one of the most commercially successful bands of the year in 1991. This wasn't just something for the weekly music press (hard to believe that, at the start of 1991, there were actually still four in Britain), this was an act that was on Top of the Pops, in Smash Hits and on the radio.
In so many ways, The White Room was a product of its time. That's not to say it's dated badly, but that the music reflects rave culture in many of its forms, shows how prevalent sampling was (and how increasingly mired in legal battles), and how hip-hop was influencing the mainstream, not just in terms of rapping, but how records were being made and how they sounded.
That aside, it's funny that with the pair's interest in the Illuminati and general, wonderful craziness, the album wasn't viewed as a concept album. That may be to do with the prevailing orthodoxies of the time, in which concept album = prog(ressive rock) = crap. It was rumoured to be the soundtrack to the film of the same name, though the film never appeared. In true KLF style, a huge amount of money appeared to have been spent on the film.
At a time when country music wasn't really on the radar for many music fans in the UK (the term 'Americana' was not yet in common currency, which may or may not be connected with the fact that Uncut magazine had yet to be founded), one of the headline-grabbing things was that they enlisted the support of Tammy Wynette on the song 'Justified and Ancient.' It's worth bearing in mind that the song which bookends the original album is not the version that became the hit; sung by Black Steel, it's far more akin to a lullaby.
The KLF 'retired' from the music business in 1992 – The White Room is just part of a story that has been covered many times elsewhere. After that they deleted their catalogue in the UK; this was a radical move in an era when the internet was in its infancy. (Ed Jupp)
Lush – Spooky
Lush were one of the most underrated bands of the '90s. They had a decent-sized following but it wasn't equal to the treatment they got in the music press. Looking back at old NME or Melody Maker albums lists they only had one low-ranking appearance of their EP collection, Gala, on the NME's list in 1990, but nothing after. In a recent interview, lead singer Miki Berenyi said she thought they weren't taken seriously as songwriters.
Spooky was produced by Robin Guthrie from the mighty Cocteau Twins, and it shows. Anderson herself once said the album had been 'Robin Guthrified.' 'Nothing Natural' has a hypnotic bassline and soaring outro that ends too soon. 'Tiny Smiles' has trademark chord changes that make their songwriting so satisfying. The most instant moment on Spooky is 'For Love', which for me is the best song Lush ever did. It glides effortlessly into the chorus with Berenyi singing, "This is so real, it's what I feel, I look in your eyes and lose myself" — this is one of the most stunning moments in music. Elsewhere 'Superblast!' picks up the pace with its addictive tempo changes and 'Laura' contains one of the most catchy solos of the shoegaze era. Spooky's final song 'Monochrome' is an emotional end to the album (a formula they would stick to for their next two albums). The bonus material on the second disc is a collection of really strong B-sides. 'Astronaut' is one of their prettiest and most understated melodies. Their cover of 'Outdoor Miner' by Wire isn't as perfect as the original, but it comes close; the gorgeous melody of the song suits their harmonies perfectly. (Jonathan Wright)
Gallon Drunk – You, the Night…..& the Music'
Yes, London did exist before Britpop sought to recreate it in its own image. A decade hijacked by a music industry scraping around for a national identity to market, the '90s began not with songs about country houses & the shipping forecast, but with a coruscating screech of diseased organs. Its name was Gallon Drunk.
Blending together elements of jazz, blues, surf, punk, rockabilly and film music into stylish, sweaty blasts of aural assault, gigs were feverish & chaotic, unpredictable happenings as far removed from polite floor-staring as was humanly possible.
Drummer Max Decharne (who would go on to front the equally brilliant Flaming Stars) and bassist Mike Delanian were charged with keeping the whole swirling noise thing together with a certain amount of detached stoicism. In comparison, frontman and main songwriter James Johnston, a man in possession of a vocal drawl akin to an inebriated lounge singer, could frequently be found attacking his guitar at the same time as kicking seven shades out of an organ which sounded as if someone was using it to soundtrack an electric chair. Topping this off was one Joe Byfield, a maraca player extraordinaire blessed with a gift for rhythmic shaking unsurpassed to this day. Bez he was certainly not.
Initially spewing out a collection of their early vinyl cuts, 'Tonite….the Singles Bar' (1991) was a welcome relief to those who didn't relish trudging through the racks of their local record shops and paying through the nose. The inclusion of early live favourite 'Draggin' Along' and a deliberately perverse slow-motion cover of surf classic 'Miserlou' (more apt to soundtrack a corpse floating in the river than the riding of the waves) made it an essential introduction for what was to come with debut album proper 'You, the Night…..& the Music' (1992). Containing the classic 'Some Fool's Mess' along with a slew of rather wonderfully scuzzy nuggets from their live set, it sounded more fully formed than than it had any right to be. Here was a band with an identity and for whom you just knew the word 'compromise' didn't exist.
Spoonfed Hybrid – S/T
For me Pale Saints debut, The Comforts Of Madness embodies the boundless energy, hope, fear and chaos of finding a way through that period. Pale Saints 'split' in 1993, after their second album In Ribbons (or rather, founding member Ian Masters left and they carried on, with Lush's original vocalist Meriel Barham). It inevitably ushered a new musical direction for the band, sadly lacking all its previously dark, warped arrangements and Masters's fallen angel vocals.
However, this break-up made possible an enduring favourite album of mine, Spoonfed Hybrid's self-titled debut, from November 1993. I was studying in Amiens, France, having a miserable time, when the album was released. I first heard the unmistakable opening track 'Heavens Knot' late one night on a local indie radio station. Holed up at 2am in a spartan, tiny, cockroach-infested studio in Amiens, it was like a familiar voice from another time, cutting through the loneliness in a language I could understand. It wasn't long after that, that I bought the CD from the FNAC record shop. It seemed impossible, but fortunately for me, Spoonfed Hybrid were big in France. I listened on repeat, dissecting the words and the colourful clashes of tones. As with every important album I've loved since it led me onto other things and shifted my perception of 'electronic' music in particular.
Listening again today, it's striking how it still sounds innovative, exciting and enigmatic. Over time, its reverie has become steeped in sepia, (the ancient treatment for depression, as well as the stain of faded photographs) and perhaps a little worn and fragile, but no less magical. (Trev Elkin)
Belly – King
Tanya Donelly founded Throwing Muses with her step-sister Kristin Hersh, the first American band to sign with reverend label 4AD. Following a stint in the Breeders with the Pixies Kim Deal, Tanya Donelly formed Belly with friends from the music scene in her hometown of Newport, Rhode Island; Fred Abong, the former bassist from Throwing Muses, and the Gorman brothers, Tom on guitar and Chris on drums. Releasing their ace debut studio album Star in January 1993, an album crammed with a whirling dervish of hook-laden alt-rock songs such as 'Slow Dog', and 'Feed the Tree', yet still possessed of Donnelly's idiosyncratic vocals and concerned with her young life as she put it "was really me killing my childhood"  going gold it peaked at number two in the United Kingdom and number 59 in the United States.
Despite this success, Belly didn't fit in with the mid-'90s sounds of the time, neither heavy enough for Grunge nor English enough for Britpop. "There was this curiosity about, 'Where does [Belly] actually fit in We were kind of too weird for the norm and too norm for the weird at a certain point. At the end of the day, control over the music was really the most important thing to us." As Tanya Donnelly reflected in a excellent Aquarium the drunk interview.
Recorded live at Compass Point Studios, in the resort town of Nassau. with producer Glyn Johns known for his work with Neil Young, The Rolling Stones and The Eagles, thus the record is coated in a sepia-tinged character that Donelly sands off on each of her songs deep with doubt, spirituality and foreboding. Donelly has one of the most intriguing voices in rock music lending an introspective, mystery to each bar, finding the melody in the smallest and darkest corners, in this way, she owes as much to the folk tradition as she does rock music. There's a femininity here, as she sings of the intensely personal experiences in allegory on the likes of 'The Bees' or directly on the delicious waltzing highlight 'Seal My Fate' that explodes into a cracking chorus. Elsewhere King shows off Belly's ability to craft punchy songs that house earworm tunes see the title track and 'Puberty.'
"For all of what grunge represented and came to be," says Donelly, "it was very produced. Very, sort of '70s-level production. King was not. We did it live. We focused on pre-production and getting the songs to where we liked them. We didn't do a lot of post. We just mixed it and put it out. King is a much more complicated, almost prog-rocky at times, record." Indeed the biggest example is the imperious 'Now They'll Sleep' is a stunning highlight a hymn to throwing off the shackles of expectation: the push and pull of relationships, the ridiculousness and pain of life, with its tantalising time signatures, serrated guitars that trundle into a heady release of entwined giddy harmonies.
A somewhat commercial disappointment upon release, Belly would sadly fizzle out in 1996 following its release perhaps their unique sound wouldn't quite fit in back then, finally returning for a tour in 2016 and a new album in 2018. After all Donnelly's songwriting is impossible to pigeonhole. Whilst King might not provide the instant melodic hits of Star in Belly's catalogue, it perhaps holds the greatest repeated rewards, the most intriguing character: its reputation has only grown in the years since its release. A superlative record of the 1990s. (Bill Cummings)
Blur – Modern Life Is Rubbish
Having had the good fortune of being a teenager in the mid-nineties, I have spent the past few decades wanging on about bands from that golden time to anyone who would listen and plenty who weren't.
However, it wasn't until earlier this year that I heard and fell head over heels for this record. Blur were not my favourite band back in the day. I was 14 in the summer of 1995 when they and Oasis duked it out for No. 1 with arguably the worst singles they've ever released between them, which are still better than all of Menswear's singles. I did buy 'Roll With It' and I think Graham Coxen would agree with me.
We're coming around to the 30th birthday for all the classic B-word albums, Suede's debut has seen three decades, Definitely Maybe reaches that grand old age next year. The thing about Blur was they felt like a singles band. Before I actually decided to slap MLIR on in the wake of The Ballad of Darren being announced, I would have reached for The Best of Blur with the cartoon pictures of them on the cover, and a very pleasant hour it always was. But strikes me row, if this little beauty that hit the big three and zero this year isn't winging its way into my favourite LPs of that decade. I find it faintly bizarre that this record isn't mentioned in the same breath as Suede's first offering, and maybe that's because they aren't always taken that seriously, and part of that is their own fault.
Any album that kicks off with 'For Tomorrow' is showing signs of classic status, and any album that follows that up with 'Advert' is turning on the neon lights to those signs. When I had listened to Parklife or The Great Escape in the past I had struggled to connect. I have never been the type to be able to put on an album and be satisfied with a handful of filler that fails to move me in the slightest. As previously mentioned, the little fanfare for MLIR and the idea that maybe Blur aren't an album band like their fierce rivals Oasis, Radiohead, Manics, Pulp or Suede, exacerbates the lack of desire to ever sit down and listen to a Blur LP. Maybe the somewhat lukewarm reception for the return back in 2015 for The Magic Whip also meant it was never at the forefront of my mind to delve into their discography.
You've got classic singles, 'Chemical World' and 'Sunday Sunday', and tracks they've started playing again live this year, the wig out of 'Oily Water', archetypal Blur in 'Colin Zeal', the blueprint to Parklife era with 'Coping' and the sing-a-long ability of 'Villa Rosie'.
It's comfortably the most cohesive Blur LP of the '90s, while others have notable highlights, they never seem to quite hang, disparate parts and influences, and by the end, separate voices trying to be heard. Their backs were against the wall when they went to record MLIR, pressure from the record label and a disastrous U.S. tour meant they were allegedly ready to be dropped. They weren't and the rest is history. (Jim Auton)
Eels – Beautiful Freak
The second Eels album I heard was Beautiful Freak, originally released in 1996  and officially two decades old as of a few months ago. Beautiful Freak plays with a whole bunch of different styles, including hip-hop, soul, rock 'n' roll, spoken word, and church music. But these components are painted on the canvas of grunge, with distorted, squalling guitars serving as a sonic analogy for Freak's central themes: ugliness, outsiderdom, anxiety, adversity, and underachievement.
If that list of keywords makes Beautiful Freak sound like a pretty depressing album, don't worry. Because while these 12 songs are marinated in misery and grunginess, that's not the point of them so much as it is the darkness that enables you to see the album's light. It's a dim, flickering light, but it's there just the same and it comes in the form of the record's most childlike elements.
From the cover art inward, Beautiful Freak presents childishness as a kind of ideal state, the thing we're all trying to achieve even as the world continues to slap us silly and dudes get shot in the head all around. The album's childishness is most obviously manifested in the toy piano heard on the album opener and unlikely hit single 'Novocaine for the Soul'. But it can be heard in lots of other places if you listen closely enough. There's the cheering crowd of kids on 'Susan's House,' the cute idea of a two-person "raincoat that has four sleeves" in 'My Beloved Monster,' the tinny ukelele in 'Flower,' the simple three-note piano melody that runs through 'Spunky' like a red thread. These out-of-character ('freak') moments of juvenile brightness are the true point of the album, and they poke through the angst and the grunginess like bright stars in a black night sky.
The album's final track is 'Manchild,' and it resolves the whole cycle by finally calming the electric guitars to a single, serene-sounding arpeggio and allowing Mark Oliver Everett (or E, as he's better known) to finally "feel like I am a child in love". Don't be fooled: there's still darkness, even here, with a female voice despondently murmuring phrases like "I'm not happy" and "I'm not having any fun" on an answering machine message in the background. But as the strings take off and Everett sings one of the purest love songs you'll ever hear from any artist, let alone a misery guts outfit like the Eels, you sense that this is it, this is the perfect moment that the whole album has been searching for. The clip of E rising into the air was used to promote 'Novocaine for the Soul,' but I think it's actually a lot more befitting of 'Manchild': the whole song is him rising above the bad shit and trying to bring his lover – the depressed voice in that answering machine message, I guess – up with him. (Joel Dear)
Beck – Odelay
In the '90s, Beck Hansen was the anti-Kurt. While Cobain was a voice for the angry and disenchanted, Beck played counterpoint with a shrug and an easy grin.  (The obligatory flannel was still there, of course. It was the 90s after all.) Three weeks after Cobain's passing, Beck was in the Billboard charts singing "I'm a loser baby, so why don't you kill me?" He took the role of happy-go-lucky misfit and made it into a surprise success story. His single 'Loser' and its corresponding album Mellow Gold launched him to stardom. The challenge with Odelay, then, was to evade becoming a novelty one-hit wonder. To sidestep the risk, Beck teamed up with Generation X's flagship producers the Dust Brothers (think Beastie Boys Paul's Boutique and the Fight Club score) to make a carefree, surrealist record that flirted with the idea of 'disposable' pop.
The record was released in June 1996, before the official release of the lead single 'Where it's At' the following month. 'Where it's At' is laden with vocal samples, including spoken snippets from a 1969 sex education album Sex for Teens: Where it's At from which Beck pilfered the track's title. The song hinges on the line "two turntables and a microphone" plucked from Mantronix's 'Needle to the Groove'. The sonic collage style became Beck's trademark, but public perception of his work continued to baffle him. The mish-mash of seemingly random words and phrases that formed his lyrics were labelled "nonsense". But to Beck, the process was very clear. He wanted lyrics that wouldn't weigh down the song's melody, and that drove the rhythm rather than contained it. Years later it was implied that some lyrics from the Odelay sessions were 'scratch' lyrics intended as placeholders before Beck wrote the final copy, but the cadence of the words fit so well that they were left as is in the finished song.
The collage style continued in December 1996 with the second single and album opener 'Devil's Haircut'. Partly inspired by the story of American criminal Stagger Lee, 'Devil's Haircut' dovetailed blues-style lyrics like "something's wrong cause my mind is fading/ and everywhere I look there's a dead end waiting" into the usual word-soup. Backed by hip-hop bass and alt-rock electric guitars 'Devil's Haircut' is an upbeat track constructed from a number of samples, including drums from both Pretty Purdie's Soul Drums and Them's cover of James Brown's Out of Sight. The guitar riff is also borrowed from a Them song, 'I Can Only Give You Everything', which Beck copied out and played himself rather than sampled. 'Devils Haircut' is followed by 'Hotwax', which in many ways is the spiritual sequel to 'Loser'. The track is led by the same folk-hop guitar and vocal style, and like 'Loser' features Spanish lyrics in the chorus. Thanks to these similarities, 'Hotwax' is perhaps the track most in line with public perception of Beck's signature style at the time. With tracks like 'Devil's Haircut', 'Where it's At' and 'Hotwax' still occupying major places in Beck's live set and drawing positive crowd responses, it appears Odelay is still crucial in the musical cannon twenty years on. Despite its origins as the musical demo reel of Generation X, Odelay's surrealist beats and "nonsense" lyrics remain as contemporary as ever. (Liam K)
The Lemonheads – Car Button Cloth
After 1992's timeless, faultless It's a Shame About Ray (as Samuel Johnson almost wrote, "When a man is tired of It's a Shame About Ray he is tired of life"), label Atlantic thought they had the next global alt-rock megastar on their hands and threw large sums of money at Evan Dando; in return he gave them Come On Feel The Lemonheads, a handful of great songs and a bigger handful of bad ones; and worse, he started hanging out with Oasis and smoking huge amounts of crack, two activities not renowned for their creatively inspirational properties. This epic lost weekend came to a head in 1995 when Dando, ripped to the tits on the junkie equivalent of a Long Island Iced Tea (speed, heroin, E and LSD) was arrested at Sydney Airport. He allegedly asked the arresting officers if they could release him long enough for him to retrace his steps so he could go and retrieve his mind, which he believed – quite understandably – that he'd lost somewhere.
Given these circumstances, it's a miracle that he was able to put out Car Button Cloth the following year; an even bigger miracle that it's so fucking good. Indeed, for its wonderfully charming first 14 minutes, you could even convince yourself that all was well chez Dando, that here was a man who had cleaned himself up and got himself back to writing the kind of effortlessly wonderful tunes that made him famous in the first place.
Tunes like the 'Heads greatest ever single, 'If I Could Talk I'd Tell You', which recounts the aforementioned arrest ("Khmer Rouge, je ne sais quoi/Your place or Mein Kampf, now I'm givin' the dog a bone"); the delicate indie-pop of 'Break Me'; the charming 'Hospital'; and the delightful cover of Smudge's 'The Outdoor Type', a song that contains possibly my favourite lyric of all time ("I can't go away with you on a rock climbing weekend/What if something's on TV and it's never shown again?"). It's truly marvelous stuff and there's not one note here that would have sounded out of place on Ray.
But six songs in, the album takes a sudden lurch into very dark territory, with the stunning blues of 'Losing Your Mind'. If you've ever wondered where Nirvana would've gone after In Utero, listen to this. "What a comfort to find out you're losing your mind/When you re-realise that it's not the first time/You burnt the beyond when you learnt how to fly/Just to learn later on that there isn't a sky/There aren't any clouds and there aren't any trees…" By the end Dando sounds exhausted, bereft, and so begins Car Button Cloth's descent into madness.
The punky 'Something's Missing' is one of Dando's most heartbreaking lyrics ("Something's missing from my life/There's nowhere I really wanted to stay, and nothing really makes it OK"). The brilliant 'Tenderfoot' is something of a mea culpa, an admission that he fucked up, that he's putting it right, but he'll probably fuck up again, set to one of the album's best tunes. But the most telling song here, the one that gives the clearest insight into Dando's state of mind, is the chaotic 'One More Time', which keeps flitting between fried acid rock and the catchy power pop of his previous two albums, the junkie and the pop star fighting it out before our very eyes. On Car Button Cloth, the pop star just about comes out on top but it's a close-run and absolutely captivating struggle throughout, on what is one of the finest and most underrated albums of the '90s. (Tim Russell)
Kylie – Impossible Princess
Impossible Princess had the last part dropped as the passing of Princess Diana prompted a quick rethink to prevent seeming crass but also added a few brownie points. It could be argued that Kylie's star was on the wane by the time we got to 1997, her previous eponymous LP peaked at No.4 and 'Confide In Me' was a No.2 hit, only being kept off the top by Wet, Wet, Wet and *that* song, but the other two singles failed to break the Top 10 and this change in style for the follow-up record did smack a tiny bit of bandwagon jumping just as the horse was about to be shot.
However, the lazy assumption that because 'Some Kind of Bliss' was as "rock" as the Pop Princess had ever gone, and that this LP would be the birth of Indie Kylie, haven't listened to it all as the beginning of this record is more indebted to Trip-hop such as Tricky on 'Too Far', and even the likes of Norman Cook's 'Brimful of Asha' remix, on 'Cowboy Style' which did verge dangerously towards cultural appropriation, although no one was too concerned with that at the time.
The infamous track itself, with it being the lead single, and its penning by a certain James Dean Bradfield and Sean Moore of the Manic Street Preachers, led to the Indie Kylie label. What also helped was its producer Dave Eringa, who had worked on the Manics' Gold Against the Soul and breakthrough album, Everything Must Go. However, only this and 'I Don't Need Anyone' were written by James and Sean with Eringa at the desk.
The remaining ten tracks are split between Brothers in Rhythm, Dave Ball (of Soft Cell fame), Ingo Vauk, and Rob Dougan, all of whom specialise in trip-hop and electronic music. Kylie wrote all the lyrics and was involved with the composition of all the songs on the album, whilst living close to Real World Studios in Wiltshire. 'Did It Again' is a bonafide pop banger with a healthy slab of guitar and a touch of Bhangra thrown in, and 'Breathe' is in the same ballpark as 'Confide In Me' with a strong Trip-Hop influence and a synth hook that they could use as evidence in a lawsuit against the writers of 'Pure Shores' by All Saints.
What this LP does is show Kylie wasn't afraid of being experimental and pushing boundaries. You can tell when she is most comfortable but pushing herself out of those zones at the very least shows she isn't just happy with being given chart pop tracks to give her another hit. At the time it was her bravest record and whilst it didn't provide the big hits, they were just around the corner and Kylie had a bit of credibility and respect post-SAW. (Jim Auton)
Grandaddy – Under the Western Freeway
Like The Bends and His 'n' Hers, Grandaddy's first album is a '90s classic that was quickly overshadowed by its immediate sequel. I'm not going to argue that Under the Western Freeway is a magnum-er opus than The Sophtware Slump, but to see it as a mere warm-up would be to greatly underestimate its value.
For one thing, Under the Western Freeway is home to some of the best songs of Grandaddy's career. 'Summer Here Kids', 'A.M. 180' and 'Everything Beautiful is Far Away' are arguably held in higher esteem than any individual track from The Sophtware Slump, and 'Laughing Stock' is one of my personal favourites. Freeway deals with themes of distance and disillusionment. It's a disquieting state-of-the-nation address that paved the way for Slump's even more disquieting vision of the future.
'In a nutshell, this album is all about being unable to find happiness in an increasingly complicated world. For example, Everything Beautiful is Far Away is a (possibly allegorical) story about a man who is stranded on a distant planet and unable to return home; A.M. 180 is a plea to a loved one ("don't change your name, keep it the same, for fear I may lose you").'In a nutshell, this album is all about being unable to find happiness in an increasingly complicated world. For example, Everything Beautiful is Far Away is a (possibly allegorical) story about a man who is stranded on a distant planet and unable to return home; A.M. 180 is a plea to a loved one ("don't change your name, keep it the same, for fear I may lose you").
And it's not just about being unable to reach the things that make you happy – it's also about the disappointment you may encounter when you do finally reach those things. The narrator of Summer Here Kids is utterly failing to collect on summer's promise of "a good time", while the guy in Why Took Your Advice has made various positive efforts (fixed his radio, bought a microscope) but still failed to find any kind of contentment. The message is clear: happiness is completely out of your reach, and you'll never have it. (Joel Dear)
Gorky's Zygotic Mynci – Barafundle
A sharp contrast to the bloated rock star posturing of Oasis's Be Here Now and the pre-millennial stress of Radiohead's OK Computer, Barafundle arrived in April 1997, seemingly cut off from all current trends and influences and with none of the bullish, misplaced self-confidence of the 'Britpop' that preceded it. Instead, Gorky's Zygotic Mynci created their own world of childhood memories and half-remembered stories from the Welsh coast and furnished it with a wide array of delicate, imaginative acoustic instrumentation.
Over sixteen brisk tracks, Barafundle celebrates the simple pleasures of visiting relatives, good weather, warm fires, and growing up in West Wales. Musically, the band file back the often dizzying psychedelic eccentricities of their previous albums and replace them with spacious acoustic arrangements, soft brass, and odd medieval flourishes. This approach gives the band's wonderful melodies and harmonies clarity and space to breathe.
Better Rooms… features a gentle, rolling sea of vocals that manages to sound slightly queasy and wonderfully heartening at the same time. Once heard, Heywood Lane's singalong ending is never forgotten, and you'll always find yourself humming it while doing the washing up. Pen Gwag Glas is bookended with the choral singing of faux-medieval Welsh monks and takes in stately verses before opening up into an infectious, bouncy chorus; a sort of prog-folk song in miniature.
Despite the album's nostalgia for first loves, stamp collecting, and china plates, it never becomes too sickly sweet for the ears. The inquisitive and morbid nature of children's minds and imaginations provides the album's dark corners: opening track Diamond Dew best encapsulates this, contrasting its memories of an idyllic home life ("room is warm, organ plays…") with a disconcerting line about the "uncovering of the bodies". This is possibly a reference to medieval burial sites being found along the Pembrokeshire coast – catnip to imaginative young minds. Dark Night marries another wonderfully hummable melody to lyrics concerning the death of two young girls on Halloween. It's a story that you can imagine children embellishing for years in local schoolyards. Sometimes the Father is the Son, a melancholy and brittle paean to (possibly) an absent father, is one of the album's highlights; a mournful violin line weaves through the song, adding to the protagonist's subtle moment of clarity during the chorus.
The mischief of youth (and of the band) also works its way into many of the songs. The album's most poignant moment is followed by its heaviest and strangest track, Meirion Wyllt, an incongruous 'cut-and-shut' song that starts with a rare distorted guitar and features an ear-piercing vocal welded to a restrained, gentle chorus. In the years since its release, progress has made the world created by this album seem all the more distant and romantic. As the record has grown older, much like a treasured memory, it has become more and more precious. This must be the reason why, Barafundle has never strayed too far from my stereo. (Christophe)
The Auteurs – How I Learned To Love The Bootboys
The Auteurs are surely one of the most underrated bands in history. Not in the sense that so many uncommercial bands would merit global fame in a strange alternate universe, but in the sense that they really not only should but could have been one of the defining bands of the 1990s. I can scarcely think of any band that deserves more to be rediscovered by a new generation.
The final Auteurs album, How I Learned To Love The Bootboys, seems to have more in common with Haines' solo work than the rest of the Auteurs collection, with synth-heavy arrangements and a guitar style that was less jangly and more glammy power chords. Despite this departure, 'The Rubettes' is essential and 'Future Generation' (again, in another version here) sums up the tragedy of what the Auteurs could have been: 'This music could destroy a nation'. (Alex Worsnip)
The Jesus and Mary Chain – Munki
Munki is a kinetic leap back to the scrapey harsh rock of The Jesus and Mary Chain's early days only chunkier, weightier. The star track is the fizzy rush of MoeTucker, which is an indie pop thrill. And Fizzy itself is a shot to the veins, one of their best songs. Surprise entrance of brass on the single Iloverockandroll, which reminds me of Boo Radleys a tad. There's a late 90s post-Britpop feel to it. In its finer moments (admittedly this album can have patchy moments), this is the sound of a band still alive and kicking, but again this album has been unnoticed and unrecognised – it was the band's first studio album not to make the Top 40 charts.
The consensus might crave Psychocandy sounding Jesus and Mary Chain, but if you're open to development and change, there's such a wide and far-reaching scope to their efforts, but always that same constant underpin of melody gliding brilliantly through, which is what I love them for rather than the fact they once over-used feedback. (Fliss Collier)
Air – Moon Safari
it's difficult to contextualise a crossover hit as big and as strange as Air's Moon Safari today. To cast our minds back to a pre-Internet age when we didn't have access to the world's back catalogues at our fingertips. However, back in the post-Britpop malaise of 1998; Air's Moon Safari took a sprawling and diverse range of influences to re-imagine chillout electronica, internationally transform perspectives on French music, and have a bonafide crossover hit.
It was an album that turned indie kids on to jazz and gave clubbers something genuinely innovative to soothe their heads with the morning after. Ostensibly it is built on 1960s French easy-listening fare and has bass playing indebted to Gainsbourg records, bongos and electric pianos lifted from film soundtracks. However, Nicolas Godin and Jean-Benoit Dunckel pushed this musical vocabulary into unchartered and alien territory. 'Sexy Boy's strident synths and production still sound futuristic years on, Beach Boys pastiche falls seamlessly into their organic, textured universe. The lilting horn hook on 'Ce matin-la' takes very nostalgic sounds into unexplored territory. I'm sure Damon Albarn has closely studied 'New Star In The Star' – its application of blue-eyed soul and Bowie to downbeat electronica has formed a fair amount of his bread and butter for the best part of a decade.
Crucially, Moon Safari is a very emotional electronic record and one that perhaps demonstrated to a wider audience the emotionality that the genre is capable of embodying. Beth Hirsch's heartbroken turns on 'You Make It Easy' and 'All I Need' are incredibly powerful in the context of the record – giving it a beating heart. That isn't to say that the rest of the record is austere – everything on Moon Safari, from gently plucked acoustic guitars to swirling electronic textures sounds deeply human. This is perhaps the record's biggest strength. It's a carnal album, pulsating with desire and tenderness. (Ben Lowes Smith)