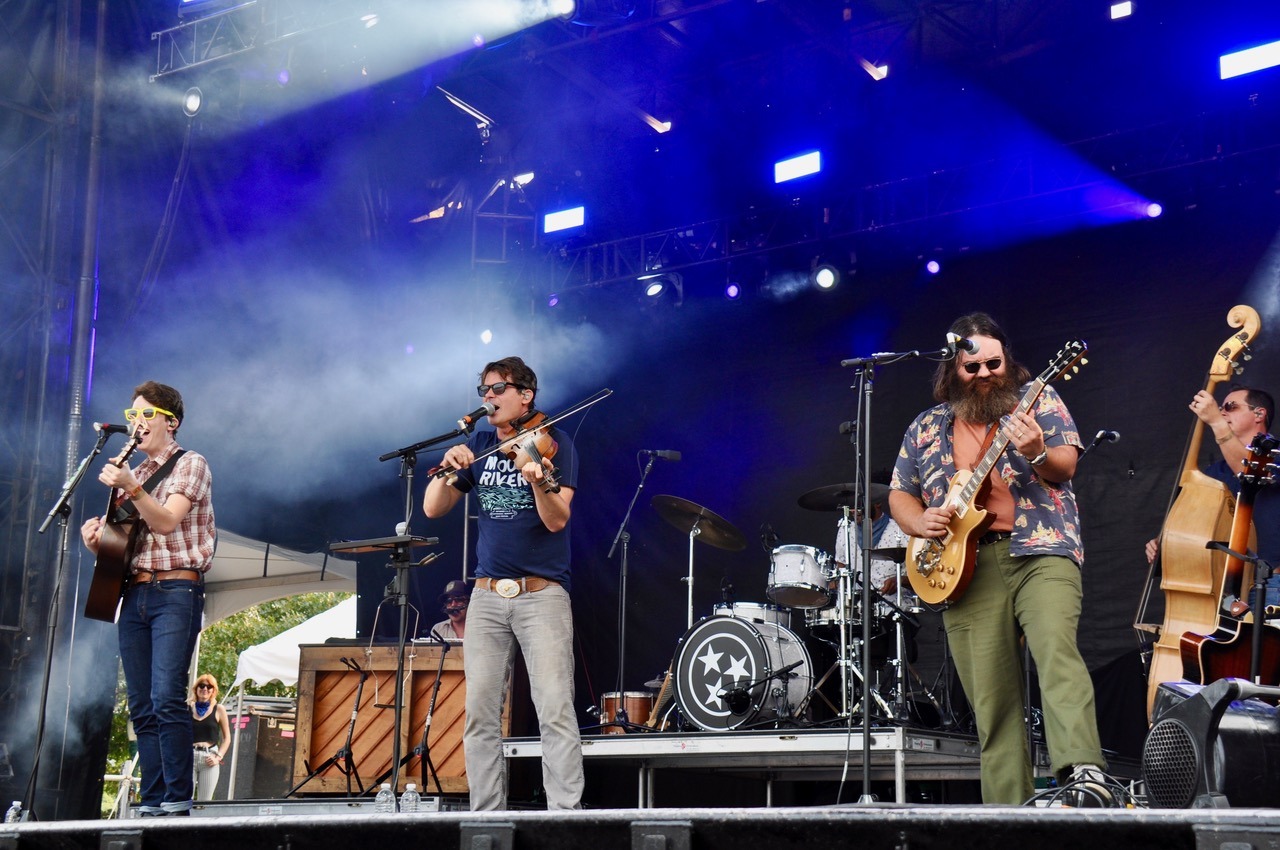 photo by Alisa Cherry***There are many criteria that go into assuring a great festival. The artists of course. There's the location. And ultimately it's also about the ease and convenience of getting from one stage to another. When it's all over, it should leave an indelible impression, one that allows the experience to find a permanent place in your heart.The Moon River Festival met all those qualifications. Set in a park on the shores of the Tennessee River, a short walk across a pedestrian bridge from downtown Chattanooga, it not only featured an impressive roster of artists — Wilco, Lord Huron, Shovels and Rope, Amythyst Kiah, Dawes, The Indigo Girls, Mipso, American Aquarium, Dr. Dog, Molly Tuttle, National Parks, Old Crow Medicine Show, and, of course, Drew Holcomb and the Neighbors (who have curated the festival since its start in 2014) — but a beautiful setting as well. And given the fact there were two stages, there was no need to choose between the acts one wanted to see. As soon as one band ended on one stage, another artist started a set on the other.As a result, the scheduling didn't lag even for a moment, and indeed, the timing was so precise, that one had to hurry between stages so as not to miss a minute. That's hardly a complaint however. Given the peaceful locale, the mellow vibes and the abundance of safety measures that had been put into place in regard to proof of testing and vaccination, the weekend was unusually comfortable and carefree for a festival of that size.In fact, Moon River offers the impression that it's a people's party. Blankets litter the lawn, and the area is not so expansive as to deny a good view from practically anywhere in the park. Knowingly or not, the festival offers opportunity to experience the music for free, due to the fact that the pedestrian bridge spans the environs. People gathered along the rails, and even though they were perched far away from the action, a good pair of binoculars could serve the situation well. In turn, nearly every artist acknowledged those in the "cheap seats" and did their best to make thosee distant onlookers feel part of the proceedings.
Naturally, with such a varied roster of prolific talent, the highlights were many. Saturday's performance by Amythyst Kiah took on a harder edge than one might have initially expected, and other than the revealing acoustic ramble "Firewater," most of her material kept to a solid rock-style regimen. Shovels & Rope followed, and given the fact that the husband wife duo play all the instruments between them, their handle seems somehow appropriate given their duties. Songs such as "C'mon Utah," "Birmingham" and "Mississippi Nuthin'" provided a travelogue of sorts, one that easily enticed the audience.
Mipso kept the good vibes going while sharing a sound that was light and carefree. They also added some levity to their set when singer and fiddle player Libby Rodenbough mentioned how taken she was with the riverside setting. "Our tour manager told us they're giving paddle boats to the artists," she said. "Nope, he was just kidding." Lake Street Dive was equally effusive, with lead singer Rachael Price proving to be a captivating front person who easily had everyone up and on their feet. A cover of the Beatles "Don't Let Me Down" found a fine fit alongside songs from Obviously, their recent LP. One track in particular, "Nobody's Stopping You Now," might be a good choice as the band's theme song, given the group's effusive energy.Not surprisingly, Dawes was a fan favorite, and they kept the energy at a peak. The anthemic "All Your Favorite Bands" provided a musical mantra that perfectly captured the sunny vibes exuded throughout. Nevertheless, it was left to Lord Huron to wrap up the evening, which in fact they did in style. Playing against a western-themed backdrop of cactus cutouts and elaborate lighting, guitarist and lead singer Ben Schneider put on a rock star pose, playing to the band's decidedly dramatic designs. However, he did bow to a little levity, crooning "Moon River" in homage to the festival of the same name.
Happily, Sunday proved just as eventful as the day before. American Aquarium resembled cartoon characters of yore, the Fabulous Furry Freak Brothers, thanks to their hairy persona and earnest intents. Nevertheless, the music captured the very essence of Americana. Molly Tuttle followed suit with her three-piece ensemble, one of several female combos that underscored the fest's girl power perception. A remarkably astute picker and player, Tuttle offered a remarkable cover of the Rolling Stones' psychedelic classic "She Comes in Colors," which she dedicated to the Stones' late drummer Charlie Watts. A triumphant take on Townes Van Zandt's "White Freight Liner Blues" was equally effective, and provided a nice lead-in to an inspired version of Rancid's "Olympia, WA."
National Parks was up next, a boy-girl poppy quartet with a decidedly perky presence. The interplay between the musicians often brought to mind a current incarnation of the Mamas and the Papas, helped along by an irrepressibly sunny sound. On the other hand, the Indigo Girls — currently a trio with violinist Lyris Hung in tow — offered a more contemplative approach. Still, Emily Saliers and Amy Ray offered their usual array of folk-laced rockers, highlighted by their stirring standards "Galileo" and "Closer to Free."That said, it took Old Crow Medicine Show to rouse the crowd and that they did so in style, with members Mike Harris (guitar, mandolin, banjo, dobro, vocals) Morgan Jahnig (upright bass), Jerry Pentecost (drums, vocals), Ketch Secor (vocals, fiddle, banjo, harmonica, guitar), Mason Via (guitar, vocals), and Cory Younts (drums, vocals) sharing some stage antics. It was a performance flush with frantic choreography, frequent instrument swapping, posing, posturing and generally upbeat entertainment. With a cameo appearance by Molly Tuttle adding extra allure, the band also chose select songs that ensured audience involvement — a version of "Rocky Top" (a veritable anthem in East Tennessee that encouraged the audience add their "whoos" to the refrain), "Wagon Wheel" and a perfect good 'ole boy party song "8 dogs 8 banjos.""If you're not a right winger, we'll all have a humdinger," Secor promised.And indeed, everyone did.Naturally, Drew Holcomb and the Neighbors proved a crowd favorite. It's their festival after all. However, there again, it was the songs that mattered most, with "Tennessee," "Family" and "Dragons" providing the appropriate response that could have easily capped the evening. Ellie Holcomb's appearance alongside her husband added extra enjoyment, especially when she shared a sing-along of her own courtesy of "Canyon," the title track of her latest LP. The fact that it was her birthday helped intensify the adulation, leaving Holcomb himself to share his own appreciation with the audience.
"I love you all so much," he gushed. "You've made all my dreams come true. I'm overwhelmed by you."Dr. Dog offered some darker designs but still managed to keep the energy intact. That left it to Wilco to round out the evening, alternating between an edgy insurgence and the abject Americana that provided the basis of their signature sound so early on. Jeff Tweedy still stood at the center — always in the spotlight and clearly in command. The group was accorded the lengthiest set of the entire weekend, playing approximately an hour and 45 minutes. By the time it was over, the crowd was exhilarated but exhausted, and clearly primed for an inevitable reprise next year.For most of the attendees, it can't come soon enough. Moon River offers a certain festival frenzy that ought to be emulated everywhere. It's simply that special.