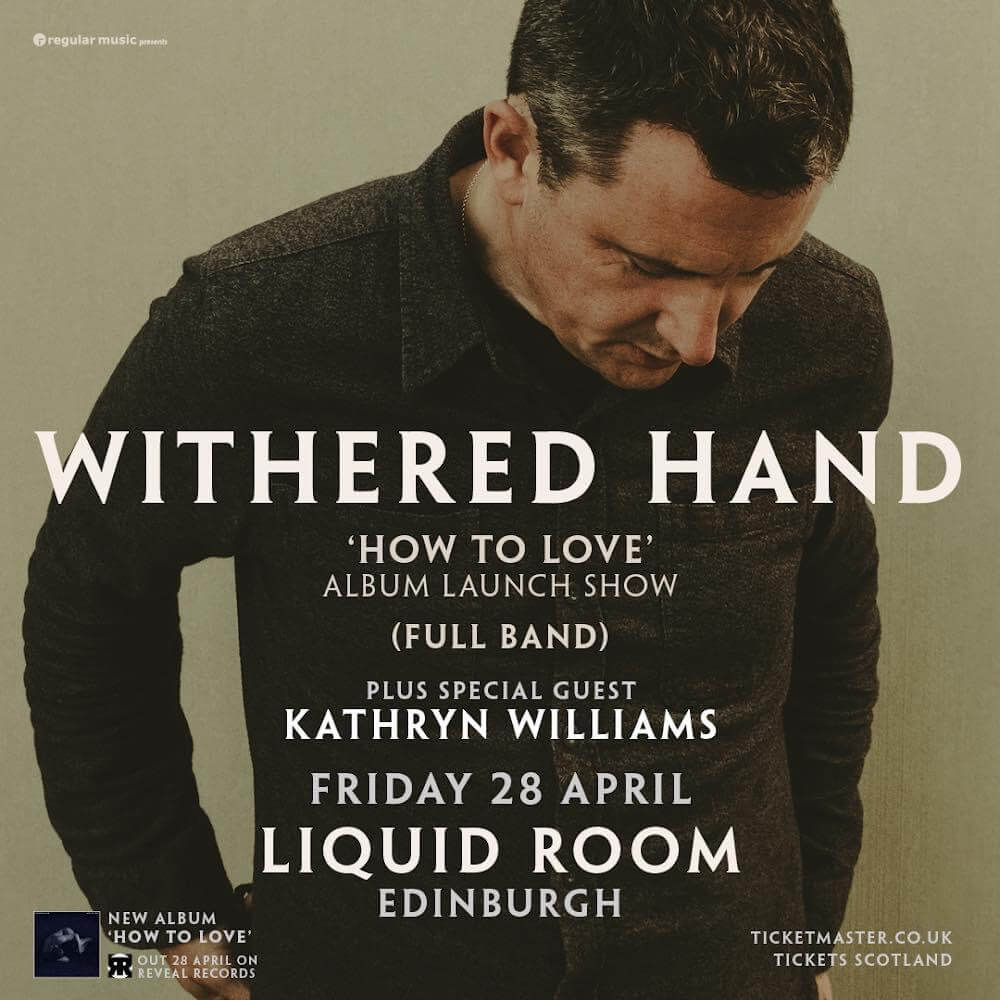 So: How do you know when it's been a great gig?
Dan Willson AKA Withered Hand is almost apologetic. "A lot of these are going to be off the new record," he says, as if this might be an issue. This is the end of a handful of shows he's played in Britain building up to tonight which is both the official release day of his third album, How To Love, and also a homecoming gig. It would be surprising, quite honestly, if the gig didn't feature lots of songs from the album, and anyway, it's the best thing he's done so far, in a career that stretches over fifteen years.
There's a lot of love for Willson and his band tonight, so there's no question of them having to win anyone over. When he asks if anyone's heard the album yet, it's clear pretty much everyone has – it's been on Bandcamp for a few weeks, though it's also clear there are going to be a fair few physical copies being bought (the forthcoming vinyl version is almost sold out, so act quickly).
I don't know how long it took for this latest collection of songs to come together (the last Withered Hand album, New Gods, came out in 2014), but not only are they amongst the best he's written, Withered Hand the live band are pretty spectacular, too. It's very much a band album, and it's brought to life with the addition of a series of different players, not all of them on stage for the entire time. The brass section help start off the gig with 'Waking Up' and 'Feelings' and there's also the occasional appearance of strings, too. Long term guitarist Malcolm Benzie gets to be a bit of a guitar hero and pull it of with style, too. Not only that, but English singer-songwriter Kathryn Williams joins in for 'Crippled Love' and later another song for an album that they're supposedly writing together. Please let it be true.
There are also nods to the previous two albums, including 'Black Tambourine' and the King Creosote referencing 'King Of Hollywood' which are warmly received (in the latter, Willson sings of falling asleep "during a buzz band" – I have spent the last nine years speculating just who this might have been). The final encore is 'Religious Songs' with a huge amount of audience participation. We none of us want to let the band go, but eventually the house lights come on, and it's the end of a very fine evening.
How do you know when it's been a great gig? When you wake up, still basking in the glow the following day. I hope the whole band did, too.