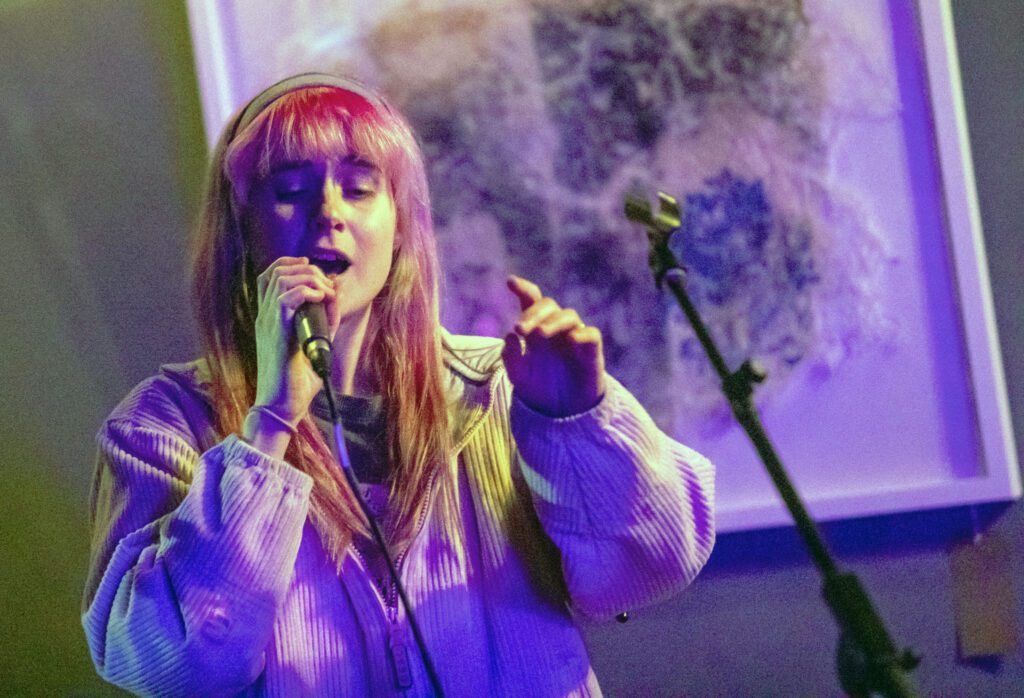 By day it is a thriving independent bakery and café. By night it transforms into a live music venue, arts space, and bar. Having converted the former Bathstore showroom in Acomb – a suburb of York that lies a couple of miles from the city centre – Bluebird Bakery opened this spacious new bakery and café back in 2021. Then in July in what was a further development the bakery owners Nicky and Al Kippax introduced rise @ bluebird to the local community. This exciting new venture sees the premises being used during the evening for a wide range of cultural events including art exhibitions, live music, guest DJs, comedy, and spoken word.
Local live music promoter Please Please You quickly saw the communal value of using the relaxed and intimate surroundings of rise for some of their shows. The first such offering brings to rise @ bluebird the individual talents of Me Lost Me and Mayshe-Mayshe. Both artists have a shared experimental vision of taking music into different, more immersive sonic worlds.
Mayshe-Mayshe takes to the stage first. Local artist Alice Rowan's solo craft orbits around pop, driven by her esoteric imagination, a phalanx of electronics, and her grandma's old hairdryer. The sound that she creates has an inescapable pull towards synth-pop but it is one from which she constantly breaks free and repurposes in a sea of shimmering pulses, repetition, and delay. There are songs about learning to say no, a dedication to wood lice, another sung in Dutch, and her latest tune, 'Shadowbloom', proudly written on Rowan's brand new Casio and one that see her talent moving into another inventive dimension.
Me Lost Me follows shortly thereafter. Another subversive sound producer this time appearing in the creative body of Jayne Dent's solo project. Here, the Newcastle auteur entwines traditional folk music in the seeds of its own destruction, courtesy of her interpretive compositions that embrace elements of baroque pop, avant-garde electronics, and an occasional detour into waves of industrial noise. 
The bulk of Me Lost Me's set is drawn from her third full album, RPG which was released earlier this year on the independent record label, Upset The Rhythm. She opens with 'Festive Day' before playfully guiding us through the weather section of her performance by way of 'Heat!' and 'Mirie It Is While Summer I Last', the earliest surviving secular song that is both English and in the English language. By the time that she reaches 'The God of Stuck Time' she has transmuted into some digital time traveller who has absorbed the creative characteristics of Nico, Swedish pipe organist Anna von  Hausswolff and her fellow north eastern folk The Unthanks somewhere along the way. It makes for a wildly intoxicating combination that helps remove Me Lost Me's even further away from the mainstream. She concludes with 'Eye Witness', a traditional folk song about a fight in a nightclub, an unlikely concept perhaps but one that cements Jayne Dent's position as a true musical adventurer.
Photos: Simon Godley