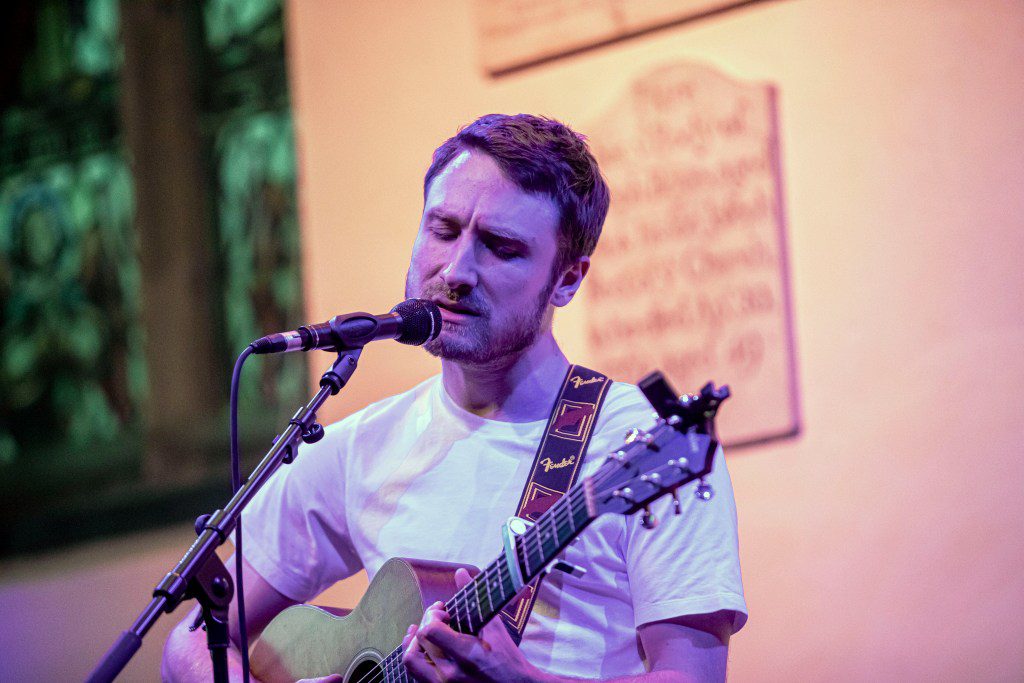 If ever such proof were needed then this concert would certainly affirm that the York music scene is in very rude health. Elanor Moss, The Howl & The Hum – a solo appearance from band member, Sam Griffiths – and Wounded Bear are all artists with strong local connections and tonight they are appearing in the heart of the city in the hallowed surroundings of the medieval, Grade I listed, converted church of St Margaret's.
First to grace the NCEM stage this evening is Josh Finn, the man who is Wounded Bear. It is an apposite name under which he trades as he deals, primarily, in the hard currency of relationship break-ups. An as-yet-untitled song written only two days beforehand and inspired by Finn's recent conversation with his 101-year-old neighbour, Beryl, shows there can be much more to the ending of a relationship than mere melancholy. Wounded Bear reveals therein both sides of love, one that breaks us and the other that then remakes us. 
The Howl & The Hum who always seemed to be tantalisingly close to breaking on through to the other side of stardom are in a period of transition. They currently exist in what are often solo and acoustic forms and tonight it is their singer Sam Griffiths who is flying the flag. His voice and guitar engulf the nave of the church, the building's natural reverb adding to their combined power. Griffiths relishes the opportunity to use profanity in God's house (albeit one that is deconsecrated) and should the supreme being hear his industrial language, he suggests to them that his merchandise is available in all sizes. The old Howl & The Hum toe-tapper 'The Only Boy Racer Left on the Island' still sounds mightily immense and the concluding tune about meeting post-relationship breakdown to divvy up shared possessions is deeply moving.  
Elanor Moss may now live in London, but York remains a place of great significance to her. She studied here at University. She wrote songs here. And here is where she played her first-ever gig, a show put on by Joe Coates, the lovely chap behind Please Please You who also happens to be promoting this event. Moss has come a long way from that tentative, nervous start a few years back in The Basement below the City Screen cinema. She is now two superb EPs (Citrus and Cosmic) into her recording career, enjoys regular airplay on national radio, appeared at last year's Green Man festival (where she was accompanied by Sam Griffiths), and is now out on her debut headline tour of this country. Her creative and commercial star is in the ascendency.
And this wave of positivity is reflected in tonight's performance. Accompanied by the excellent Scottish saxophonist Matthew Herd who adds texture and detail to her tunes, Elanor Moss treats us to a selection of songs from both EPs, including 'Sober', 'Sorry Song', a resounding 'Catholic', and an almost iridescent 'Cosmic Memory'. Her voice has never sounded so pure, so assured.
Moss introduces us to a couple of new songs, the first of which is provisionally entitled 'Sarah'. Beneath the veneer of melodic beauty lurks something altogether more sinister,  a creeping sense of violent menace. Fear also stalks the other new song, 'Bruiser', albeit this time in the shape of the uncertainty and vulnerability of falling in love. Both songs are bisected by a stunning cover of the New Zealand-born, Melbourne-based singer-songwriter, Sarah Mary Chadwick's 'Full Mood'. 
Following Sam Griffith's earlier lead with regards to swearing in church, Elanor Moss encores with what she describes as her Christmas song, 'I'm So Fucking Tired All The Time'. And it does seem a strangely apt choice given the time of year as Christmas has certainly arrived early in the NCEM tonight, presenting us all with the wonderful gift of song from some incredibly talented musicians showcasing just some of what the city of York has to offer musically.
Photos: Simon Godley
More photos from this concert are HERE