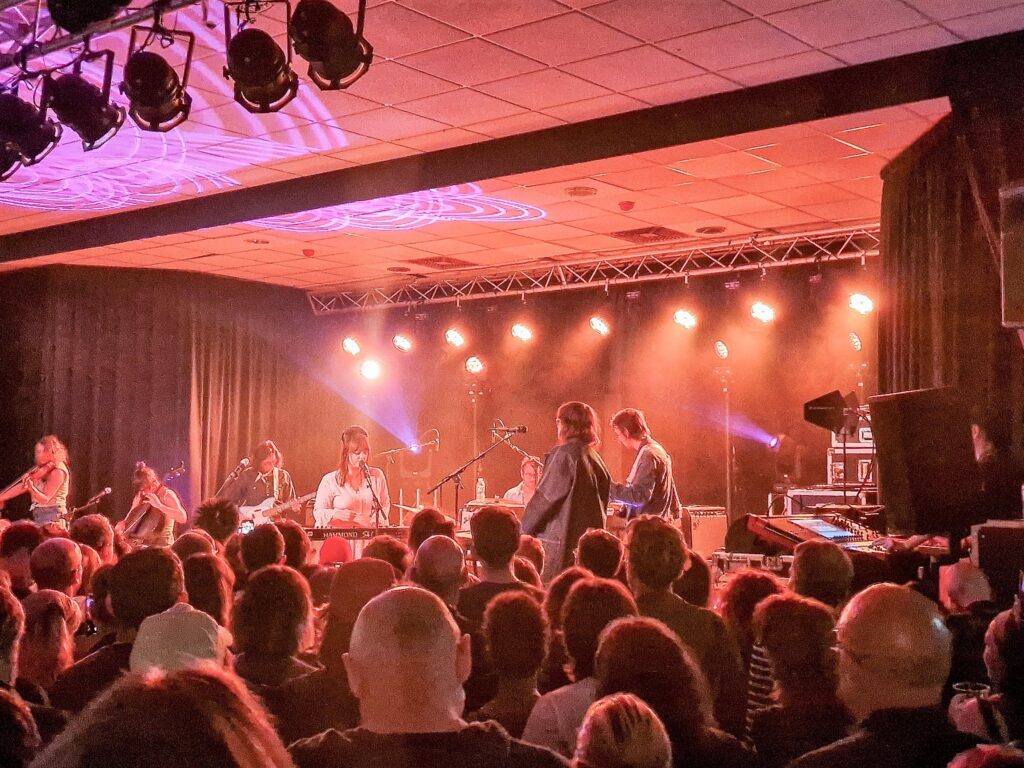 "It's so nice to play a fuckin' rock show." Angel Olsen can barely contain her delight.  Having just come off the back of a run of outdoor festivals – the most recent of which was only two days ago at Rock en Seine just outside Paris – the American singer-songwriter is clearly very happy to be back indoors. And she and her band celebrate the fact by tearing into a thrilling 'Shut Up Kiss Me' from her 2016 album, My Woman. By then they have already dispatched towering versions of 'Dream Thing' and 'Spring' from last year's Big Time and 2019's All Mirrors respectively, and it is abundantly clear that the seven musicians are not only out to enjoy themselves tonight, but they also intend to do so across a broad cross-section of Olsen's back catalogue.
Much has happened in Angel Olsen's life since I last saw her in Leeds more than six years ago, a couple of miles from here at the city's Stylus venue. One personal relationship ended; another subsequently began. Olsen came out as queer.  Both of her parents died within weeks of each other, and during this period she also released three more albums, a brace of EPs, and numerous singles including 'Like I Used To', her wonderful collaboration with fellow countrywoman Sharon Van Etten.
These were records that embraced love and grief as well as a range of musical styles that extended from synth-pop to Americana and country. And whilst those influences are still in evidence this evening – the pure essence of country music is probably no more apparent than on a beautifully tough and tender 'Ghost On' – and the inclusion of violin, cello, and mellotron in this live set-up certainly provides a broader symphonic sweep, but the end result is far grittier, more hard-edged. The sound that Olsen and her band produce here is heavier, much more rock'n'roll, if you like, than has hitherto been the case.
'This Is How It Works' – one of half a dozen songs that feature from Big Time – is a veritable case in point. It rocks out with supreme abandon. Angel Olsen then turns the wick down a little with the concluding 'Sans' before returning for a strangely euphoric encore of 'Without You', the powerful emotive ballad written by the sadly doomed 70's Welsh rock band Badfinger and brought to much wider attention by Harry Nilsson. Sub Pop staple and tonight's support act King Tuff is by now back on stage to add some demonic guitar and the song induces a mass, cheerfully out-of-tune singalong from the capacity crowd, an experience that captures the sheer joyfulness and reckless spirit of what is such a great occasion.
Photos: Simon Godley
Related