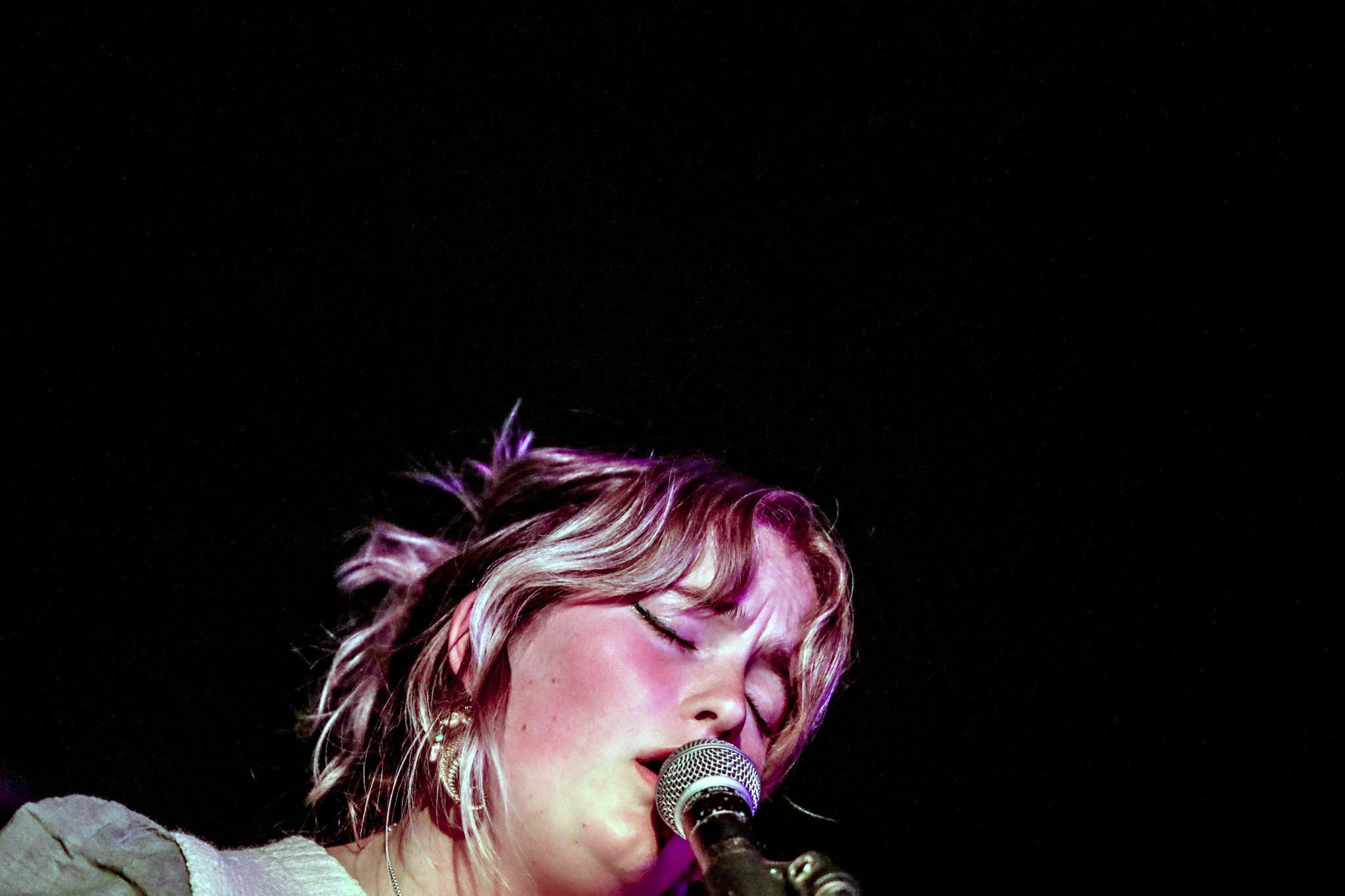 The Crescent Community Venue is where it is at right now. For the second night running the Sold Out signs can be seen outside the doors of the former working men's club whilst inside live music is once again the order of the day. It may well be socially distanced an' all that but the main thing is that it's happening. And for that, we must thank the good folks at The Crescent alongside local promoter Please Please You for their enterprise, confidence and determination in putting on such events. We have much to be grateful for.
Tonight, it's the turn of Katy J Pearson to take to the stage. Along with the four chaps in her band, she has travelled all the way up from Bristol. It is her first time in York. It won't be her last. She is back again in October to play at The Fulford Arms on the other side of town. And based upon tonight's performance she will be welcomed there with open arms.
Katy J Pearson released her debut album Return in November of last year and this evening she plays eight of its ten tracks, opening with 'Take Back The Radio' and finishing about 45 minutes later with 'Tonight'. The two songs from the record that miss out here are 'On The Road' and 'Waiting for the Day', their places having been taken by two absolutely cracking new tunes, 'Talk Over Town' and 'Float'.
Pearson starts a little hesitantly, perhaps down to a certain ring rustiness. After all, just like practically everyone else she won't have played in public for many a long day. But it doesn't take her and her band too long to get fully into their stride. By the time she reaches the two new songs and the closing double-salvo of a quite thrilling "Fix Me Up" and an equally buoyant 'Tonight', they are firing on all six and you wish that the show could just go on and on.
Often dealing with issues of depression, heartbreak and loss there is a raw emotional honesty about these songs which despite their subject matter come to us full of hope and positivity. Stripped of their string arrangements and more textured studio production the songs from Return truly come alive in concert. Often described as country and/or Americana the music to these ears at least seems to be inspired more by '70s songwriters and the pop/rock that emerged from that era. Either way, it is a rousing, optimistic and clearly vital sound.
At one point Katy J Pearson sings "Can you show me something I'm missing? Is there something I'm living without?" and being here again tonight in this life-affirming environment you are left with the firm impression that the questions must surely be rhetorical.
Earlier in the evening, The Crescent held true to its principle of promoting emerging local talent by giving the support slot to elkyn, the musical project of Leeds-based artist Joseph Donnelly. He opens with 'Seventeen', the lead song from his 7-track debut EP, Beech, and ends a delightful set some eight songs and a lot of newer material later with 'Everything Looks Darker Now'. His songs just seem to float into view carrying with them much atmospheric beauty.
Photos: Simon Godley
More photos of Katy J Pearson from this show can be found HERE