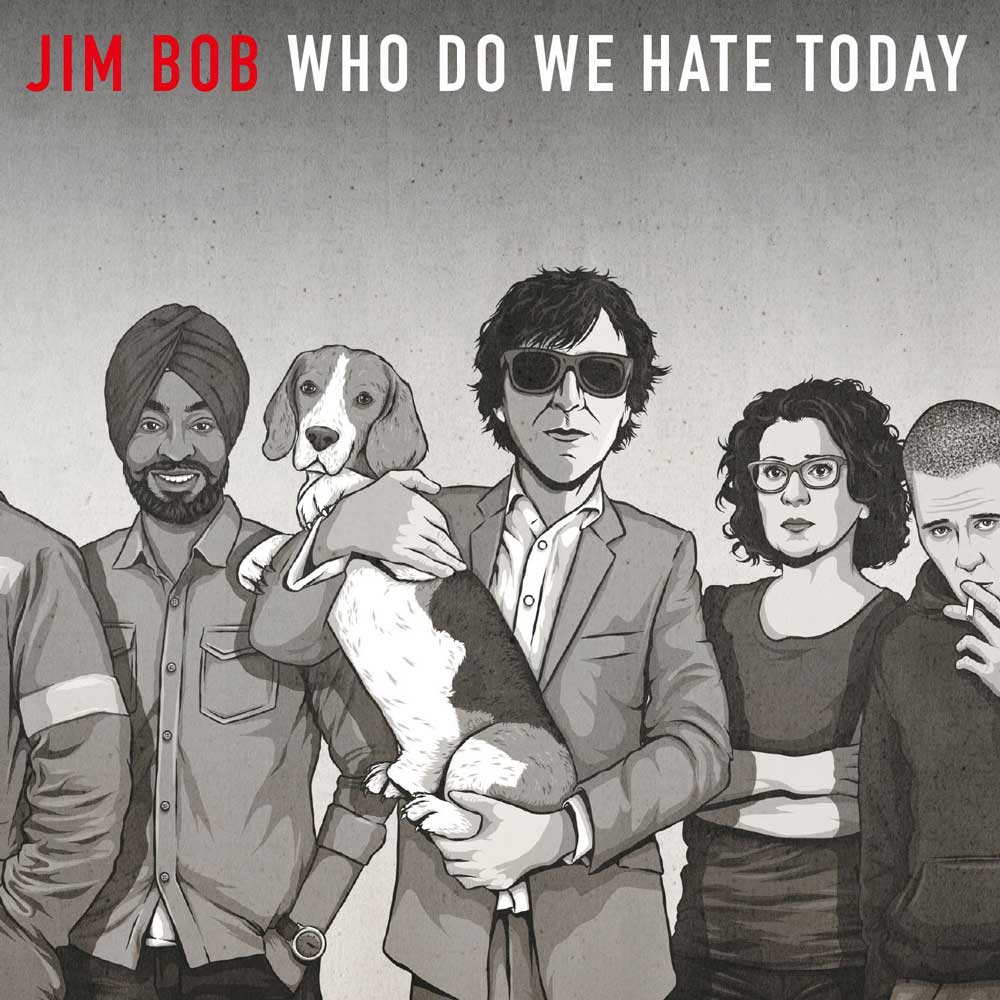 The last 18 months would appear to have provided creative bounty for Carter USM's Jim Bob, as found here is his second album in as many years. Recorded in London with The Hoodrats Who Do We Hate Today,  is a 13 track journey through Covid and beyond. This new album starts with 'Jim's Bed of Unease (Intro)', a track which is nothing more than 22 seconds of voices all talking at once, which actually say nothing at all apart from signifying the chaos we have all been through. The track that follows is 'The Earth Bleeds Out' and is where the album really starts. From its title would appear to broach another subject we are going though, that of climate change. With punk guitar he sings,  "…Imagine a world without airports or cars, I was literally counting and thanking my stars, for a moment to two there was hope in the flu, as the earth bleeds out…". I can't say it wasn't something that hadn't crossed my mind. It was so peaceful, I could actually hear bird song and then reality was restarted.
To say this album is an anxious ride would be to misrepresent the author's intent, as it possesses more than its fair share of humorous moments. From "Shona is Dating a Drunk, Woman Hating Neanderthal Man" where Jim paints a picture sometimes represented in Red-top headlines, to "Where's the Backdoor, Steve" in which the question is asked "…where'd you put the reset Steve?…". I don't think any of us have the answer to this question, but at the moment it looks like we're heading toward a turning off and on again scenario, but just to add I can't get its melody out of my head.
The album is peppered with gems like these, in 'Karen (is thinking of changing her name)' , the central character is told to "…wear it proudly, like a badge. Own it reclaim it, like a swear word or a flag…". 'Random Act' sets the scene "…in a crime free town…", that unlike Covid is slightly less random than we would wish, "…press your hand on the wound 'til the Ambulance arrives…", a cleverly told tale whose closing words remind us of what really counts, "…for every act of mindless, hateful, cowardly cold blood, there's a hundred acts of kindness, caring, bravery and love.", well said that man. "The Summer Of No Touching" is a tale that needs no introduction, but "…me I get my facts from whatever David Icke says…", is perhaps a little lost on those millennials, but ever-so funny for those who are not.
As the album draws to a close, Jim takes up the story told in the first person as "The Loneliest Elephant" comes into view. Perhaps one that like our planet is heading for an uncertain future, but "…when a heart as big as this, breaks into bits…", from "Dumbo" to "Jumbo" we have all been invested in the story of the Elephant, so perhaps we should take special notice now. The album is finished by the title track, but where we are going only time will tell "…somebody has to pay, who do we hate today…", followed by more crossed voices and then silence. Hopefully not where we are headed, but a poignant and very telling album of one man's lockdown and a tale we should all take something from.