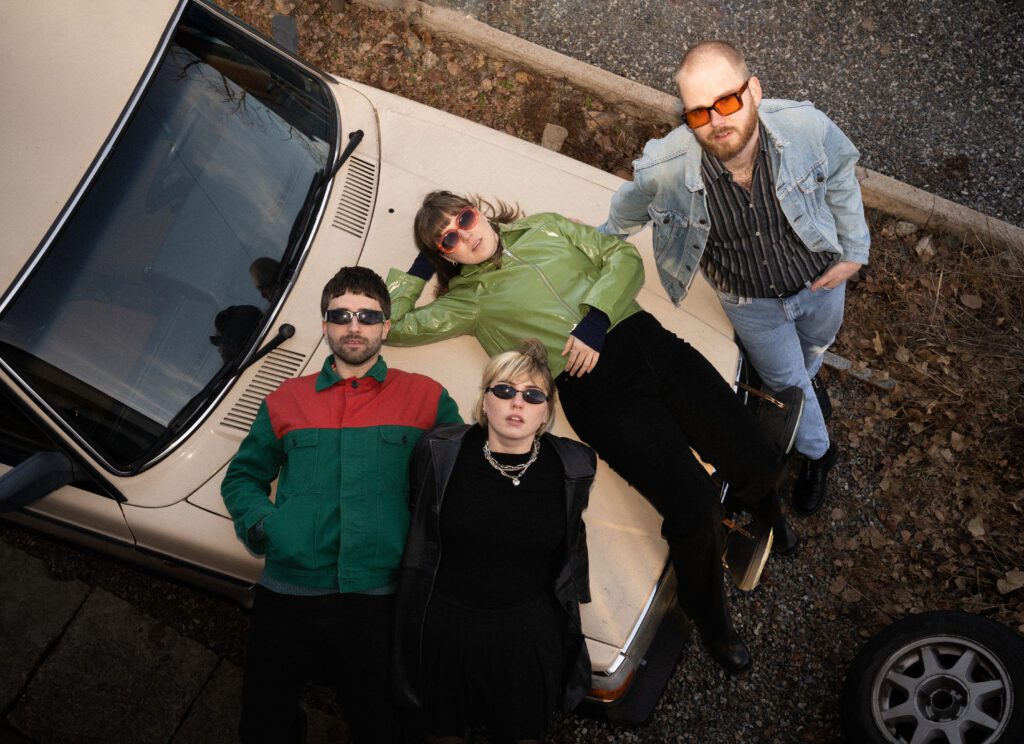 Ahead of Girl Scout's second EP Granny Music, set for release on 29 September via Made Music, we found out a little more about this Swedish four-piece.
Let's start with the inspiration behind the EP title!  Could you share how this came about?
Emma: There's a lot of references to generational differences and growing up on the record. 'Millionaire' has a little recording of my grandma at the end, and 'Bruises' is also heavily inspired by how we connect to older generations. We're also big Beatles fans, and there's this story that John Lennon often referred to some of Pauls songs that he didn't like as 'Granny Muzak'. It felt like a fitting homage.
How did Girl Scout first come together as a band?
Me and Viktor met in school and formed a duo to play jazz standards and Burt Bacharach tunes as a way to make money freelancing, then we started covering old Beatles songs and indie stuff. During lockdown school shut down and we formed a band with Evelina and Per to pass the time, we recorded a bunch of demos and by the time the venues opened up again we had a whole bank of material waiting to be played. We met our manager through instagram and then we got a record deal and started touring, and it hasn't really stopped since!
What would you say is the main difference between this EP and your debut EP Real Life Human Garbage?
The overall sound is broader, I'd say. There are some new influences introduced, there are some jazzy, improvisational elements on 'Millionaire' and the last track, 'Mothers and Fathers', was very inspired by heartland rock, artists like Bruce Springsteen and Sam Fender. We've gotten more comfortable in the studio and know what to expect, and we've refined our sound somewhat. That being said this is still just the tip of the iceberg of what's to come.
What is your favourite track on the Granny Music and why?
It constantly changes! Usually the song we've heard the least feel the most fresh. Right now I'm really fond of 'Millionaire', but I love playing 'Mothers and Fathers' live.
What is your creative process?  Do you work collaboratively, is there one lyricist?
Me and Viktor are the primary songwriters, we don't really have a method we stick to. We've collaborated for so long and we both get bored easily, we've pretty much reached a point where we work together on every song. Sometimes Viktor will come to me with a complete song and vice versa, but my favourite sessions are when we put our heads together and shape the song as a unit. You can't really tell who's written what, it's pretty fluid and we imitate each other's musical tendencies a lot. When the fundamentals are worked out on guitar and vocals we'll bring it to the rest of the band and we make the arrangement together, trying different versions and tempos and seeing what sticks.
You are heading out on tour with Coach Party doing 13 dates across the UK plus a set at London's Rough Trade East.  When was the last time you played in the UK and what does playing live mean to you?  
Last time we were there we played Great Escape which was amazing, there was a queue wrapped around the building and a lot of people couldn't get in which felt crazy at the time. The UK crowds are always so good, people always come up to us after the shows and show appreciation which is like the best part, recognizing fans and seeing who's actually listening to the music!
If I looked in your fridge right now what would I find?
Sriracha and probably like 100 ingredients that don't go together. (We're away a lot)
Girl Scout UK Tour Dates​
26 Sept Rescue Rooms, Nottingham UK**
27 Sept The Cluny, Newcastle, UK**
28 Sept The Caves, Edinburgh, UK**
29 Sept Stereo, Glasgow, UK**
30 Sept Gorilla, Manchester, UK**
2 Oct Rough Trade East In-Store, London, UK
4 Oct Castle & Falcon, Birmingham, UK**
5 Oct Thekla, Bristol, UK**
6 Oct The Brudenell Social Club, Leeds, UK**
7 Oct Hangar 34, Liverpool, UK**
8 Oct The Bullingdon, Oxford, UK**
11 Oct Wedgewood Rooms, Portsmouth, UK**
12 Oct Scala, London, UK**
13 Oct Patterns, Brighton, UK**
** with Coach Party
For more information on Girl Scout please check out their website.