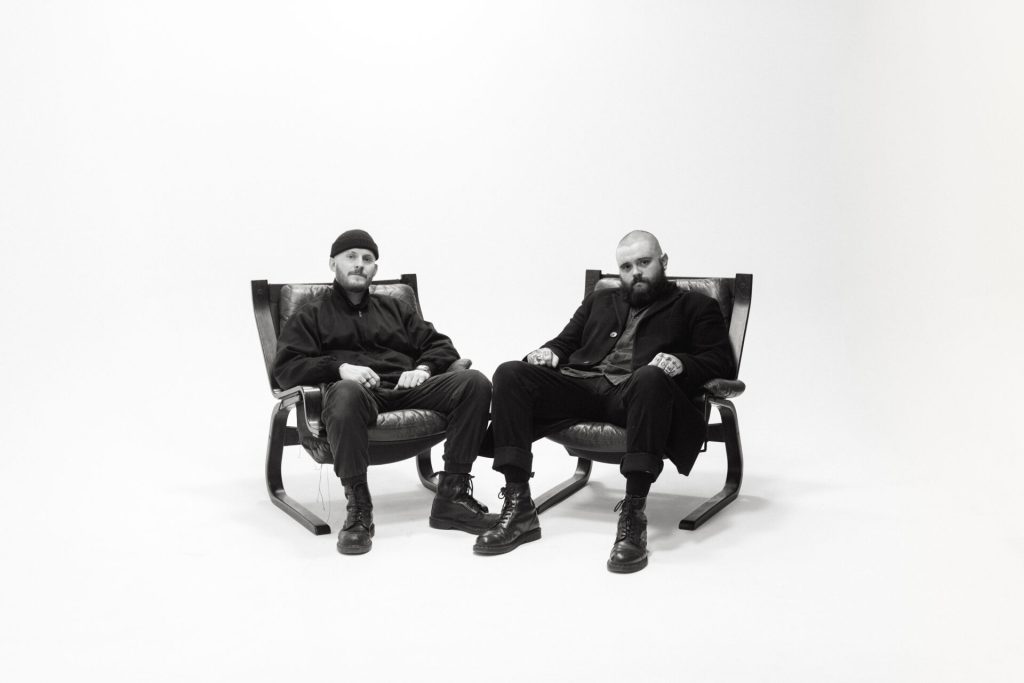 Birmingham duo Big Special are playing 2000 Trees festival this weekend, and I suspect there will be quite a crowd to see them. The two singles released so far in 2023 have sparked some attention, and this coupled with their outstanding live performances have seen Big Special developing a solid fanbase.
 Could you introduce yourselves and share your roles in the band.
Joe Hicklin: Hello, we are Big Special, I'm Joe on vocals  and resident heart throb.
Callum Moloney: I'm Cal on Drums, DJ, Hype man and Designated driver.
What about the creation of Big Special?  Were you both in other bands first?
We've both played for half our lives at this point, both been in quite a few different bands or solo stuff, we were in a couple bands together over a decade ago. We got back together to bring Big Special to life, which was a project started in the lockdowns after experimenting with sounds and structuring poems into songs.
You have released two singles in 2023, 'Shithouse' and 'This Here Ain't Water'.  It's just over a year since your first live appearance together, and Steve Lamacq premiered 'This Here Ain't Water'.  How have the last 12 months been for you?
The last 12 months have been mad to be honest, we're still wrapping our heads around how quickly support for us has grown. A lot of people seem to get what we are doing and saying and we're so grateful for everyone who has engaged with it and the brilliant team we've been building. We're just cracking on as we started, gigging about as much as we can and bringing the most we can to each of those performances, to push this music we've spent a lot of time making.
Your live performances are a staggering combination of punk, hip-hop, thrashing drums, phenomenal sung vocals, spoken word and genre busting music which when all combined create a thrilling live experience.  What are the main influences in your song creation process? 
We're influenced by a lot of different music, and so much has inspired us in different ways over the years, the Big Special stuff has ended up being the bucket that catches everything now. We stopped thinking about that stuff and just tried to make something honest, which has always been the goal, but we feel like that's been achieved with Big Special. It's the attitude of inspirations that have effected Big Special probably more so than their music.
We were inspired a lot by Sleaford Mods and hip hop when it come to thinking how this can look on stage, we didn't want a band or to people manage or to foot the bill either, we are comfortable together and just wanted to crack on with it and not limit our sound to the people we could find who were able to commit to a band. We're seeing a lot more of that creeping into live shows now and great performers like Billy Nomates really pull it off, I think the Sleafords should get a bit of credit for a lot more bands in different genres doing that sort of thing now, they made it seem ok to do because they still bring a full performance to the table, and made me think if we do something like that and give it full whack we won't get shouted at for not having guitars on stage. So we've been letting our live show settle into itself over the last year and I feel like I've got over a proper hump with the nerves and stuff now we've naturally found out how we do it.
And is there more new music to look forward to from Big Special?
Loads more to come. The singles we've released are leading up to an album which we've worked on for a long time and are real excited to get out…
If I looked in your fridge right now what would I find?
Joe: Approx 13 cans of a 24 pack of cream sodas and a hot water bottle and an unmarked packet of what I assume to be sandwich meats.
Cal: The severed head of a postman, couple loose cans of Guinness and half a jar of pesto.
For more information on Big Special please check out their facebook and instagram.
Live dates:
8 July – 2000 Trees Festival
25 July – The Village Underground, London supporting Creep Show
5 August – MULTITUDE FESTIVAL, The Craufurd Arms, Milton Keynes
27 August – Loud & Local Festival, Chester
14 October – Live at Leeds in the City Festival
19 October – OSLO London, supporting Benefits.
5 January 2024 – ROCKAWAY BEACH Festival, Bognor Regis
Plus more to be announced soon.