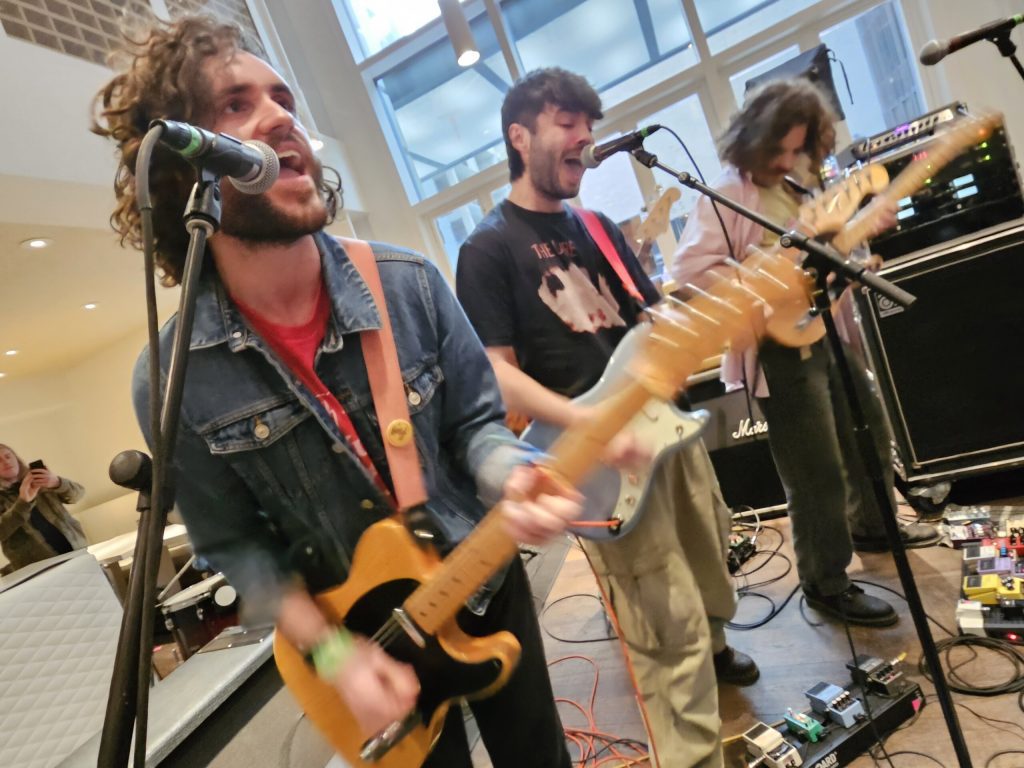 The Full Irish Breakfast showcase at SXSW fell on St Patrick's Day this year. With a line-up that included Lauren Ann, milk, Aoife Nessa Frances, modernlove, Ailbhe Reddy, Sorcha Richardson, M(h)aol, Somebody's Child, Junk Drawer, Silverbacks and The Scratch Ireland shows no signs of slowing down in its production of quality artists.
In a wonderfully chaotic setting I grabbed a quick interview with Cian Godfrey of Somebody's Child. The band has recently been announced as one of the supports for Noel Gallagher's High Flying Birds in Sheffield alongside Happy Mondays, The Cribs, and The Joy Formidable. He was good enough to talk to me straight after their set which was the last of a run of dates across UK, EU and Ireland in support of their self-titled debut album.
You mentioned during the set that this is the end of your current run of live dates.
We were supposed to have two gigs in New York and Boston next week but we didn't get a visa in time. Because we were touring beforehand. So logistically you have to give in your passport and get it sent away for two weeks to get the visa approved. That didn't happen. But now we're coming back and doing more shows in September.
Could I ask you to share how you came to be at BIMM Dublin? Did you always want to be involved in music?
No, not at all. I fell into it to be honest. I always played the piano, my parents put me through grades. I wrote songs from about 16 and when it came to choosing what I wanted to do it was the lesser of all evils. And I chose to do that.
I'm presuming you're quite happy with that decision!
Well yes! I'm sitting here so yes…
I'm sure you've seen the reaction to your debut album when you've been on tour. How has it been to get that response when you're onstage to your music?
Really good, especially the slower songs that we haven't really to release as part of a smaller EP or whatever. We got to show our more intimate side on the album. Half way through the gig we do two slower songs and people have known them for the last four weeks and its only been out that long and people singing them back so in that sense its great.
How long had you been writing the album, bearing in mind the pandemic?
I guess it took about two years to write it. But ultimately some of the songs are three or four years old. 'Jungle' was already released as a single version four years ago and then it was re-released on the album. I guess its kinda since I started writing I've been working towards the first album – ten years in that sense but two years where we've been really focused on it.
And the inspiration behind your songwriting. Can you share a little how you create your songs?
It's just therapy. I don't like the superficial side of things. At the start I covered my face, I didn't want to be associated with the music. I do it for myself and its a bonus that people are willing to listen to it.
And is Somebody's Child a settled band now?
Yes I'd say so. I still do the writing and Shay does the writing a lot of the time with me as well. But as far as the live band is concerned we're very much a unit. It's developed, it's had a few different reiterations. At the start it was just me, then three of the others came in, then Shay came in (who wanders past at this point in the interview "You joined the band when? two months ago!?!" Shay replies "Four goddamn years!?!").
What the plans now for the rest of the year?
We're writing album two and we'll hopefully get it done this year if we're lucky. We need to write the songs first obviously and there's a lot more time pressure on the second one than the first. That and loads of festivals and stuff, I'm excited for the summer. When we first started we were getting a bit of attention and we had about14 different types of festivals booked then Covid happened so we never got to play those and so we're finally getting that summer back.
So you had a bit of momentum before Covid?
Yes we were flying before but just unfortunately at that point our trajectory hadn't hit a point where we were comfortable. So it was like starting from scratch again which was tough, financially and otherwise. But it is what it is, and thankfully we're back on track now.
How has SXSW been for you?
Its been a bit manic to be honest. We didn't really know where to go half the time so we've stayed to ourselves but its been good fun. I've never been to Austin before. I feel a bit of double consciousness almost because you've seen so many movies about the place, and when you come here it's a weird feeling. You are kind of battling with it, it's almost like a film set, it's a strange feeling but really enjoying it, really cool bars, the people are really friendly. It's a shame we can only do two gigs because we haven't got our visas in time. An expensive few gigs.
I was chatting to the person to beside me and saying what a privilege it was to see Somebody's Child in such a small space, and for you to put on that performance, full of energy.
Thank you so much, I really appreciate that.
The self-titled debut album by Somebody's Child is out now.
For more information on the band including full tour details please check out their facebook and website.