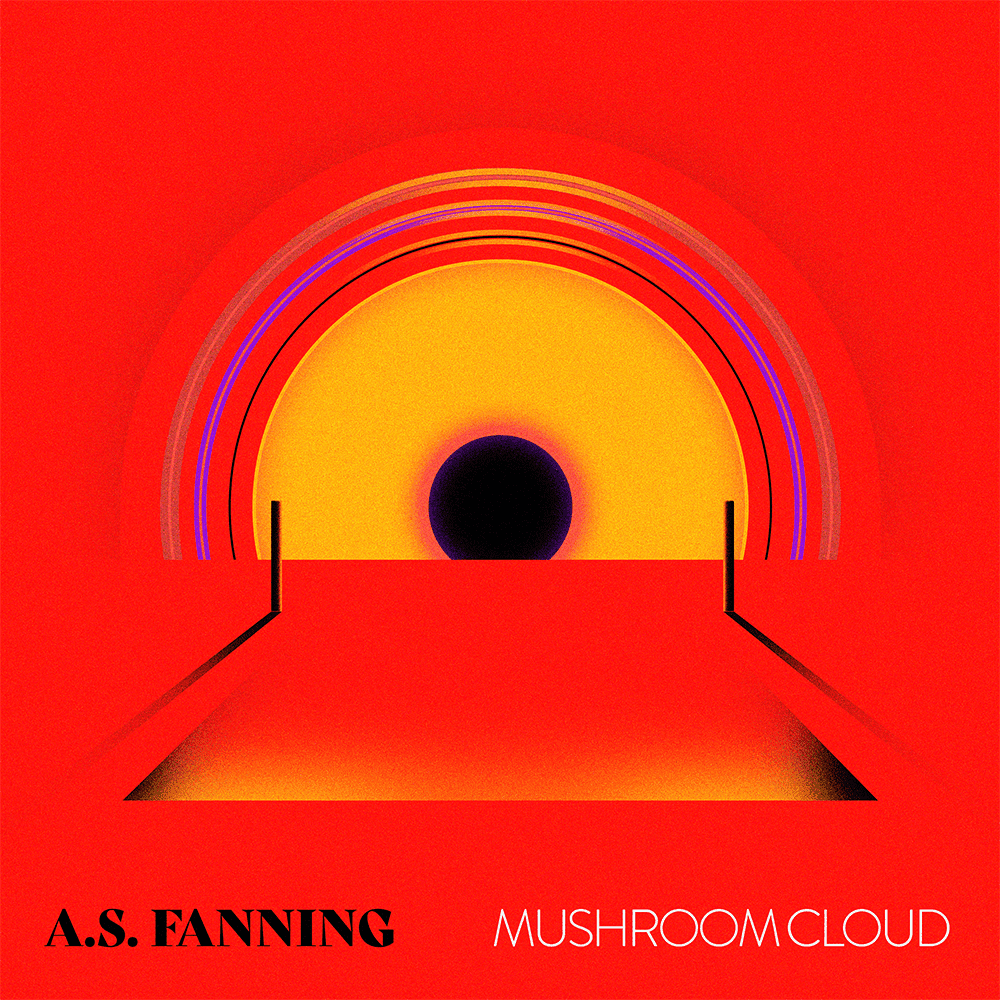 We are accustomed to AS Fanning's personal honesty on record coupled with drama and warmed by romance, are we not? His third album Mushroom Cloud, out next week, continues in that vein but if anything carries us further, closer. We have a highly relatable album on our hands here, one humanised by a relationship's end and grounded realities, yet noting and taking pleasure from any positives despite himself. The first two long players 'Second Life' and 'You Should Go Mad' laid the groundwork for this, his most accomplished work to date.
Written during the pandemic and unhappily coinciding with his relationship's conclusion, the new release reflects on Steve's state of mind in spring 2020. Loneliness, depression, paranoia of the time has him view the release primarily as an 'anxiety album' rather than a break up one. The artwork itself signposts the journey he's about to take us. A black void in the middle of a sunrise or an explosion, depending on how you view things, alludes to the demise of the world thanks to climate change and similar inevitable slow-moving horrors, a universal concern.Yet Mushroom Cloud is no bleak weary trudge or twitchy struggle, instead both classic and classy due in no small part to his distinctive baritone, wonderfully arranged songs diving deep but glinting with hope and beauty. The Irishman found his voice – literally – working with his previous band The Last Tycoons, originally and intriguingly named Porn Trauma. 'The process of my solo project is, try and use this aspect of my voice a bit more and centre things around that and arrange the music as sparsely as I can to suit that kind of voice.' Is it his comfortable vocal range? 'I can't sing very high. Pretty much in the basement, down there,' he laughs over Zoom, from his home in Berlin.
The song Mushroom Cloud was the first written for the album and sets the tone for what follows. Unsettling at first, it turns epic. Tensions in the opening strings of 'Mushroom Cloud', scratchy and dissonant and reminiscent of 'It's Raining Today' from Scott Walker's 1969 Scott 3, an album oft overlooked due to ' Scott 4 released the same year. 'It was a definite hat tip to Scott Walker, that was part of my thinking,' he confirms.
Steve favoured the morning pages approach employed by writers of many disciplines, a stream of consciousness. Two pages upon waking connecting words and thoughts, before grabbing a coffee and reflecting on what he scribbled down.'I'd read it and go, "there's some weird lines. That's pretty. That's pretty dark". Take little snippets out and start from there. It was really good because the first year of the pandemic, every time I tried to engage my thoughts, I was spiralling into anxiety. So that was a good way of bypassing that.' About a year later, he wrote the rest of the album in a very short span of about three weeks and assembled a five piece band. 'There's something really nice about this album. My previous albums basically I would demo songs, playing all the instruments myself. Some of the time I'd end up playing three or four instruments on a track and different people would come in and out and do a track here or there. Whereas with this album, I was writing songs really quickly so we just came in and arranged them and yeah, a really good group of musicians.'
We talk about Elvis for a bit – there's a '1968 Comeback Special' pic on Steve's wall and I have one too, leading to an unexpected impromptu show and tell. Elvis' work has deeper depths than superficial listens or lazy assumptions may suggest, and history does lend itself to the present; that sense of being there in the booth with Presley in his very early Sun recordings, breathing and jigging about as he sang reminds of 'Conman' on Steve's new album, concluding as it does with warm interactions and bringing us into the moment. Most of the songs were was recorded live, and it shows. Conman continues that dissonant feel from the opener. 'I wanted it to be quite a sort of jarring sort of a song. The orchestral percussionist did the timpani live along with the band in the same room. I have footage where he had some crazy metals scraping, and bells rattling back and forth.If you saw him you'd think he was some lunatic messing around but it worked really well! We definitely wanted that sort of harshness in the sound.'
'Haunted' is positively a 60s girl group stomp. Steve has form within the genre, the B-side to debut single 'Carmelita' a stripped back and slowed down interpretation of The Shirelles' 'Make The Night A Little Longer'. 'There's a sweetness to that music, but then it's coupled with this kind of immenseness and reverb and the darkness. And the feeling of physical space. It's really magic.'
'I was reading Mark Fisher's book  'Ghosts of My Life' around that time,' he says of Haunted. 'This idea that he has about hauntology, he talks about how capitalism basically squeezes culture and and nobody has any time or space or inclination or reward for making anything new or original. You just keep beating this regurgitating machine just keeps churning out the same stuff. So like, the future ended in 1982. And being alive and experience and culture is surreal, because everything is a regurgitation of something that's already happened.'
And do you go along with that theory?
'I think it's an interesting idea. I see his point because there's a lot of there's a lot of music that I listen to that's a really faithfully rendered version of something I've heard before. It's like their quest for authenticity is just replicate the past as perfectly as possible!'
'Sober' leaves a heart shaped bruise, dear reader. It's the proper country, brokenhearted pedal steel hits the tender spot. Not concerned with a literal sobriety, more simplifying life and appreciating it in a different way, as a newly single man.
'Getting used to the idea of being on my own,' he says. 'A tough thing to get used to when you've been in a long term relationship. It's difficult.' He was at the train station to go off on a trip to Sweden, when struck by a sudden sense of freedom. 'Sober as a song has a wandering feel to it. In my mind, I was, I'm not tied down. I can go anywhere I want. I was going for a couple of weeks. I'm like, well, I can stay as long as I want.'

Steve played a show in Liverpool last autumn, with new songs peppered in with the familiar. The repeitive nature of 'I Feel Bad' is instantly recalled; in it he lists the different scenarios he can feel depressed, to the point of absurdity. 'Everywhere,' he says with dark humour. I Feel Bad takes us with him from place to event, carrying thoughts, before building, unexpectedly stirring and hopeful.
'Disease' is lends together the pandemic and breakup. 'All the ways to feel alone,' he says. The record is romantic though, in that broader sense and the final song 'Pink Morning – Magic Light' is super pretty. As Mushroom Cloud concludes, he leaves us in a sweetened state. It was written on that same Sweden trip, crossing a golf course at 6 o'clock in the morning. As you do. The sun was coming up in this beautiful place with picturesque farmland. 'There was a lot of stuff rattling around in my head but this was a moment of…but this is …quite pleasant. it's a nice place to be. In the here and now is ok, and all the other stuff can wait.'
Mushroom Cloud is released on 26 May 2023 via K&F Records/Proper Octopus Records
Tour dates:
26.05: Kantine am Berghain, Berlin DE
28.05: Orange Blossom Special Festival, Beverungen DE
30.05: die Wohngemeinschaft, Cologne DE
31.05: Sunny Red, Munich DE
02.06: Headcrash, Hamburg DE
03.06: Circus Fantasia, Rostock DE
14.06: Servant Jazz Quarters, London UK
15.06: The New Adelphi Club, Hull UK
16.06: Heartbreakers, Southampton UK
17.06: Bootleg Social, Blackpool UK
18.06: Komedia Bath UK
19.06: The Folklore Rooms, Brighton UK
Photo credit: Neil Hoare