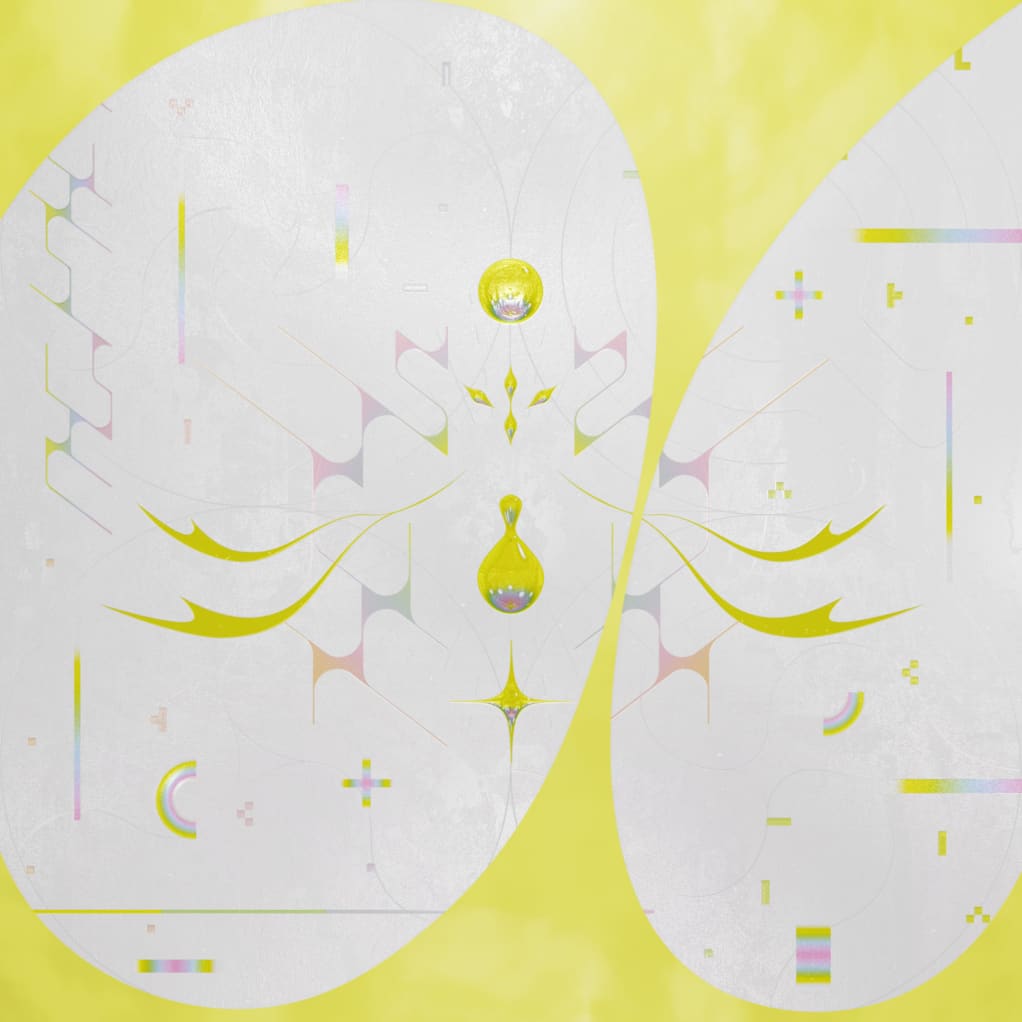 In 2017 Iglooghost (Seamus Malliagh) blew me away with his perfectly formed debut Neo Wax Bloom, released on Flying Lotus' Brainfeeder label.  It was a wild, ADHD infused, character driven take on Wonky and UK Bass.  It tapped into bottomless energy reserves, managing to continually pull out mad, unexpected surprises.  Some singles from his 2018 EPs hit the same spot but as a whole these releases failed to reach the same levels of intense, mind melding overdrive or add anything new to the Iglooghost equation.  In 2019 Malliagh had a strong step forward with the perfectly produced collaboration project Gloo with the talented BABii and Kai Whiston.  Despite manically flitting from one idea to another, each song had heart and a rich emotional core.  This gave me hope that the sophomore LP, now self-released under the Gloo label, would manage to escape the shadow of the debut. 
The hurdle Lei Line Eon successfully jumps is differentiating itself from its predecessor.  Thanks to the idiosyncratic textural qualities in the clicky percussion and whispery backing vocals you'll be in no doubt that it is the same artist, however it is a far more reflective, slower tempo affair.  He is not rehashing what worked so well on Neo Wax Bloom.  Compositionally, within each track you will have flashes of Iglooghost's typical UK bass approach mixed with a healthy dose of more restrained chamber music sections that are almost classical in nature.  Particularly prominent throughout the record are the gorgeous, drawn out strings.  There are ups and downs with this approach.
'Pure Grey Circle' manages this balance well producing a spectacular clash between the warm, organic violin and piano takes and the more unforgiving, darker synths and percussion.  These are subtler flavours then listeners might be used to, but no less effective.  Less comfortable is the disparate 'Sylph Fossil' which is not all that much fun, pushing the tense qualities of the music into pitch black, claustrophobic territory.  Gone is the frantic mania of the debut which would pull you out of this pit of despair with an over-bright counterpoint.  Personally I miss this but can see why others would enjoy this take.  Again, the strings are a welcome addition.  The shimmering chamber music sections of 'Light Gutter' are sublime, alongside a wonderful vocal performance from London based R&B/ Downtempo artist LOLA who lends the production much needed humanity.  I think this LP would have benefited from having more of her.
Halfway through the album we are met with a series of less eventful cuts, which seem to be the undesirable side effect of this new, less full on approach.  The threadbare, disconnected series of sounds on 'UI Birth' featuring BABii in particular has very little going for it outside of the beautifully produced textures.  'Big Protector' has a passionate violin solo sitting at the heart of it but the track does not come together into a full package – the only other qualities that stand out favourably are some of Iglooghost's trademark flourishes. 
I appreciated the engaging vocal performances on 'Zones U Can't See', one of which is seemingly shouted from the lungs of a child.  'Amu' pushes this further with a full on children's choir, moving into eerie These New Puritans territory, a mode which works very well.  Penultimate track 'Soil Bolt' is one of my favourite songs on the project, moving from long, undulating, ambient sections eventually into a bubbling, overactive and curious synth outro.  I only wish this last phase of the track lasted longer.  It's a rewarding moment. 
Some of the reasons why I like this project significantly less than Iglooghost's previous output are admittedly personal to me.  This darker world that Malliagh finds himself exploring has less fun to it and doesn't give me the same psychedelic rush that I am used to from his work.  I find it to be disconnected, flowing less well, feeling less natural.  Despite this, the continued incredible production work does make him stand out as a musician.  I haven't lost faith and look forward to his next outing.
Lei Line Eon is out now on Gloo.