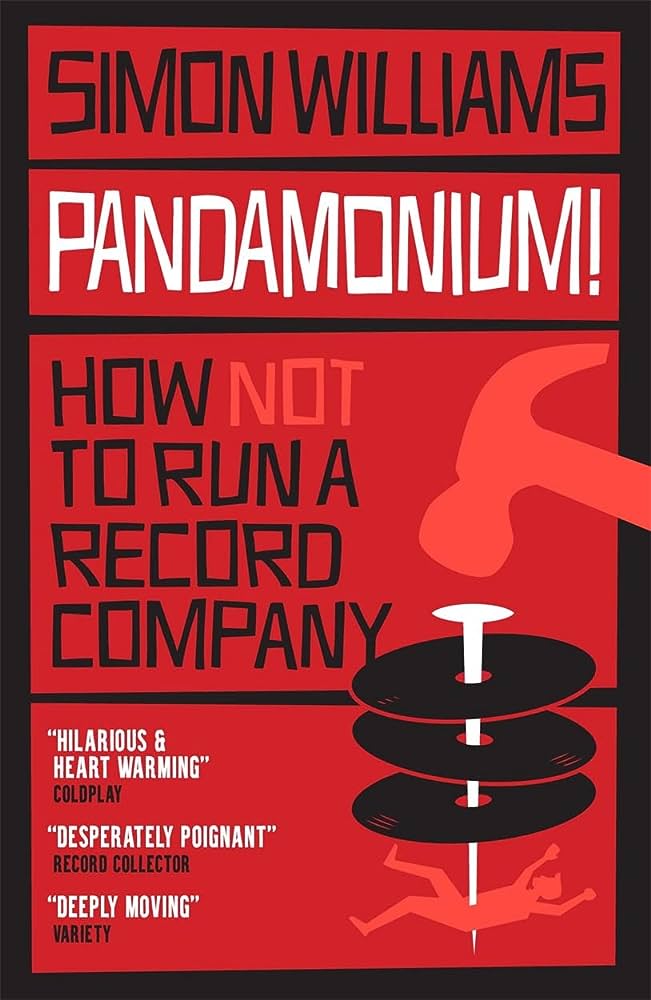 Simon Williams was an NME scribe, following the much-trodden path of the 1970s and '80s of producing a fanzine which led to getting a gig with a big weekly. At one of the regular pubs they frequented, in 1994, three rock hacks, including him, decided it would be jolly japes to release an EP, 7" only, collated by each of them with six bands, on their own record label. They called it Fierce Panda; 29 and a half years later and it is still going. Somehow. You'll read all about those scrapes in the book, which you must read. I insist.
We tripped along to one of his regular haunts over the years, the Dublin Castle, Camden Parkway, for the launch of the paperback edition of this book Pandamonium!: How Not To Run A Record Company.
One of the main things you'd think would have killed off a singles-only label over nearly three decades is continuously finding the bands and artists that get snapped up by the majors with very little in return. That ends a lot of these enterprises.
If he doesn't want to get annoyed about it, I will on his behalf. You discover these bands, these several million unit shifting bands and these major label arseholes take all the credit. The little people get forgotten. Not that he's a little person in this story of the music industry because he's a Colossus in the overall picture. He probably helped save the music industry just because he was there, doing it, finding the names that became big and meant the less big names could flourish in their afterglow.
He tried to kill himself as the teenies became the twenties again. Thank fuck he didn't. He ends every chapter with the beginning, the during and the end of the "Grand Malarkey". It becomes less harrowing as it goes along. During the actual chapters, he regales us with the be-all and end-all of starting a silly little record label out of the King's Reach Tower whilst he slowly lost interest in earning the NME coin and became someone who started the careers of some of them, and nearly all of, our most loved indie upstarts.
I have had the pleasure of drinking and smoking and talking as he holds court in the unassuming way he does. You don't appreciate who he is because he doesn't radiate the self-importance of someone with less than half the experience and gravitas he has. Hell, one of the biggest pop stars in one of the biggest bands of the last twenty years brought his new beau, a Hollywood A-list actress no less, to one of the pubs to tell her he "made them". Now, to some, he may be responsible for inflicting some God-awful records on the world, and I have been responsible for panning at least one of those latter-day efforts, but when he knew them, they were curly-haired students making great pop music and some terrific albums and they're now bigger than Jesus Christ. He knew what he was doing. Artistically, perhaps Chris Martin didn't.  Commercially, he certainly did.
More importantly, he's still doing it and from this humble scribbler's opinion, he's discovered and continues to employ two of the best bands and artists and songwriters this millennium has produced.
What makes this memoir so enjoyable to read is that this comes from a critic's brain so he critiques himself. Many can do self-depreciation and self-critique but few manage to inject such wit and humour, including a fair chunk of gallows humour to boot. The puns and jokettes come aplenty and it's so eminently readable. Moreover, it's a fascinating dive into a life that crossed paths with the biggest and the smallest in the indie schmindy music world. He's interviewed, promoted, hosted gigs, signed and released music by the most gigantic of bands and those bands you've probably never heard of, and hundreds in between. 
From the early six-track NING EPs (the nights we said NING), the shagging in the streets from greer to eternity, through Wibbling Rivalry, epic singles from Placebo, Embrace, Idlewild, Ultrasound, Hundred Reasons, Art Brut, BoyKillBoy, The Maccabees and The Walkmen and more and more, to the albums, 133 and counting. From the NING to the NONG.
May those flights of stairs continue to fall down a flight of stairs.