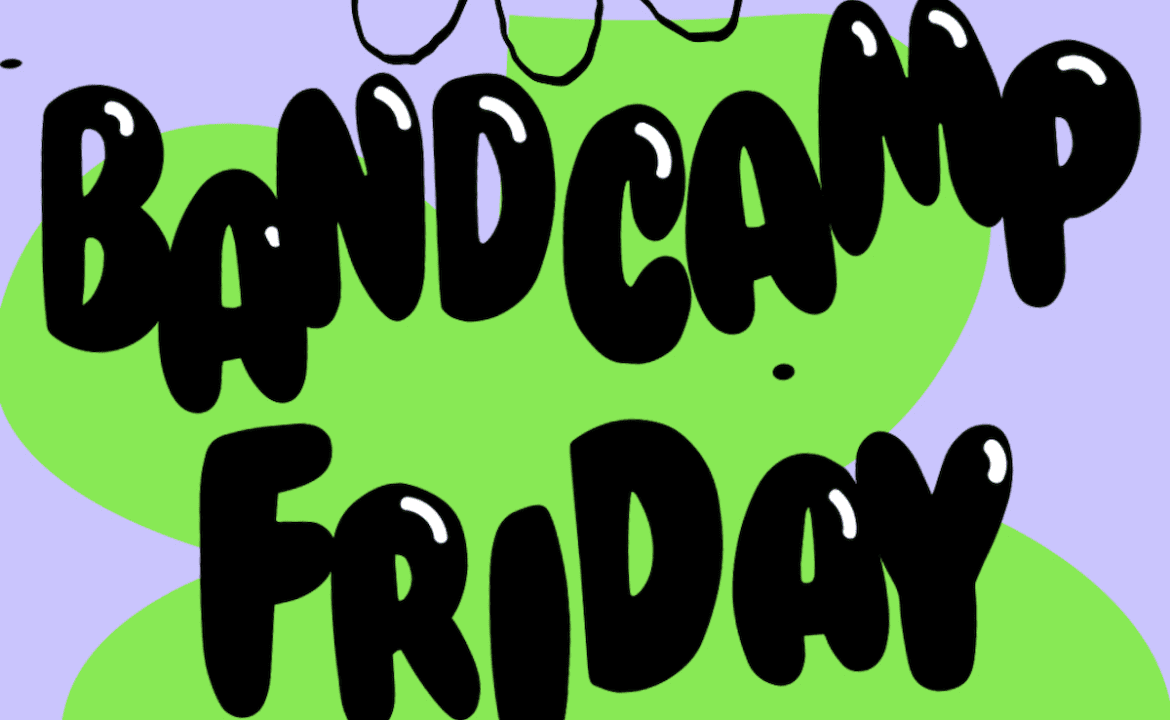 As you Bandcampers may have heard, there has been some tumultuous changes in the camp of band recently. With the company having been bought out by Songtradr and half the staff being laid off recently, we cannot predict what this will have in store for the BC community. It is tempting to be cyncial and adopt the position that we simply cannot have nice things and it will be interesting to see whether the company can really run with 50% of its previous workforce, surely this is going to have some impact? It wouldn't be the first time that layoffs under a new reign are conducted with little understanding of what those people are actually doing to uphold a company.
But at the very least we can hope that BC Friday, a day that has given DIY, and indie artists across the world an opportunity to make direct revenue from their album/single sales continues to run. Let's hope that the business model does not re-frame itself on Spotify and YouTube where the sentiment seems to be "it's an opportunity to promote yourself" and is basically the equivalent of doing an unpaid internship until you're suitably demoralised into putting your silly, creative dreams aside and finally getting a job in STEM.
Of course, creatives who work full-time alongside their craft is nothing new and I'm not suggesting that everyone should simply give up on the real world and dally about recording what they're certain to be their space-opera magnum opus. But it's about creating a more equal playing field within the digital landscape between the corporate execs of these platforms and the artists because, after all, the former wouldn't have a product without the latter so this should be mutually symbiotic, not exploitative.
This month, we've got freak pop punk, midnight folk, and grunge with contributions from yours truly and Bill Cummings.
Being Dead – When Horses Would Run
Somehow when listening to Being Dead, I just know I want to be friends with them. 'When Horses Would Run' is an eclectic mix of art-punk, folk, surf-rock and freak pop that somehow just works. Thematically, song lyrics avert to topis of organised religion, shoplifting and cowboys and each song is as playful as the pseudonyms members have coined for themselves – Gumball and Falcon Bitch.
The album is spontaneity in a nutshell but it takes some talent and (what I suspect to play perhaps an even bigger part) chemistry, to create an album that sounds so joyfully carefree but at the same time, perfectly crafted. Poppy melodies contrast against just the right amount of punk chaos and seem to reflect the band's attitude and energy to existence. (KH)
Shana Cleveland – Manzanita
Shana Cleveland is The Goddess of Midnight Folk. Having branched out from her other (surfy) musical project, La Luz, this is her third solo record that sees her develop her blend of folk, psych, intricate goodness. More so than her previous records, songs such as "Evil Eye" harken to legendary finger-picking guitarist, John Fahey, and combined with Cleveland's soft vocal style she takes the record to a nu-folk area that encompasses all the mellow mysticism and enigma Lana Del Rey could only dream of being able to create without the assistance of a savvy PR company.
Cleveland's talent is remarkable and 'Manzanita' is a sublime record that all folk fans should absolutely add to their vinyl collection for it is "a classic" in the making. (KH)
Superheaven – Jar
A shining example of the truth that if you make a great f**kin record, they will come…eventually. Superheaven are set to celebrate the 10 year anniversary of 'Jar' next year. Initially released to a mediocre amount of acclaim (they reached 184 on the Billboard 200 chart), the band survived two albums (the second one is also brilliant) between the years of 2013-2015 before calling it a day with members branching off into different bands and one of them retiring from music into carpentry.
It seems due to demand they continued to play some secret shows and played Manchester's Outbreak festival last year, with an official tour lined up for next year. 'Jar' has become a cult classic which is something that has probably surprised the band but is not that surprising to listeners who just can't get enough of their melodic, grunge post-hardcore, that pays homage to bands like Jawbreaker and Moss Icon. (KH)
Stuart Pearce – Red Sport International
Confusedly named after former football player and now football manager. Nottingham-based, post-punk outfit – Stuart Pearce, is a bit like a modern-day re-incarnation of The Fall, but with more synths, less slurring and more politics. Lyrics are more nuanced than much of the current liberal, "working class" bohemian, indie trend amounting to blaming the Tories for everything, as though Labour's previous reign of neoliberalism and proxy wars in the Middle East wasn't a problem in the slightest. 'Red Sport International' is an inventive and energetic release from a band whose creative potential is ripe for the picking. Don't miss them on tour this autumn. (KH)
SPARKLING – We Are Here to Make You Feel
SPARKLING  just released their refreshing debut LP We Are Here To Make You Feel,  Building on their experience touring with Metronomy, it's a record replete with rambunctious choruses, danceable rhythms, big bright synths that spin like Catherine wheels and jousting vocals. Inventive and wearing its heart on its sleeve, the title track is a riot of impassioned devotion and instruction, it's a empowering jolt, riven with playful synths and big chant along choruses, somewhere between the bright pop hooks of Junior Senior and the big synth pop moments of OMD. A life affirming pick me up!
SPARKLING's multi-linguality and experience of living and playing in different European countries remains key to their identity. The album itself was recorded across several different terrains and locations – mostly in Germany, Belgium, France and England. Avoiding conventional spaces where possible, the trio concocted makeshift spaces in locations as varied as an old train station in a Belgian village, and an abandoned school in the middle of France. (BC)
Ill Peach – BLAH BLAH BLAH
Los Angeles duo ill peach release their debut full-length, THIS IS NOT AN EXIT, via Hardly Art today. Abrasive ebullient pop songs, with a gritty electro and punky underbelly. 'BLAH BLAH BLAH' is one of the standouts, a rushing cut up of distorted pop redolent of PEACHES and the rushing indie pop speaky/sung sounds of Wet Leg. Yet much better than sounds, Jess Corazza's vocals drip with irony and attitude amidst a tapestry of cut up abrasive punk riffs, acoustics and distorted hammer, stand well back this is highly addictive.
The seed of ill peach was first planted in the recording studios of New York City, where Pat Morrissey and Jess Corazza were working together as professional songwriters. Since then, they've collaborated with artists like SZA, Weezer, Pharrell, Saint JHn, Icona Pop, aespa, and Genisis Owusu. The duo needed an outlet for their more left-of-center, personal compositions, and ill peach was born. (BC)
MARIA UZOR – VENTOLIN
The first single from the former Sink Ya Teeth member's debut solo album, Soft Cuts. It features a housey pulsing beat, sci-fi effects and Uzor's heady vocal, which has echoes of everyone from Grace Jones as her refrain of 'give me some more' offers a duality of meaning, is it a song about lust? Or the asthma Maria has lived with since she was a kid. Possibly both. Nevertheless, it's a very smart off kilter pop song. (BC)
ICEBLYNK – Enter the Sky
NY-based dreampop quartet, Iceblynk, new single, 'Enter the Sky' via 5BC, the record label formed by shoegaze legends The Veldt. Is a dreamy pop delight, that possess a looseness and personality that many over produced dream pop compositions lack. Glimmering guitars Martin Newman's decorate a steady drum beat allowing Andrea's evocative vocals to burst into a dream holding a hope in her heart, spinning somewhere between the more commercial moments of Cocteau Twins and the work of Cranes. Charming and beguiling in equal measure.
"'Enter the Sky' was recorded at American Nightmare drummer Alex Garcia-Rivera's analog studio. This was the first song written and recorded with the band's new line-up and according to Andrea, is about "the push and pull of our desire against the fear of the unknown; and hope that in the end it wasn't all for nothing before we exit this reality and enter the sky." (BC)
The March Afternoons – LONDON I&II
James! Hail Satan! is the new six-track record from the march afternoons, showing off a knack for lo-fi lounge pop of different shades, London I&II is an excellent example, a clip clop rhythm replete with brass and a insidious reflective vocal it's duality, whimsy and melancholia for the capital reminds one of the Divine Comedy.
They say: "ah, London – unreal city. Where else would you find us?
One of the dark places of the earth. The brooding gloom. The smoke that lingers around your fingers (even though we quit cigarettes twice already this year). Tired of life? Sure. We've lived here a long time and London is a lifeblood-sucking vampire (not a werewolf). But like all vampires, what a charmer!" (BC)